Hi Sexy!

Last month I outlined immediate concrete steps to take if you've learned that you've been doxed. This month, I wanted to talk about ways to avoid finding your private, personal information ending up on the web in the first place.

As cammers and other sex workers, we're constantly fighting a two-front war: trying to keep our "real life" information away from our fans and clients on the one hand, while working to keep our sex work life away from the vanilla world on the other. So it makes sense that in order to keep your information safe, you need to play both offense and defense.

Just as a reminder, I'm no tech expert. However, most of the information I'm sharing here comes from the online security organization HackBlossom.org, as well as Violet Blue, author of the book, The Smart Girl's Guide to Privacy. (Her books, Patreon, and website are all excellent cybersecurity resources for folks of every gender.)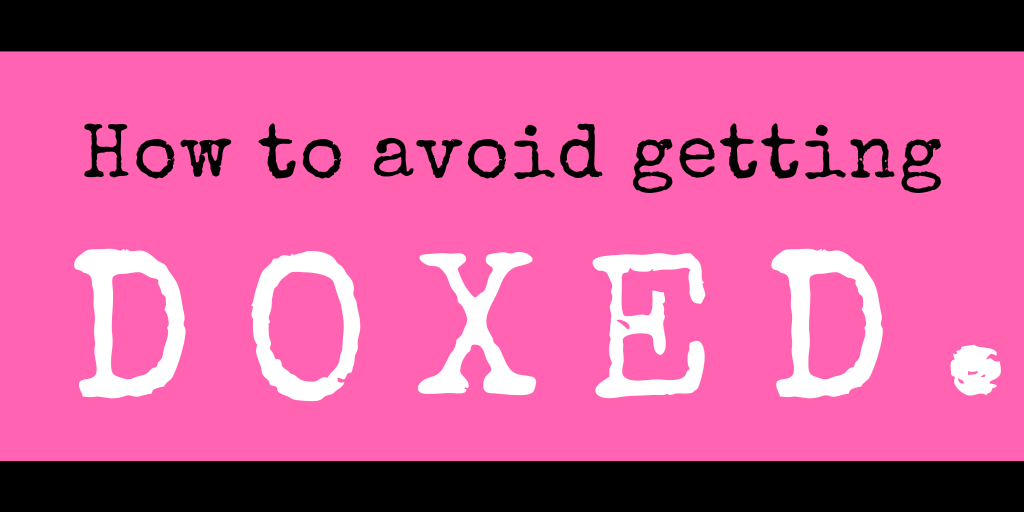 Keep Your Data Private
First, let's start with defensive measures you can take to keep your identity and personal information private.

• Keep your work name and legal name separate. Be certain they are different enough you won't inadvertently mix them up when you're sleep-deprived. If your given name is Candace, call yourself Sugar at work, not Candy.

• Keep your phone safe. Make sure it's always locked, requiring biometric information or a password to open. Be certain to download and activate a locater app such as Find My Device for Android or Find My for iPhones, in case your phone is lost or stolen. Android phones can be bricked (rendered unusable by the thief) remotely. iPhones don't allow you to completely disable your device remotely, but you can lock them, protect your data, and report your phone stolen via the Find My app.

• Passwords are vital to keeping your accounts safe. Albine.com offers a host of dynamite security features, including password management.

• Get yourself an encrypted work email. Encryption means your emails are converted from plain text into secure code before they're sent and can only be decrypted by the intended receiver. Protonmail offers free end-to-end encrypted email, and paid upgrades as well. 
• Likewise, if you text or sext with fans and clients, use an encrypted chat service such as WhatsApp, Signal, or Telegram.

• If you call fans or clients IRL, use a burner app such as Burnerapp.com or Coverme.ws. These apps allow you to add one or more phone numbers to your smartphone, with added layers of security including disappearing messages, disposable phone numbers, and more.

• Invest in a reliable VPN. A sturdy virtual private network (VPN) will protect you from ISPs and online advertisers tracking your searches and selling your data, as well as shield you from hackers who might access your phone or other device from a public wifi source. Unfortunately, several free VPN providers have been involved in scandal lately, from data hacks to selling personal data, so invest in a paid VPN, and do your research. TorrentFreak provides an annual rundown of the best current VPN providers – check out their top recommendations for 2022 here.

• Be certain to remove all location data from any images you post online. Better yet, turn off "Location" on your smartphone in any app you take or post work pictures in.

• If you sell items online or receive gifts off your gift list, get yourself a PO box to protect your home or work address.
• Consider doing business as a corporation, such as an LLC. If your job requires you to sign contracts and write checks, an LLC can allow you to keep your legal name and home address off the paperwork. (In my latest book, Thriving in Sex Work: Sex Work and Money, I interview a sex worker-friendly tax lawyer about incorporation pros and cons.)

Once you've got all that secure, it's time to go on offense. As I suggested last month, it's best to stalk yourself before anyone else does it to you. Research yourself—your legal and work names and phone numbers, home and work addresses—using several search engines and every keyword you can think of. It's a good idea to do this on a regular basis—set an alarm on your phone to do a five-minute scan, say, the first Monday of every month.

Getting these security measures in place might take you a few hours, but once you do, my best advice is to let any anxiety about getting doxed go. Living in this hyper-connected modern world means balancing hypervigilance against getting on with our lives. Hopefully you'll never need these precautions, but just in case you do, you'll be well protected against whatever nonsense some potential harasser tries—and well prepared to fight back.

Until next time, be sweet to yourself—

LolaD.
—
Lola Davina is a longtime veteran of the sex industry and author of Thriving in Sex Work: Heartfelt Advice for Staying Sane in the Sex Industry, a self-help book for sex workers available at Amazon, Barnes & Noble, iTunes and wherever else ebooks are sold. Get the audiobook version here. Contact Davina at Lola.Davina@ynotcam.com and visit her on Twitter at @Lola_Davina, as well as on Facebook.
Image of Lola Davina courtesy Pat Mazzera.