Dear Lola—I hope it's okay that I reach out to you about this. Every year, right about now, I start getting anxious because the holidays are coming. Ever since I moved out of my mom and stepdad's house six years ago, I travel back there to celebrate Thanksgiving or Christmas, sometimes both. Between my mom's drinking and the ugly fights between my aunts, uncles, and grandad, I end up feeling like total shit for like a month afterwards.
What's worse, earlier this year I made the mistake of telling one of my cousins about camming, thinking he could keep a secret. Turns out not. So, half my family has been giving me holy hell about it, and the other half haven't spoken to me since.
I really really really don't want to go back home this year, but I don't know how to get out of it.
Signed—Overwhelmed in Oviedo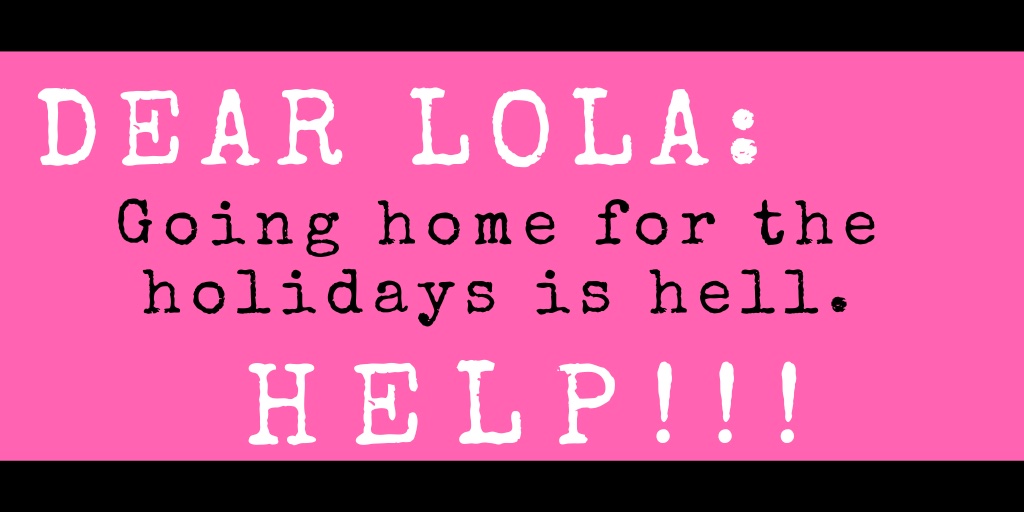 Dear Overwhelmed—there's a lot to unpack here. Let me start off by saying how sorry I am; what you've described sounds pretty severe. We often talk about gathering to "celebrate" the holidays, but in your family's case, it sounds like an annual excuse to act out. Doing the math—if you're writing to me in October, and your holiday hangover lasts until January, this situation is poisoning four months of the year, one full third of your life. You don't deserve that.
While this wasn't the crux of your question, I want to start with the impact of your mom's drinking. You describe a family-wide dynamic of abusive behavior, whether fueled by substance use or not. My suggestion is to commit to disengaging with the folks caught up in this dysfunction – you can learn more about that here.
I also encourage you to get support. You might start with the ancillary branches of Alcoholics Anonymous, Al-Anon and ACA (Adult Children of Alcoholics). These groups help folks impacted by alcoholism find loving ways to step away from destructive family patterns and find peace in their own lives.
Twelve Step-affiliated groups have several advantages—they're free and plentiful. Thanks to COVID, you can now find a group online just about any time. However, with their distinct emphasis on god, they aren't for everyone. Two alternatives to check out are Recovery Dharma, with a Buddhist framework, or SMART Recovery, based in cognitive psychology.
Speaking of loving detachment, here's one way to put that plan into action: Don't go. Plenty of people can't travel for the holidays because of work or other obligations – the same can be true for you, as well. Just say the words: I'm too busy. I know it doesn't feel that simple, but truly, it is.
Tell the friends and family you genuinely want to see that you'll visit some other time of the year that isn't so stressful, and make concrete plans with them. Everyone else, you owe them nothing. Then, put your energy into making festive holiday memories that you'll treasure in the home that you've made for yourself.
If total separation feels too hard, offer to video chat for fifteen minutes at a specified time on whichever holiday means the most to you. If the conversation turns sour, log off. You don't have to put up with that.
Maybe this year, you're not ready to take a such a significant step, and you do decide to visit. Think harm reduction every step of the way. If you can, stay someplace separate and safe, like a hotel or a friend's house. Make yourself available only for the events you actually want to attend, and give yourself permission to leave the minute things get weird. Be sure to have a support system in place to help you decompress afterwards.
Then, take note of how the trip makes you feel. If you still walk away rattled, even after setting down hard limits on your time and people's bad behavior, then you know for certain that this situation just isn't healthy for you. You can make different plans next year.
Finally – I don't mean to trivialize the damage that your cousin did by outing you – I know how painful betrayal can be. But another way to look at it is he did you a favor. If nothing else, it helps you sort out who in your family is trustworthy and capable of unconditional acceptance, and perhaps who is no longer a good fit for you moving forward.
We can't help where we come from. But once we're adults, we get to choose who we spend time with. Disentangling from toxic family dynamics is never easy, but unquestionably worth it. I encourage you to work towards building a found family that celebrates and appreciates you, so you can enjoy your beautiful life 365 days out of the year.
Until next time, be sweet to yourself.
–LolaD.
—
Lola Davina is a longtime veteran of the sex industry and author of Thriving in Sex Work: Sex Work and Money, her follow-up to the formative Thriving in Sex Work: Heartfelt Advice for Staying Sane in the Sex Industry, available wherever books are sold. You can find the audio versions via Awesound here. Contact Lola at Lola.Davina@ynotcam.com and visit her on Twitter at @Lola_Davina.
Images of Lola Davina courtesy of Pat Mazzera.