I love anyone who is authentic and isn't afraid to be who they are.
Even more endearing are those performers who are probably just as afraid to be authentic as you and me are… yet they do it ANYHOW with humor and heart – sharing their vulnerability, weaknesses, and charm which makes you just love them all the more.
This is what first struck me about Audrey Ashes.
Audrey is a woman who started her career at 41, calls herself a "professional perv" and "queer AF" and is self-reflective. She first caught my attention when I saw her profile banner on her site – a book cover that reads:
Buckle the fuck up bitches, I'm coming!
Audrey is also awesome because obviously she's FUNNY.
But what makes her all the more appealing, is that she recognizes her shortcomings and reflects on how she can be better. That is inspiring! Someone who can say I am not great at this, but I'm working at that, and guess what I am great at this so eat my dust. Knowing you are not perfect, but knowing you are perfect just as you are – in short being you and living life on your terms.
Learn more about this fearless redheaded with the big attitude who got her start camming later in life and is making up for it one show at a time.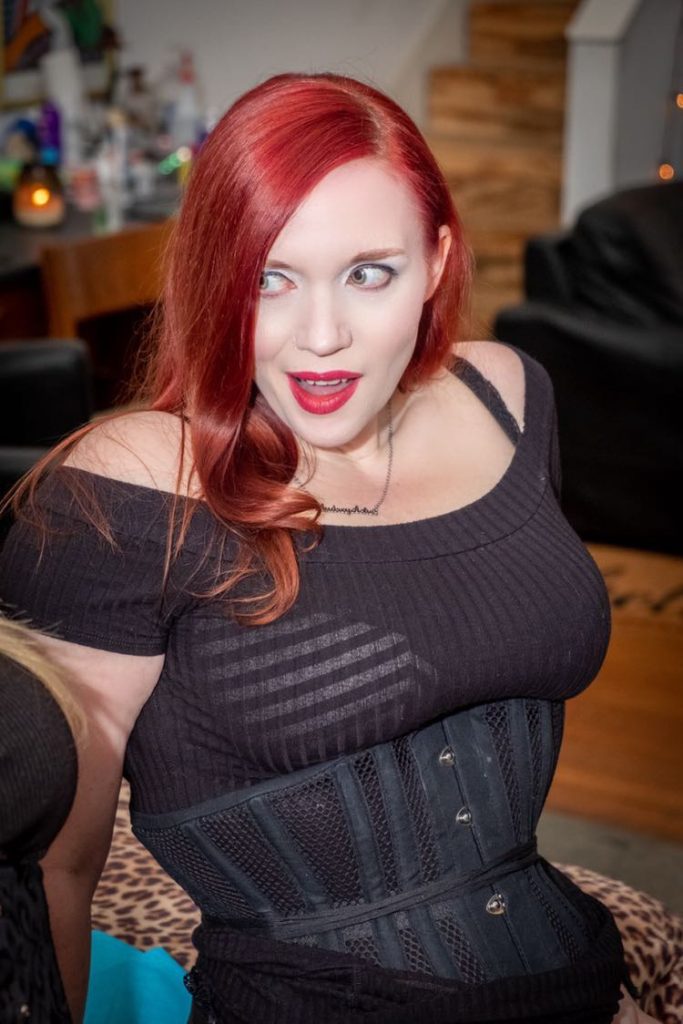 How did you get your start and what brought you to camming?
The very first sex work I did was on cam, and that was in 2017, at the tender age of 41, right before the MILF explosion happened in the adult entertainment world.
Camming successfully is much harder than anyone realizes until they try it, and I quickly diversified into other digital avenues to supplement the revenue that cam brought in.
How does camming help you express yourself and what do you find the most enjoyable about it?
Camming is exciting because you never know who you'll see or meet! There's always something new, and I'm still friends with the very first person that took me private.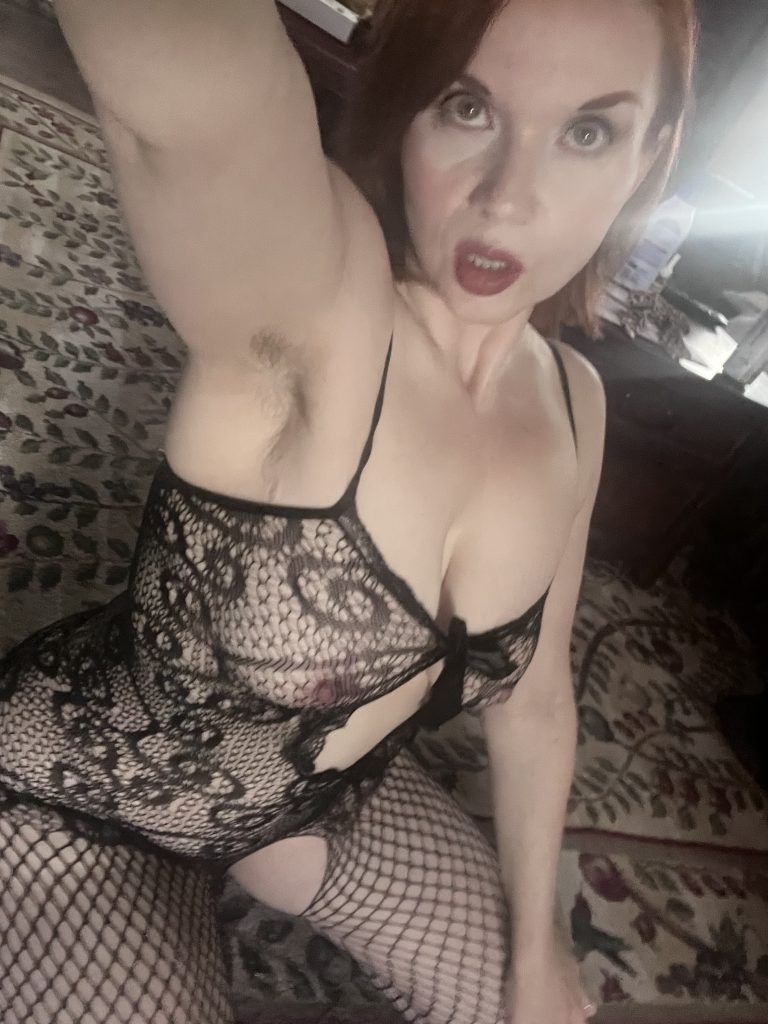 If you weren't camming what would you be doing?
In addition to cam/digital sex work, I do work a vanilla job, but I'm genuinely excited by exhibitionism, which is why I knew that camming was viable for me in the first place! I love to play video games, watch documentaries and horror movies, and just relax at home with the cats.
As mentioned in your Twitter – you're a big believer in self-reflection. Self-reflecting now – as a cammer what are you great at and what things do you need to improve upon?
I need to improve on making more TIME to cam!
It's also sometimes a struggle with my self-confidence as well because I don't like to give anything but my own level of perfection. But I am very good at taking time with individuals. I enjoy digging into specific fantasies that people have and curating unique experiences!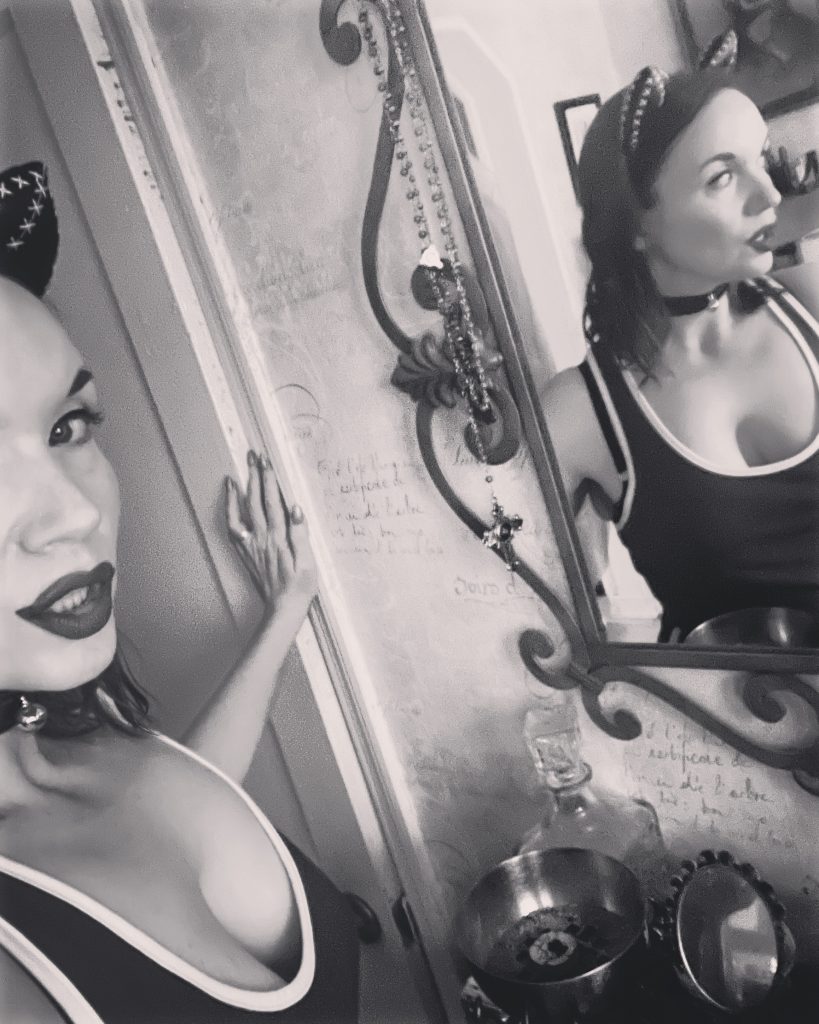 What are the perceived challenges of being a woman over the age of 40 camming and what is the reality?
I can't speak to what others perceive, but my challenges are not being quickly digestible. I prefer lengthy sessions to brief bites with bells, whistles, and games. I'm not trendy and fun, really. I want to uncover your secret desires and make you squirm with them.
Who are some people you look up to as performers?
I look up to any sex worker who does this job and can be loud and vocal about it! Whores are my heroes. Also, anyone who has their schedule and gear organized!
What's the thing you're the proudest of in your career to date?
I shot with Infernal Restraints before the pandemic, and I was proud of the hour long hyper intense tit torture I was able to withstand! It was exhilarating to watch Eric work and to feel so SAFE. Completely professional. Pushing my personal boundaries with trusted pros is always thrilling!
What are your goals for the year?
My goals for the rest of this year are to shoot with Blush Erotica, and work again with some of the amazing people I've worked with over the past couple of years. And YES, develop a stronger cam game!
Follow Audrey Ashes on her Twitter @AudreyAshes, Only Fans @audreyashes, and find all her links at linktr.ee/audreyashes.
—
Alyssa Collins hails from Minnesota, where snowy days were the perfect excuse to stay warm inside and write. Over the years, she turned that joy into a career and has authored numerous articles for various publications (under pen names). Email Alyssa via alyssa@ynot.com.