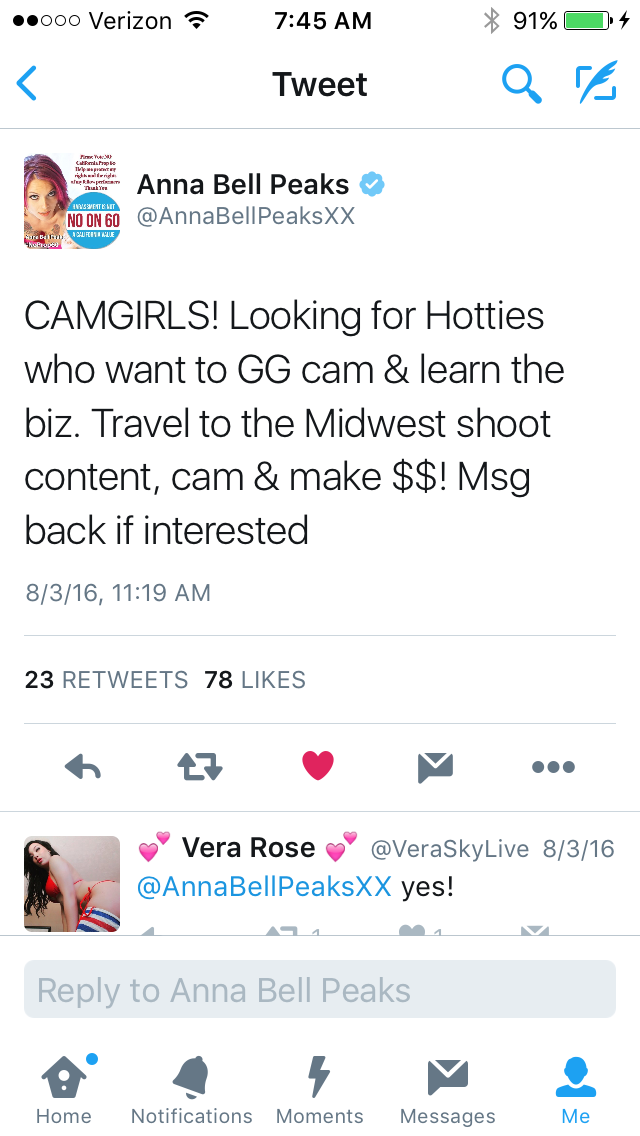 When I read Anna Bell Peaks's tweet, left, I had to message her (well, her publicist). Mentorship from someone of her caliber seemed priceless. What was she offering? And how could models get in on the action?
Anna Bell Peaks is a true triple threat. Now in her mid-30s, she started on cam in 2014. Since then, she's become a highly successful webcam model, porn performer, and feature dancer. And prior to doing all that, she worked as a certified public accountant.
"I still hold my [CPA] license," she said. "I don't practice. I haven't practiced since I entered the industry, mostly because I don't have time — but I have my license because one day I'll be too old to do porn anymore, but I will still be able to be a CPA."
It's that type of long-game, practical thinking that makes Peaks's perspective to interesting and useful.
"My cam work is going really, really well. It's consistent, and it's every day," she said. "I have a really good fan base growing, and I've always tried to be aware of what exactly is going on because then I could, at the very least, mentor others to try to replicate it. It's a good thing to do."
So then, what was going on with that tweet?
"Well, I did one of the things that I know works on webcam: Men like to watch multiple girls at the same time. It just brings a whole new dimension to the whole cam experience. And they love me. So, when I said I was going to bring a girlfriend over, oh my god, they're like, 'Cool. Thanks for doing that,'" Peaks said, laughing.
"My original tweet [reaching out to cam girls] was getting at that 'hey, I know you want to know more about [camming successfully], so I can provide that. And you get to provide me with the fact that you're a girl and we can cam together and both make some money,'" she continued matter-of-factly.
Welcome to the Anna Bell Peaks School of Mutually Beneficial Mentorship.
Though Peaks had done girl-girl shows before, this was her first time putting the offer out there for the world to respond to. And responses she got. But did any of them pan out?
"I've already had two girls come out, and the results were exactly what I had hoped," Peaks said. "They were both brand new in the business. One of them had only started in the last six months. One of them is a mom.
"And then we did a show what was profitable for everyone, meaning I made money with them — which is good because, hey, I'm taking a chance, too. Some girls are just not cut out to be webcammers," she continued.
According to Peaks, there are several reasons why some people may not do well on webcam — issues ranging from a poor attitude to a poor work ethic.
"When I chose somebody, before they even came out, we talked more about it: what I expected and whether they were a positive person, because negative people don't do well on cam," she said. "You know, just things like that."
The casting experiment turned out well, yielding usable content and clips for Peaks and money and a once-in-a-lifetime learning experience for the models
"And all of this I did from my house, so I didn't even have to go anywhere," Peaks said. "It was really just a win-win."
In today's webcam world, porn performers often also work on cam. But cam work and porn performance are very different jobs, requiring very different skill sets. Though there are exceptions, there are not a lot of porn stars who become cam stars. Similarly, there are not a lot of cam stars who transition to porn. Exceptions like Oregon State University "Library Girl" Kendra Sunderland are rare — and in Sunderland's case, her "infamy" may have fueled the success of her recent transition to porn. Peaks, however, seems to morph seamlessly, from cam star to porn star to feature dancer to social media master and back again, without the support of a mainstream media scandal. What contributes to that success? Why do we see these people who do well in porn not do well in cam and vice versa?
"Well, consider it from each person's perspective," Peaks suggested. "For example, you've got the stripper: a girl who's exposed [to the public] and that's her job every day, day in and day out. Then there's a porn star, who's used to hearing 'You're beautiful, you're perfect. Everybody wants to see you.' They're coming from that perspective, and it's different work."
Peaks's insights speak to individual strengths, skills, and experiences. Some people are natural conversationalists and gregarious go-getters. Others may be hard workers, but shy or reserved. And some people may just not be into dealing with the public like a stripper must, or with the general public online like a cam model must. There's something to be said about knowing your strengths, preferences, goals, and limits.
For Peaks, one of the most important aspects of her work is fulfillment. Though we may be conditioned to think otherwise, our own enjoyment of whatever it is that we're doing is highly significant. It helps us to stay motivated and do good work, while also contributing to personal pleasure and joy.
"I think people can see that I'm genuinely a good person, and I just genuinely love [being on cam]," Peaks said. "Every night I log on — I could be in the worst mood — and as soon as I log on and I start saying 'hi' to people that come in the room and we start even doing the littlest bit of a tease or doing some dirty talk or showing boobs or whatever it might be — then I'm the happiest person of all. I'm just happy up there. I'm glad I'm with people. It's just fun."
Taking the time to consider, and be honest with yourself about, your strengths, interests, and long-term goals is essential in any career. In the sex biz, it's probably even more so. Take a lesson from Peaks and make sure to make yourself and your own life a priority. You only get one, and ultimately this will augment the impact you have on others.
Visit Anna Bell Peaks on Twitter at @AnnaBellPeaksxx.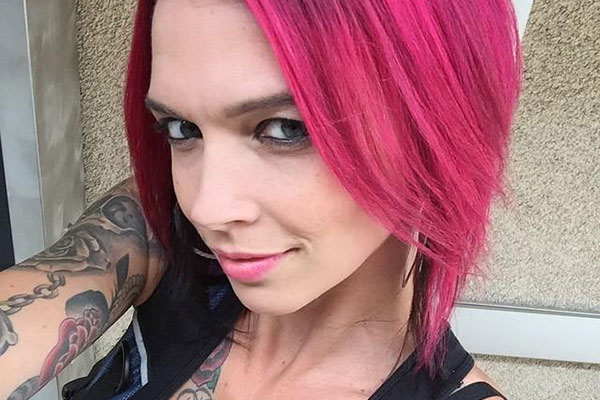 —
Erika is a sex positive people watcher (and writer). Email her at erika@ynotcam.com.