Lola Davina is a longtime veteran of the sex industry and author of the upcoming Thriving in Sex Work: Heartfelt Advice for Staying Sane in the Sex Industry, a self-help book for sex workers. 
* * *
Hi, Sexy —
In order to make real money in sex work, you have to treat it like a real job. In camming, you get to be your own boss. What kind are you going to be? Bad bosses don't care about benefits and sick days, because they don't give a crap about their employees. A good boss is committed to physical and mental health.
Here's what you need to take care of yourself: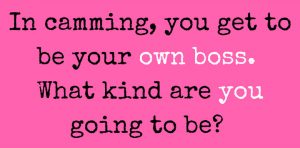 Health Insurance
I know – not sexy. You know what's also not sexy? Huge medical bills. If you think you can't afford health insurance, what's the plan if you get hit by a bus?
In the U.S., the Affordable Care Act ensures you can't be denied coverage due to your past medical history, no matter what you do for a living — even sex work. If you're younger than 26, you're eligible to be covered by your parents' insurance. If you earn less than a certain amount every year, subsidies are available. Securing health insurance can go a long way toward making camming feel like a job that supports and protects you.
Mental Health Network
Folks who enjoy long-term success in the sex industry have one thing in common: emotional support systems.
I recommend making friends in the industry, people you can bitch to and brainstorm with. I had friends I'd check in with after every shift. I'd text "911" for an emergency counseling session, and "811" when I was really feeling down. Knowing I had people I could call no matter what was huge, and it felt good to be there for them, too.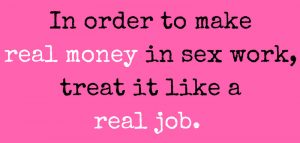 Support systems aren't built overnight, but the best way to start is by reaching out today. Good things happen when you put out the word that you want to connect with other models for encouragement and mutual support.
Online community can be good too, of course. One advantage is there's always somebody logged on somewhere no matter what time of day or night. You can blow off steam and get great advice on camming blogs and boards. However, social media has its limitations. Anonymity lets people feel free to be judgy and cruel. Then there's that empty feeling you get spending hours scrolling through other people's perfect lives on Instagram. After a long camming session, dealing with all that craziness, the best way to restore your sanity is to get offline for a while.
Therapy can be helpful when doing sex work. There are plenty of low-cost options out there. Most college students are eligible for low-cost or free counseling. Check to see if the universities in your area offer advanced degrees in psychology, social work, or counseling, because their graduated interns need hundreds of supervised hours to fulfill their licensing requirements. Interns charge well below the market rate of licensed therapists, sometimes as low as $10 to $20 per session.
Regular Self-Care
One great thing about camming is setting your own hours. Don't forget to schedule self-care. Think about other high-intensity performers like opera singers and athletes and actors — people who push themselves to the limit for a living. They have to recharge their batteries on a regular basis or risk burnout.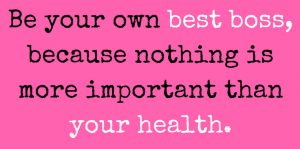 Carve out an hour or two of every day for yourself. Maybe this means taking a long walk, or volunteering at a local animal shelter. Painting, cooking a great meal, or writing in a diary. Meditating, a yoga routine, a long hot bath. Cultivating outside interests, relaxation, and pampering need to be a part of your daily routine so you can work fully rested and refreshed.
Emergency Self-Care
Everyone in sex work needs an emergency plan to combat those no-good-very-bad days. Maybe it's a $50 bill tucked away somewhere to book a spa session. A birthday note from your best friend telling you how special you are. A Pinterest page filled with inspirational quotes or kitty videos. Tuck away your get-out-of-hell-free card now for a rainy day.
Be your own best boss, because nothing is more important than your health.
Until next time, be sweet to yourself.
Lola D.
—
Contact Lola at Lola.Davina@ynotcam.com and visit her on Twitter at @Lola_Davina, on Facebook, and on Tumblr.
Image of Lola Davina courtesy Pat Mazzera.
And kitties (below), because Lola is right…