Hi Sexy —
The holidays are notoriously stressful, but carrying a secret can make them even harder. It's a natural impulse to want to share our lives with loved ones, but coming out about camming isn't always the easiest thing to do.
Fortune favors the brave. Sharing is an opportunity to let all kinds of juicy deliciousness into your life: more support, honesty and self-acceptance. It's a chance for the people you love to gain a more realistic and humane perspective on the sex industry. These are all wonderful things. However, coming out successfully requires not just bravery, but also skill and forethought, especially when this time of year can be so emotionally fraught already. Here are some tips for helping your loved ones hear your message right the first time.
Know why you're telling.
Have clear answers for these questions: I'm telling this person about camming because _____. Will it bring us closer together? Will they support my choices? If you can answer positively, then by all means, go for it. If not, then maybe you don't need to share. Remember, as I argued in my last column, you're under no obligation to tell anyone anything about your cam life. Ever. 
Keep a clear head.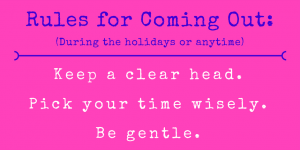 Here's a basic rule of thumb: If a topic feels private when you're sober, blabbing about it when you're drunk is never a good move. It can be tempting to use alcohol and drugs to take the edge off when spilling your secrets, and it's fine to do so in moderation. But don't make a snap decision after you've gotten tipsy at a party to tell crazy cam stories just to get a laugh. Few people wake up hung-over the next morning and say to themselves, "I wish I'd said more last night."
Pick your time wisely.
To that point, when breaking big news, timing is critical. Be mindful about big occasions like holiday dinners. If that's your only opportunity to make announcements to everyone in your social circle, make it clear you don't intend to hijack the occasion: "I have something I want you all to know, but I don't want my news to take over the evening. If you have questions for me, let's talk after the meal."
Be gentle.
The holidays are emotionally stressful — for everyone. So, when sharing news that might be hard for someone to hear, don't drop it on them when they're already overwhelmed. That's selfish, and the surest way to get a negative reaction.
As a general rule, it's polite to warn someone when you have something important on your mind. It gives them a chance to stop and focus on what you're saying, and it signals that this is a moment when your relationship may be tested, strained, redefined and/or deepened. It's also good form to give them the option to delay big news until they're ready to hear it. "Hey, I've got something I want to tell you about, and it might take a while for us to talk it through. Is now a good time?"
Set clear boundaries.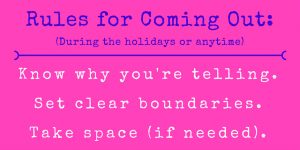 Don't assume the other person knows what to do with this new information. If you want this kept secret, be explicit. If you're fine with them discussing it with a few select people, list them by name. If you don't care who knows what, grant permission to talk freely. People cannot read your mind. You alone are responsible for clearly conveying how far you want your news to travel. And if you aren't clear about keeping quiet, you have no one to blame but yourself if word gets around.
Take some space.
This is not necessarily a bad thing. Many of us, when confronted with unexpected information, need to withdraw for a while. Don't presume if your loved one initially has a hard time it means your relationship is over forever. Trust that most people are as terrified of losing love as you are, and that although they may need time to accept a new reality, they carry a deep desire for you to remain in their lives.
There's much more to say about the fine art of coming out, so I'm re-recommending the stellar website Coming Out To Your Parents from the Colorado State University Pride Resource Center. The site offers excellent advice on breaking news to your loved ones.
Have the happiest of holidays!
Until next time, be sweet to yourself.
Lola D.
Read "Surviving the Holidays (Part 1)" right here.
—
Lola Davina is a longtime veteran of the sex industry and author of the upcoming Thriving in Sex Work: Heartfelt Advice for Staying Sane in the Sex Industry, a self-help book for sex workers. Contact her at Lola.Davina@ynotcam.com and visit her on Twitter at @Lola_Davina, on Facebook, and on Tumblr.
Image of Lola Davina courtesy Pat Mazzera.