Hi Sexy —
Getting to create your own work schedule is great, in theory, but how do you motivate yourself on those days when the last thing you want to do is get on cam? A bad attitude is bad for business. Here's some advice on what to do when you just aren't feeling it.
Establish a good working routine 
Do you get ready just by throwing on your work clothes, switching on your work lights and logging on? How can you expect to get in the mood to work without preparation? Think about what professional athletes do before and after a game. They know if they don't take care of their minds and bodies, they can't stay in peak performance mode.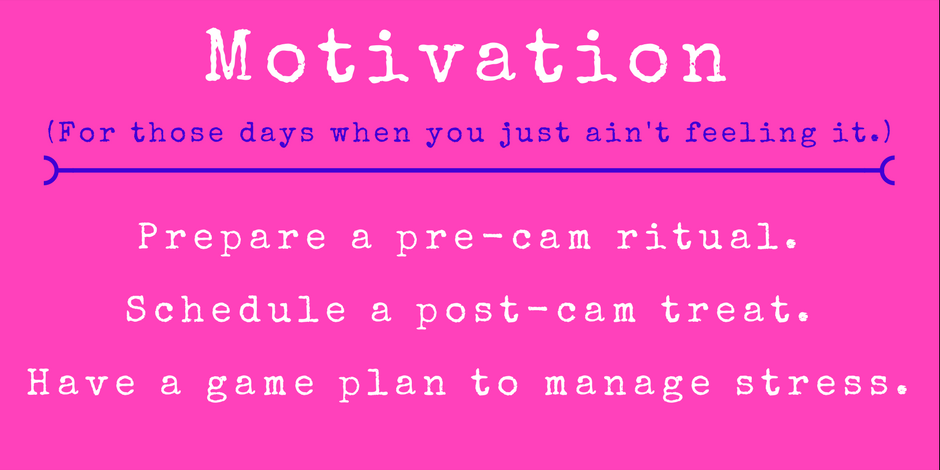 You get to schedule your working day any way you choose, so make it something to look forward to. Your pre- and post-cam routines should be sensuous and fun. Beforehand, draw a bubble bath, light some candles, put on some sexy music, whatever feels good to you. Dabbing on some of your favorite perfume is a great pre-cam ritual. Tweet all about it to work up your clients' anticipation.
Affirmations are another way to help calm your body and focus your mind. Here's a suggestion: "I am happy and grateful for my great guests and all the money they bring me."
For after your shift, have a specific treat in mind and make it juicy, whether it's chocolate, connecting with a friend or playing video games. There are two keys to developing a good habit: consistency and reward. They reinforce each other. The more regular and deliberate you make your routine, the more your brain connects that routine with the reward. The Power of Habit: Why We Do What We Do in Life and Business by Charles Duhigg is a great book to learn more about establishing good habits and breaking bad ones.
Have a game plan
When you're having a hard time getting motivated, it's easy to fall into the trap of saying you'll work for as long as you feel like it, then quit. But you'll feel better about the job — and yourself — when you have a concrete goal and stick to it. Whether it's to stay online for a certain number of hours, attract a certain number of guests or earn a certain amount of money, setting a target and hitting it makes the job goal-oriented rather than based on your mood. Think of it this way: If you work only until you get down or bored or frustrated, that's the feeling the job will leave you with. But when you work until you've reached your goal, camming becomes a source of pride and achievement.
If you're reluctant to start because something is irritating you, have a plan before you log on: "If that idiot comes into my chat room and starts doing [X] again, I'm blocking him." Don't wait to get mad. Promise yourself the minute any situation takes a turn you don't like, you'll execute your solution and move on.
'Fake it 'til you make it'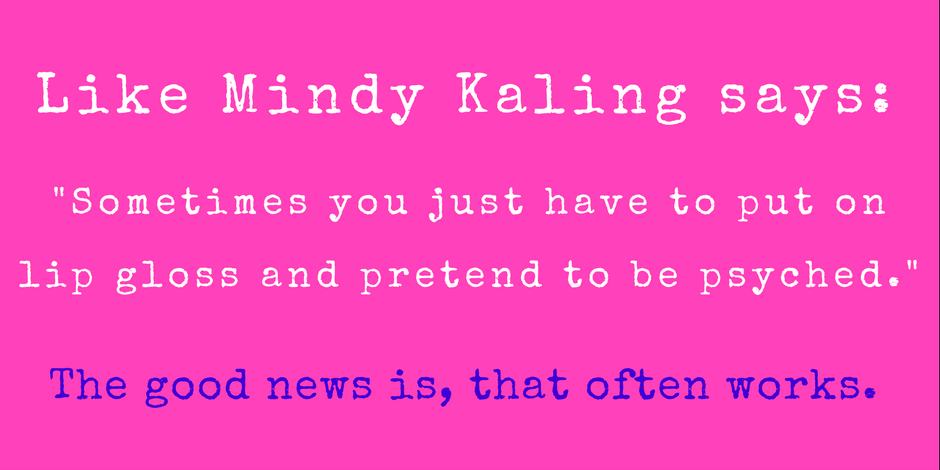 When they're out on yearlong tours, flying all over the world, do you think Adele and Beyoncé feel like putting on blockbuster shows every single night? You can bet they have family dramas, nagging colds and all that other garbage that can make it so hard to get up the energy to shine. Top performers have the ability to punch through resistance by acting like they're loving their jobs, even when they aren't.
"Faking it 'til you make it" is just like it sounds: telling a return guest you're glad to see them in your chat room when you don't even remember their name. Humming a few bars of an upbeat song although you're exhausted. Exclaiming that a certain request is your "favorite thing" to do when you couldn't care less one way or the other. It sounds corny, but research shows a funny thing happens when we act like we're enjoying ourselves: We trick our brains into thinking we're having a good time.
The same holds true going the other way. When we dwell on everything that gets under our skin, it ruins our mood and drags our ambition down right along with it. There will always be rough days on cam, but if you want to be successful in the long run, as Mindy Kaling says, "Sometimes you just have to put on lip gloss and pretend to be psyched." More often than not, good things happen when you do.
Until next time, be sweet to yourself.
Lola D.
—
Lola Davina is a longtime veteran of the sex industry and author of the upcoming Thriving in Sex Work: Heartfelt Advice for Staying Sane in the Sex Industry, a self-help book for sex workers. Contact her at Lola.Davina@ynotcam.com and visit her on Twitter at @Lola_Davina, on Facebook, and on Tumblr.
Image of Lola Davina courtesy Pat Mazzera.