In Part 1, photographer Toney T offered tips for optimum lighting on a budget when taking your own pictures. Today, he illuminates how to pose and edit the results in order to create the most flattering images. If you've decided to hire a professional photographer, or need one for a portfolio, Toney also has advice about what to expect when you arrive at your shoot and what you should look for before you agree to a session.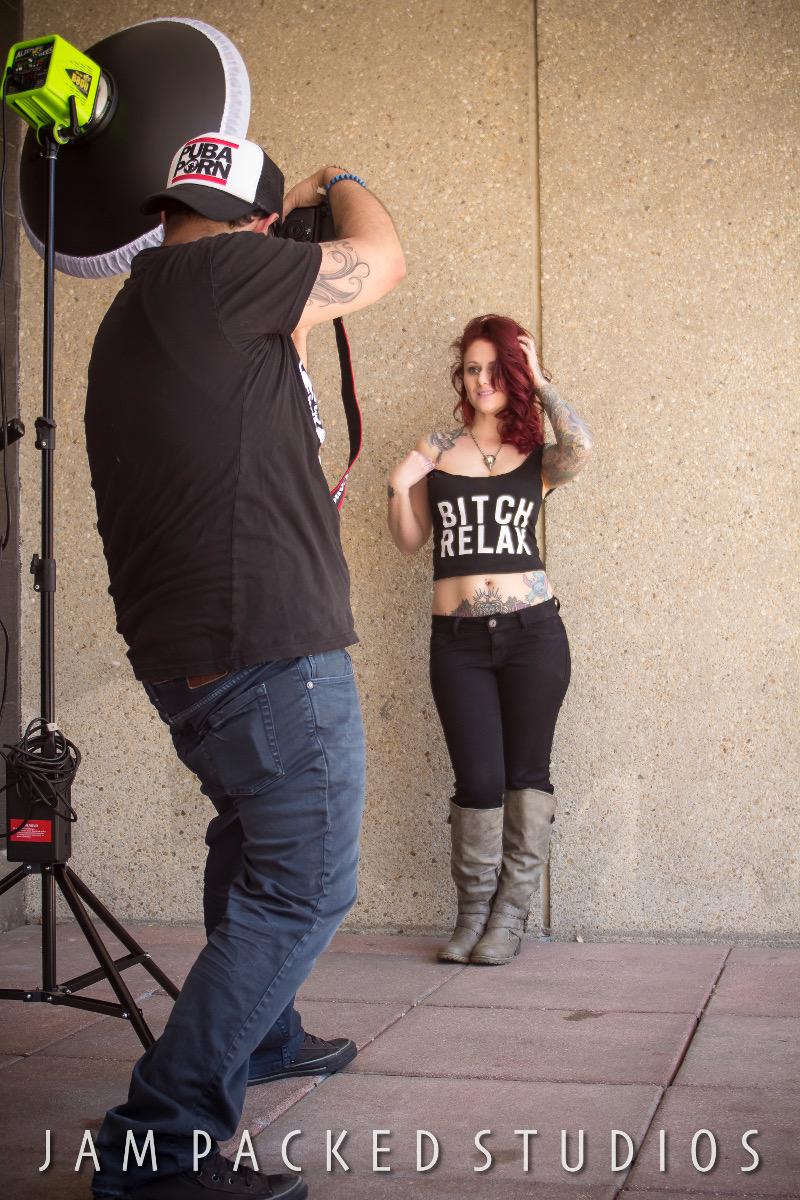 YNOT Cam: What are some of the best poses and camera angles for models in order to look their best?
Toney T: I am known for my wicked angles. On that note, I love working with a wide lens and having the model(s) pose in very awkward poses. Whether it's me lying on the floor while pointing my lens on the models to get that wicked shot, or having the model sit on a small bench or cube while squatting on her tip-toes and stretching into a ball, to my eye those are what catches the attention. I love glamour and fashion shots, but give me something wicked any day and I'm spent. Out-of-the-box photography has always been my best for angles and posing.
What are some of the worst poses and camera angles? How about the do's and don'ts of photo shoots?
Oh, I can go on forever on this subject, but I'll keep it to my main hates: Be on time, be organized, be professional. I guess the professional part covers the time and organized fact. A couple things I hate during a shoot: First, close your mouth. I'm not a dentist, so I don't need to see your teeth. When you come on set, take off the hairbands that are wrapped around your wrist. Last but not least, if we are doing a clothed shoot and the model is responsible for the outfit, iron it. I hate having to clean up wrinkles in post. Again, I can go on forever on this subject…
Instagram is so popular, and selfies are a huge part of it. Can you recommend some filters and retouching apps?
Being a photographer, I can honestly say I hate filters, but I know that's what the world is full of. Now, retouching apps I'm all for. Get yourself the Adobe Lightroom App. You can download the free trial on your phone. It's very easy to use and it will help with creating stunning photos. I can't stand when models use filters or bad retouching apps that make them look like a mannequin.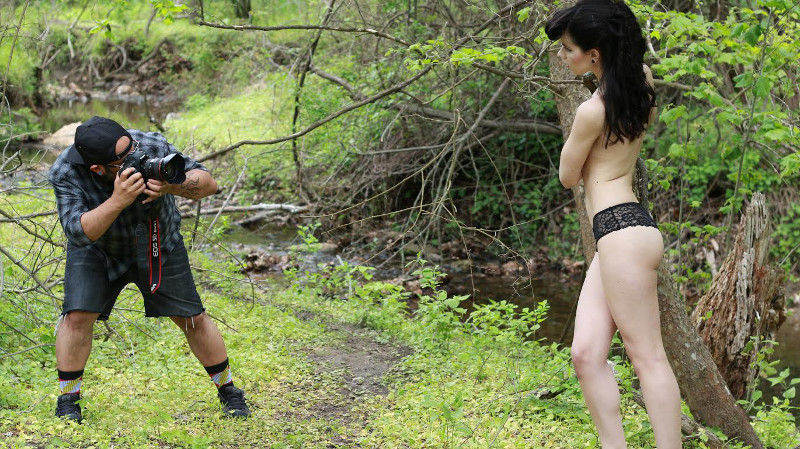 At the same time, how much retouching is too much?
Some photographers, while editing, retouch way too much. It's not my style, but to each their own. Everyone has their own style, but I truly believe that you shouldn't get crazy with it, unless you want your model to look fake like a mannequin. You want quality detail on your skin. You want that realness. Too much retouching will take that all away and sometimes make you not look like yourself.
Candids are great for Instagram and social media, but for camgirls looking to sign with major agencies or expand into other areas, it's important to have a press kit and professional photos. What should a camgirl look for when hiring a photographer? What are the red flags to avoid?
It's all about references in this day and age. If you don't have the budget to go through an agency and use a signed photographer, then go for freelance. A freelance photographer can be much more affordable, and there's a really good chance that you'll get just as good, if not better, photos added to your portfolio. The only homework you'll have to do is check references. Use the big beast that is social media and check out the photographer's page, see who he or she worked with and contact those models. As for red flags, again, check out their profiles. See how they interact with fans. Also, before working with the photographer, ask a ton of questions. "Where do you shoot? Since this is the first time I'm working with you, may I bring an escort with me? How long till I receive my finished photos?" etc. Outside of networking, social media is a big plus on doing your homework on hiring a "professional."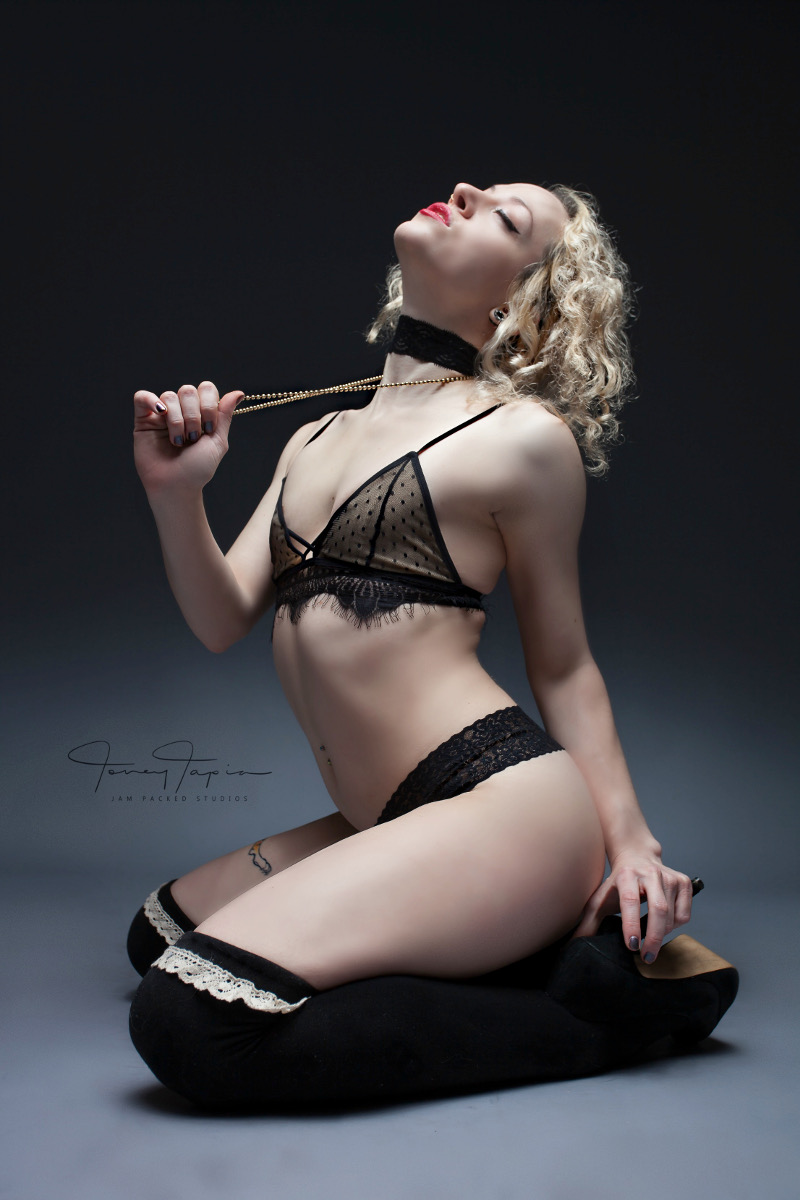 What should she bring to her shoot?
That all depends on the concept that is discussed between the photographer and model. For instance, if the concept is fashion-based, the photographer might already have the wardrobe from a certain designer. If the model hires a photographer for a shoot, depending on what she wants to do, she'll usually have to bring her own wardrobe. In that case, be sure to bring all the goods. Here's a checklist that I send to all the models that hire me: lingerie, bras, panties, high heels, pumps, garters, stockings, leggings, bustiers, corsets, short dresses, long dresses, skirts, jeans, denim skirts, long skirts, bikinis, tops, belts, boy shorts, belly rings, earrings, other body jewelries, hair and makeup kits, hair clips, hair bands and sunglasses. It basically covers everything. Unless, of course, we're doing nude photography. Then it's "Bring your attitude and let's make some art."
With iPhones offering so many DIY photo options, what are the advantages of hiring a pro, even for a few Instagram photos or short promotional videos?
The advantage of hiring a pro: great photos. Sure, you can get your buddy to take a few photos of you looking cute. Yes, you can get one of those selfie sticks, attach it to your wall, and take random photos. And yes, you can purchase a starter camera, put that bad boy on auto and snap away every 10 seconds. But the actual collaboration of working with a professional and the quality of the return product is where it's at. It's just like a wedding. As soon as you figure out the location of your wedding, the next biggest thing you should look into is the photographer. In the end, this is the person who is capturing you and your memories, whether it's for business or pleasure. Don't go cheap on your photos. You will see a difference when and if you do.
—
Check out Part 1 of our interview with Toney T right here.
To book a shoot, contact Jam Packed Studios at jampackedstudios@gmail.com
Follow Toney on Instagram at @jam_packed_studios