Dear Lola,
I recently read something that upset me: A webcam model and porn performer, when asked about the state of sex work in an online forum, said something like, "Though I have respect for all types of work, I'm not a sex worker. I would never risk doing something that's illegal."
I felt my hackles rise immediately, because what's legal is pretty arbitrary and not all types of sex work are even against the law. But mostly, I got upset because of the othering and prestige divide. Ugh! At the same time, though, this model is totally entitled to think of sex work as she sees fit. So I guess my question is this: How do I be supportive of a person's right to self-identify while also not playing into the whorearchy and class divides between people who work in a sexual way? In my view, we're all in the same gang! Thanks so much!
A.
Dear A,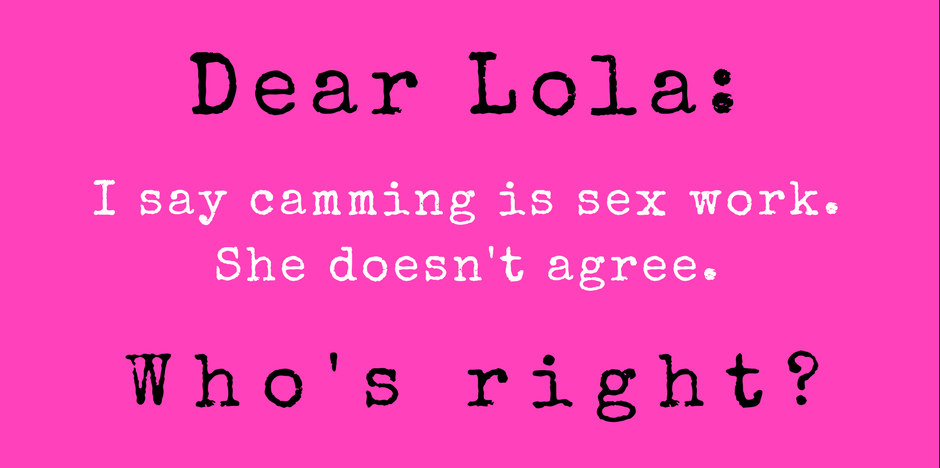 Great question. Your exchange cuts to the heart of so many issues we all face in camming and the wider sex industry: the dignity of self-determination, along with need to protect ourselves against bigotry, harassment and legal trouble. It also illustrates the tension in the term "sex worker" as it's undergone redefinition into two distinct but somewhat conflicting directions.
Carol Leigh, a.k.a. The Scarlot Harlot, coined the term "sex worker" in the late 1970s to drive home the fact porn and prostitution are jobs. Here in the U.S over the past decade or so, "sex worker" has expanded to become a blanket term across all job titles, from phone sex to full service. Basically, if you get paid to turn other people on for a living, you're a sex worker. In so doing, the term does much of the political lifting that "queer" does in the LGBTQ community by absorbing stigma from across the spectrum. It implies think what you want about "people like that. I'm one of them, too. It sounds like your reaction comes from that desire to stand in solidarity with folks throughout the adult industry.
At the same time, there's been a strong push by pro-sex-work activists in Australia and parts of Europe and Latin America to abolish "prostitute" from official usage, such as newspaper reporting and legal language, and replace it with "sex worker." These movements arise out of histories of mistreatment and violence. Promoting the use of "sex worker" is a drive to de-stigmatize the work while humanizing those who do it.
This is a noble effort; however, it does create the quandary that if "sex worker" comes to mean only "prostitute" or "full-service sex worker," folks in other job titles won't identify with the term. It sounds like this was where this other cammer was coming from.
So it depends on who is using the term and why, which leads us back to the core of the conflict between you and your online friend. Let me give you my best advice about how to talk to her.
Just as your friend has the right to identify as she sees fit, you have the right to express your opinion about her word choices. You will, however, be responsible for the fallout, so how you communicate matters.
The first thing to do is to realize you never know where someone else is coming from. Speaking from my own experience, I was never bothered by the use of the word "prostitute." In my mind, it's a neutral term. Then I learned from Australian activists just how devastating it can be for them culturally. So, even if you hold a strong opinion about a topic, there's always opportunity to learn from other people's perspectives.
Next is determining what your goal is in challenging this person. Do you want them to hear your stance? Then stating your opinion in a neutral tone is sufficient. Do you want to convince them that your worldview is right and theirs is wrong? It's much easier to catch flies with honey. Respectfully advancing your ideas while making room for healthy debate is more effective than shaming and blaming. Save that treatment for those who truly deserve it.
If I were responding to your online friend, I'd say something like, "The way I see it, having sex online for pay is the very definition of sex work. And whether or not it's legal, all sex work comes from the same place. No matter how close you get to strangers or how many people see you naked or how much you charge, those are distinctions without a difference. I'm proud to call myself a cammer and a sex worker." Your friend might not agree with you, but she might learn something from where you stand.
Until next time, be sweet to yourself.
Lola D.
Author's Note: I'd like to thank Talya De Fay, Australian sex worker and advocate, for her help in writing this article. Check her out on Quora, where she tirelessly answers questions about sex work, and the excellent website Scarlet Alliance for sex worker resources in Australia and beyond.
—
Have a question for Lola Davina? Submit it here and indicate "Ask Lola." Questions may be edited for length and clarity. No real names or identifying details will be used.
Lola Davina is a longtime veteran of the sex industry and author of the upcoming Thriving in Sex Work: Heartfelt Advice for Staying Sane in the Sex Industry, a self-help book for sex workers. Contact her at Lola.Davina@ynotcam.com and visit her on Twitter at @Lola_Davina, on Facebook and on Tumblr.
Image of Lola Davina courtesy Pat Mazzera.