Hi Sexy!
You don't need me to tell you advertising in the cam space is congested, contested and confusing. There's an ocean of competition out there; standing out is not easy. At the same time, there's the temptation to do things we might not really feel comfortable with in order to drive traffic. Additionally, decisions we make today have potential repercussions — for our brand, our reputations, our sense of self — for years to come. So, the stakes are high. This isn't just our livelihoods we're talking about — it's our lives.
Many of us aren't formally taught how to market ourselves, so we just wing it, copying others and trying this and that with no clear plan or intention. I'm no marketing expert, but I'm fortunate to know a few. I asked Carolyn Higgins of Fortune Marketing what she recommends for carving out your niche in the cam world. She has three pieces of general advice.
Define success by how you feel, not just what you earn.
Naturally, there's a financial component to our wellbeing. When business is booming, we feel better about ourselves. That's just human nature. But it's important to take into account the whole package: We want to look forward to getting on cam, not dreading it. We don't want to need hours or days to recover. And we want to know we can live with the consequences of our choices in years to come.
Originality catches the eye.
If your marketing is generic, then your service will be interchangeable. Keywords may drive search engines, but they have no power to set you apart from the crowd. No matter how magnificent your favorite body part may be, if it doesn't tell the world something special about you, you'll be competing with thousands of others like it. Erika Lyremark, author of Think Like a Stripper: Business Lessons to Up Your Confidence, Attract More Clients & Rule Your Market wrote, "Originality is filled with energy that everyone is naturally attracted to." Your challenge is to identify and highlight what you uniquely offer.
Get the right attention, not merely the most attention.
This is an important way to think about attracting business. Which is better: 100 clowns in your chat room, barking stupid questions and making rude demands, or 10 respectful fans happily paying for a mutual good time? An outrageous persona may draw eyeballs, but the question you have to answer is "Do you like the way I get treated as a result?" The key is the power of attraction. Put out what you want, and you're more likely to get it in return.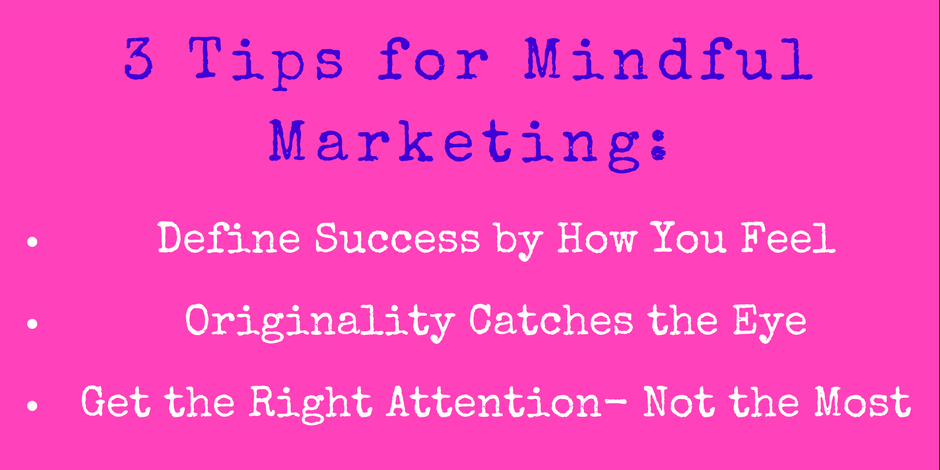 Mindfully marketing
With those broad guidelines in mind, let's explore concrete steps to launch an ad campaign that both attracts the clientele we want and reflects our values.
Carolyn advises the first step is to sit down and write out your marketing goals. Be concrete, because this gives you targets to aim for: "I want 2,000 paying fans each month." Don't forget to take into account your health, sanity and leisure time: "I need 10 hours a week to devote to my painting project." Referring to these goals regularly keeps you focused and on track. If something isn't working in your advertising and you need to change tactics, that's fine — just don't lose sight of your long-term objectives.
Now, write out the features of your ideal fan. Be precise, because this will help shape your marketing plan. If your ideal fans are in their 50s and 60s at the height of their earning power, emojis probably won't mean much to them. If they're younger and tech savvy, you'll need to be spending most of your time posting on Snapchat, not Facebook.
Next is to clearly identify what sets you apart. How would you describe your service to a total stranger? Carolyn recommends thinking about your brand as going on a journey. When someone comes into your room, what music are they likely to hear? What stories do you like to tell? What emotions or narratives do you naturally tap into? Innocence? Intimidation? Abandon? Goofiness? Giving your potential fans a taste of the ride they're about to embark on is so much more impactful than just a few hashtags.
Finally, to better tell that story, figure out what's worked in the past. Identify your top five favorite fans, and ask them what was the first thing they noticed about you. What drew them to you in the first place? What keeps them coming back? Carolyn urges use their words in your advertising. Their answers will be pure marketing gold, articulating what makes you stand out and what you uniquely offer as good value.
Once you've answered these simple but powerful questions, you're well on your way to attracting a sustaining clientele without giving too much away.
Until next time, be sweet to yourself.
Lola D.
—
Lola's Note: Many thanks to Carolyn Higgins of Fortune Marketing for her generous insights.
Lola Davina is a longtime veteran of the sex industry and author of Thriving in Sex Work: Heartfelt Advice for Staying Sane in the Sex Industry, a self-help book for sex workers now available at Amazon, Barnes & Noble, iTunes and wherever else ebooks are sold. Contact her at Lola.Davina@ynotcam.com and visit her on Twitter at @Lola_Davina, on Facebook and on Tumblr.
Image of Lola Davina courtesy Pat Mazzera.