We've all been there.
You're out — or trying to find some new content to stream for your fans — and it happens. Your phone runs out of storage.
Rather than scramble madly to delete as many superfluous photos, videos and music as you can, you may want to consider investing in an outside storage device.
The DataTraveler Bolt Due is from Kingston Technology Company's Kingston Digital division. The Bolt Duo is fitted for Apple devices — specifically iPhones and iPads. All a user has to do to use the DataTraveler is plug in the device, download the app from the Apple AppStore and backup data.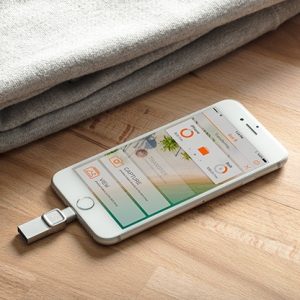 "Users capture more memories every day, so it's only a matter of time before their iPhone fills up. Bolt is a great device to back up and free up storage space on iPhones or iPads," said Andrew Ewing, senior manager for consumer business at Kingston and HyperX.
"It functions like a Flash drive for iPhone," he continued. "Users simply plug it in, download the Bolt app2 and then back up to their camera roll. No more deciding which photos or videos to keep and which to delete when the dreaded 'storage full' notification pops up."
In addition to allowing users to place already existing data on an iPhone or iPad, people also can add new photos and videos directly to the Bolt Duo.
The Bolt Duo is available with three storage capacities: 32GB, which holds 8,000 photos (priced at $59.99); 64GB, which holds 16,000 photos (priced at $89.99); and 128GB, which holds 32,000 photos (priced at $119.99). It's compatible with iOS 9.0+.
The app and device are super-simple to use, and the DataTraveler also is portable and outfitted in a protective rubber case and key ring. Its packaging makes it look like a sleek accessory that easily can be attached to a bag. The device also comes with a two-year warranty and free, live technical support.
What this means for you
This device could be a great buy for any cam model who travels a bunch and has to post video and photos while on the road.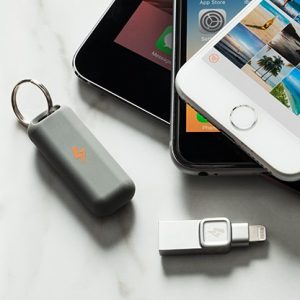 Having a device with the capability to make your iPhone or iPad storage essentially unlimited could help the diversity and quality of photos and videos you post when you're away from home. We've all experienced the frustration that comes with shooting the perfect photo or video, only to discover the data didn't "take" because your device was out of storage space.
The device appears to be able to take the wear and tear that comes with constant travel. So many external storage devices seem ill-equipped to "come with" the user.
—
Abbie Stutzer is a writer and editor from Lawrence, Kansas. Find her on Twitter at @abbiestutzer and on Insta at @abbiestutzer. Email her at abbie@ynotcam.com.