That Miss Quin describes herself as a manic pixie dream slut and a horror fan. The same Miss Quin works in a very unique fetish niche as a naughty clown, something that's also part of her personal life and sexual expression.
Miss Quin took some time out to chat with YNOT Cam about her work, its impact on others' sexual lives and how she seeks to be an element of change in the world – by doing.
—
YNOT Cam: Tell us a bit about yourself…

Miss Quin: I am currently 29 years old. In April 2018, I will have been camming and making fetish videos full time for six years. I am from all over the east coast of the United States – literally – and currently live in Florida.
A fun fact that most people don't know about me is that I have a stuffed elephant that I regularly snuggle with when I sleep. Her name is Ellie.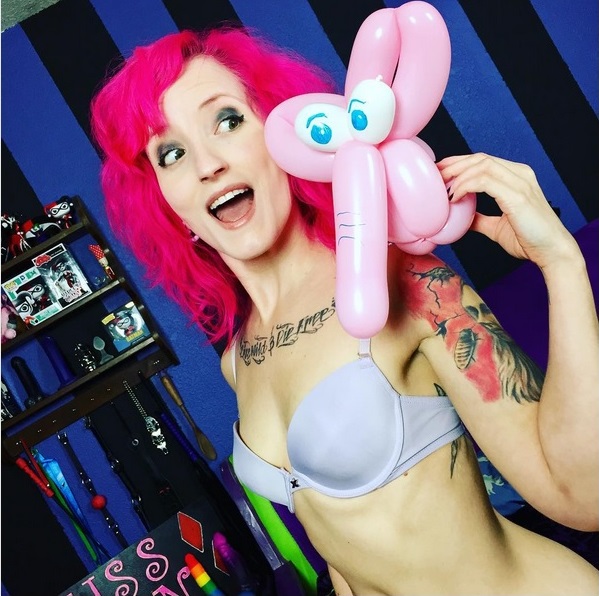 What did you do before you were a cam model?
In college, I worked at McDonald's for three years. I've worked at many movie theaters — in Florida, Virginia, and New York — in every position except projection booth. Most of the theaters I worked for were older, so you had to be very strong to lift the film reel to build the films, not like more modern theatres with mostly digital projectors today. I love movie theaters and when/if I do retire from sex work, I plan to own my own art house theater where I will have films, live shows and stage shows.
What prompted you to begin your career online?
Before I started camming and fetish pornography full time, I traveled the United States with my partner working at renaissance festivals. I had begun doing cam shows when were traveling somewhere with WiFi. Those were interesting times.
I took it on full time as my "day job" after a particularly bad renfaire season. I needed a break from the travel and thought it would be a good safety net to get back on my feet after a touch of bad luck with the faire. As time whet on, I found I could make a decent living doing it if I applied myself and took the work seriously.
Filmed Clown Girl Talks reviews today for yootoob channel. https://t.co/zZwCz8vzmE new video tomorrow! pic.twitter.com/22sOcJgZNF

— Quin (@ThatMissQuin) January 12, 2018
What are some general observations you have about camming?
I love helping people have a good time, but the true joy I get out of camming is giving a viewer permission to enjoy themselves in ways they felt shame about before. I have so many regulars that have trusted me to take them on journeys because sexuality can change for many people over the years as they evolve as people. Some days are hard, and some days I don't want to work. I practice self-care when I need it so I don't burn out.
What one piece of key advice would you give new models looking to up their game in 2018?
My main advice to newer models is don't compromise yourself. Don't do something you dislike or have issues with for a few bucks. Viewers can tell when you are not having a good time. In my mind, it is unfair to the viewers — but most importantly it's unfair to yourself. Don't think of making a quick buck instead think of the long term and how you feel about yourself and your relationship to your job.
Another sale! Get one too! Nurse Quin examines your Big Cock. Get yours here https://t.co/W90kjALk6q @manyvids #MVSales pic.twitter.com/G1DTsSROLy

— Quin (@ThatMissQuin) January 8, 2018
Tell us about horror and being a "naughty clown" – How do these elements factor into your work?
I am a clown fetishist. I kept the fetish to myself for several years, until about a year after I started making videos and selling them on Clips4sale in 2012. I saw it as a wonderful and safe outlet to enjoy something I had kept to myself for so long. I felt it was time to make myself happy.
By being open about myself, I encouraged others. Now there's so much more clown porn out there for the world to enjoy and be confused by. Viewers are occasionally fellow clown kinksters or fetishists, but I do it for myself. I also love horror films, and I like making porn parodies of horror films or scenarios that I adore.
Giantess Crushes House and Eats It by @ThatMissQuin https://t.co/3aDkEk7E0o @manyvids pic.twitter.com/puPRIZm0w7

— Quin (@ThatMissQuin) January 6, 2018
Outside of camming, what are you most passionate about?
Film and accurate sex education are two very important things in my life. It's amazing to me how they both are heavily involved in my current work. My job aside, I adore talking about both of these subjects often.
If you could change one thing about today's world, what would it be and why?

I wish that more people felt comfortable about their sexuality and kinks in order to be honest about them to their partners or lovers. So much heartache happens when people don't feel seen and heard. We have to provide a safe place for our loved ones to be themselves, and the only way I can make a difference is to be the example.
Join me for #masturbationmonday now https://t.co/hzNwI0QRWj pic.twitter.com/wqAY6opygf

— Quin (@ThatMissQuin) January 8, 2018
Find Miss Quin on Twitter at @ThatMissQuin and on Clips4Sale here. You may also email her at MissQuin24@gmail.com.
—
Erika is a sex positive people watcher (and writer). Email her at erika@ynotcam.com.