Hi Sexy —
Today in cam health-and-wellness, I thought I'd focus on the benefits of working for ourselves.
Now, you might not think of yourself as a small business owner — or, SBO — but in camming, that's exactly what you are. Civilians might think all we do is lie around and play with ourselves all day, but we know we have to be the talent, MUA and hair, set and lighting designer, producer, bookkeeper, advertising maven, IT department, SEO expert and all the rest.
We sell ourselves short when we don't give ourselves credit for operating as the all-around entrepreneurs the job requires.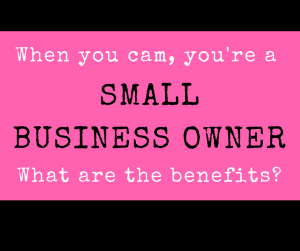 What Does It Mean To Be An SBO?
I thought I'd turn to the experts at Forbes Magazine to find out. At its core, to be an SBO is a trade-off, where we gain freedom and flexibility in exchange for greater responsibility. For those of us with the necessary personality traits, there are many rewards, including higher self-esteem, seeing hard work reflected in higher income and getting to define success for yourself. The challenges are relying solely on yourself for major decisions and motivation and weathering the inevitable ups-and-downs of self-employment.
So, what does na SBO do? According to experts, your average SBO is in charge of:
Customer Service: That's certainly one way to describe the job!
Marketing & Sales:So critical for camming success — creating fresh content, expanding your platform and constantly reaching out to connect with fans.
Finances & Accounting:Keeping track of revenues, expenses and taxes is how we measure the fruits of all of our hard work.
Strategy & Planning:This sounds dry, but looking ahead to where we want our business to be in six months, twelve months and years from now — then achieving those goals — can be creative and gratifying.
Human Resources:When it comes to working for yourself, the human resource is you! You're your own boss, as well as most treasured employee, making self-care essential. It's your job to determine whether you need to give yourself that pep talk to get yourself on cam, or take a mental health day.
SBO Benefits and Challenges
Camming duties clearly align with SBO responsibilities. So, what's the good and bad that goes along with self-employment?
For one thing, working for yourself can be a huge boost to your self-esteem. You can see your hard work reflected in your income, and no one else can take credit for your success. The downside, of course, is the need to be your own best cheerleader on those slow days that make you doubt yourself.
Here's where being the CEO of your own business can be juicy and delicious: You get to make your own rules. You get to decide what success actually looks like. Is it in your number of fans? How much you earn? How much free time you have for other pursuits, or connections you make within the industry? Setting clear goals and achieving them can be one of the best feelings in the world.
On the flip side, when we get mired down in comparing ourselves to others or pursuing markers of success that don't align with our core values, the work can leave us feeling hollow and unfulfilled. This is where you have to be your own best boss. If camming isn't working for you for some reason, take some time to think about how you want it to be, and make course corrections.
Get The Help You Need
Finally, one of the most important benefits of thinking of yourself as a SBO is you don't have to reinvent the wheel. SBOs have to wear many hats, it's true, but they can also call upon other professionals. As you grow and expand, you can reach out to get the help you deserve. Not every bookkeeper or web designer will be cam-friendly, but don't be afraid to hire experts who take you and your blossoming small business seriously — and don't be afraid to fire the ones that don't.
There are all kinds of negative stereotypes associated with the term "sex worker," and we all need to be working to change that. To be a successful cammer is to excel at all the duties and responsibilities of any SBO, all the while looking sexy while you do it—don't sell yourself short!
Until next time, be sweet to yourself.
Lola D.
—
Lola Davina is a longtime veteran of the sex industry and author of Thriving in Sex Work: Heartfelt Advice for Staying Sane in the Sex Industry, a self-help book for sex workers now available at Amazon, Barnes & Noble, iTunes and wherever else ebooks are sold. Contact her at Lola.Davina@ynotcam.com and visit her on Twitter at @Lola_Davina, on Facebook and on Tumblr.
Image of Lola Davina courtesy Pat Mazzera.