Virginia is for lovers – and also for Roselynn Locks!
The aptly named Locks (her beautiful mane is shampoo commercial quality) hails from Virginia, where she lives to this day. In addition to being a commanding presence online, Locks also enjoys some pretty heavy-duty creative hobbies.
"I enjoy making things," Locks shared. "I've taken many classes on metal jewelry making, filmmaking and glassblowing and have started to get together my own materials and work from home."
"Ultimately I'd like to have workshop in my home where I can both make glass and jewelry. I've got the filmmaking in my home covered already!" she added.
Locks took some time out to share her thoughts on marketing, research, staying focused on business and striving to become number one!
YNOT Cam: So, who is Roselynn Locks (in a work sense)?
Roselynn Locks: I'm a camgirl, content producer, used panty provider and camgirl coach. I've been in the camming industry for eight years now. I had a background in human resources and insurance before camming, and since I've been in adult I've dabbled in food service (got a culinary degree), affiliate marketing, network marketing, nutrition coaching (certified) and YouTubing a bit.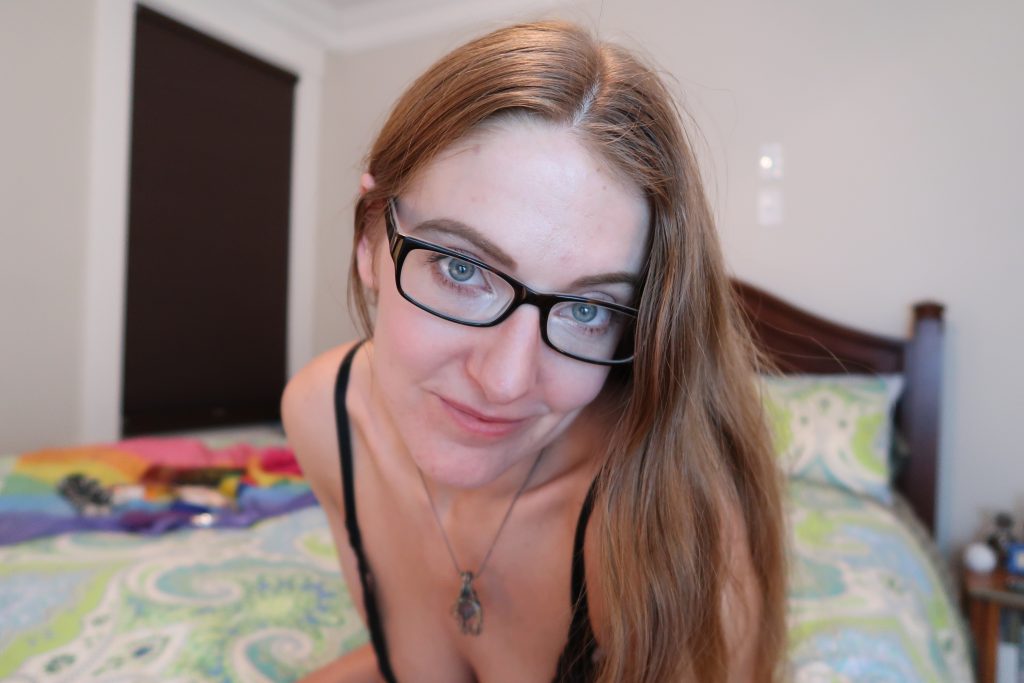 What did you do before webcam? What prompted you to begin your career online?
I worked for corporations and brokerages from a very young age. I then became a relatively young mom at 23. I stayed home with my daughter for about a year and a half before my entrepreneurial itch made me pursue at-home work. I took a very brief interest in paganism and it led me to do some research (I love learning and researching things, it's one of my passions) and I stumbled upon a local Beltane festival.
Beltane is a pagan holiday that has a big focus on fertility. One of the things this festival had was a Red Tent, which focuses on the feminine. The online bio of the woman who was leading this part of the festival interested me because she included in it that she had been a stripper.
This got me thinking about how empowering stripping can be — using your feminine energy and your "inner goddess." So I decided this is what I wanted.
True to my nature, I started researching stripping. This actually led me to the forum, Stripperweb.com, and it was there that I learned that camming was such a big business. Since I was already looking for at home work, it only made sense to me. The rest is history!
What are some highlights, challenges and general observations you have about camming?
I took a two-year break from camming for the most part from 2015 to 2017, and I did a lot of work on myself and personal growth during that time. I also was getting some very heavy training in marketing mainstream businesses online. Going through that experience, I'd have to say that my biggest challenges in camming were negativity, getting outside of my comfort zone and my limiting beliefs — because since I've returned and I've been able to come at this business with such a better, more positive and less scaredy cat mindset, my business and habits within it have been awesome.
I think it's very easy to get caught up in the negative mindset of other performers, to worry about whether it's slow for everyone, to log out when it's quiet, etc., and those things are not conducive to a successful camming career at all. Those are big things to combat as a performer, I've observed.
Camming now! 📷 What can i do to make your night awesome? 🍑 https://t.co/p8A5zyCRfB #CamGirl #webcamgirl #cammodel @bearhugcamgirls @PromoteCamGirl @GurlzSpicy @STFPromo @camgirlsinfo @MrJsGirls @CAMabis_Society @hornydutchy @teddysgirls_LLC pic.twitter.com/i2qzRviF5c

— 🔑🦚 Roselynn Locks 🦚🔑 (@RoselynnLocks) June 1, 2018
Outside of camming, what are you most passionate about?
Aside from learning being number one, helping people. Specifically, a cause I dedicate my time and money to is hunger. I have annual fundraisers for Feeding America, volunteer for hunger related initiatives and try to include charity into my business model when I can.
If you could change one thing about today's world, what would it be and why?
How, not only are we so overly sensitive as a society at the moment (in the U.S. at least), but how so many are not open at all to an actual discussion and dialog about our sensitivities. So many want to be free to express themselves but at the cost of stifling others' opinions expression of themselves.
Find Roselynn Locks at roselynnlocks.com and on Twitter at @RoselynnLocks.
—
Erika is a sex positive people watcher (and writer). Email her at erika@ynotcam.com.
Shampoo commercial hair is the best hair ever!
Image via phil landowski.