At age 20, Evelyn Milano was studying to become a veterinarian when she decided to pivot her career. She launched a website and committed herself to the world of BDSM – and eleven years later, she's at the top of her game.
Specializing in humiliation, Milano is also well known for her ass and foot worship videos. She creates all the content, including directing and video editing, for her official website EvelynMilano.com and clip stores, demonstrating her "hands-on" approach to all aspects of her brand.
For Evelyn Milano, domination is not just a job. It's her lifestyle. YNOT Cam recently had the opportunity to ask her some in-depth questions about her work strategies and goals. This is what she had to say.
YNOT Cam: Can you tell us a bit about your background moving into the adult industry?
Evelyn Milano: I'm 31 years old and have professionally been in the industry for eleven years now.  I was born and raised in a small southern town outside of Raleigh, NC where I remained for the first thirty years of my life.  I now reside in Denver, CO — but that could change in the future!
Fun fact: I'm not very "girly" in real life. I never wear skirts or dresses and absolutely hate high heels. I literally have a separate closet for my "work attire" that is strictly worn for work.
What did you do before you worked in the sex industry? What prompted you to take your career in this direction?
I have always been into the BDSM lifestyle, owning slaves in person far before I started my business online. I worked full time as a nanny the first three and a half years of being an online dominatrix. I hit a point in my career where the money was very good and decided it was in my best interest to quit my nanny job and be my own boss as the benefits were more enticing. Who doesn't want to be their own boss?!
What are some challenges and general tips you have about creating clips and content?
My biggest challenge with creating clips would be the ideas and themes. I have made SO many clips at this point, I feel like all my ideas are just recycled. It's hard to come up with new video ideas, so I like to ask my friends and bounce ideas off them.
Also, a tip: always update regularly, as new content is what sells the best. If you feel like you are hitting a wall, try taking phone calls or doing webcam for a few weeks instead of filming. I like to rotate every once in a while.
You have your content available on iWantEmpire as well as Clips4Sale – similar services with different users. Is it advantageous to offer your content on different-yet-similar platforms?
It's very smart to not have all your eggs in one basket. What I mean by that is, have your content on multiple websites.
Most customers have a "favorite" website they use, and when you have multiple revenue streams, it's more beneficial. I post all of my clips on each website, the only difference is some websites don't allow certain content — things such as ABDL [Adult Baby/Diaper Lover], toilet humiliation, etc — so I only upload those to the ones that allow it.
Try out each website, one might be a hit and another might be a miss, but you'll find which ones work best for you.
⏰ NEW CLIP: Newbie

⏰ C4S – https://t.co/wLwhhQrFTB

⏰ NF – https://t.co/lt9EXEtrgZ

⏰ IWC – https://t.co/KXmdFZoSIH#NITEFLIRT #CLIPS4SALE #C4S #IWANTEMPIRE #IWANTCLIPS#SUBTRAINING #SLAVETRAINING #JOI pic.twitter.com/11ysuAFQP0

— Evelyn Milano (@EvelynMilano_) June 4, 2018
Regarding the housing discrimination you experienced, wherein people felt uneasy with your home's history during the buying process, do you think is related to sex worker discrimination on a wider level?
Sex worker discrimination is everywhere, in every fashion and form. The whole adult industry is shunned in general. I have never saw it as a negative thing. To me, it is positive because I help people with their needs.
My father does not like what I do for work, and we actually don't talk because of it. I have had to end dating relationships because people are so closed minded about what I do for work. At the end of the day, they aren't the ones paying my bills though. If they can't support me, I don't need them in my life.
In the Daily Beast's coverage of your housing sale issue, the buyers reportedly felt "so uncomfortable they insisted on a reduced price, demanding the countertops and carpet be replaced." (wtf?!) Did you do it?
I did not replace the carpet or countertops, I did however knock a few thousand off the price of my house so that the new owners could buy and replace what they felt they "needed" to. I was in a rush to move to Colorado and sell my house, which is the only reason I lowered the price. I ended up having to pay three months of mortgage even after I moved to Colorado on top of my apartment rent. If it wasn't for that, I would have stuck to my guns and not budged.
I never even did anything on the countertops and I don't actually have sexual relations with my subs, so it's not like their "juices" would have been on the carpet in the first place!
Outside of work, what are you most passionate about? 
I am very passionate about animals in general. I grew up out in the country with cows, ducks, etc. I went to college to be a veterinarian. I have two minpins who are my "children." [Editor's note: Furkids are kids, too!]
I am also passionate about equality and human rights. I'm a strong supporter of the LGBT community. I donate regularly, and I have the equal rights symbol tattooed on my left wrist.
If you could change one thing about today's world, what would it be and why?
I would make everyone more open-minded and less judgmental. It would make the world a better place. Less hate, less negativity, rejection… More acceptance and love!
Find Evelyn Milano on Twitter at @evelynmilano_ and on Instagram at @evelynmilano.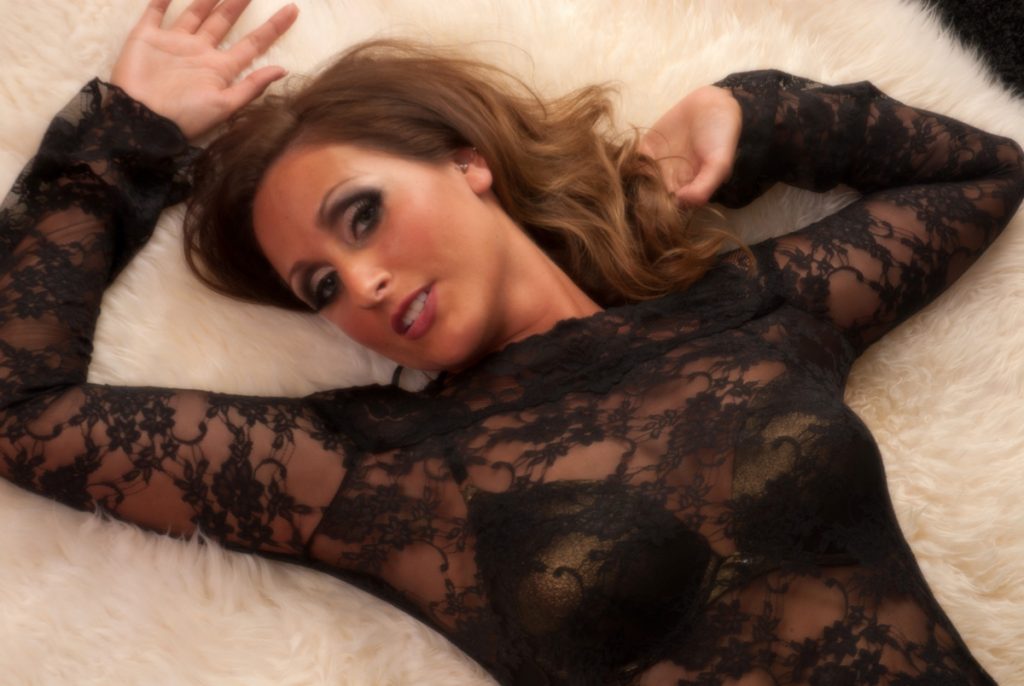 —
Erika is a sex positive people watcher (and writer). Email her at erika@ynotcam.com.