"I'm from North Carolina, so being a cam model is kind of a taboo profession here in the Bible Belt — but I've always been a taboo-type of girl," Little Liv explained matter-of-factly.
There are many little facts about Little Liv sprinkled across her Twitter, Chaturbate and Sext Panther profiles. She's eighteen, she's worked as a cam model for about six months, she loves cats and sushi, as well as dark art, science fiction, reading and documentaries.
"A lot of people don't know that I do a lot of writing, like poetry and short stories, and painting in my spare time. I'm not totally comfortable with sharing that part of myself with others just yet, even though I put dildos in me on camera," she laughs.
Clearly, in addition to loving sushi, Liv has a bit of sass to her! She took some time out to share a bit about her work online and how it's changed her life — including very recently as she dealt with a very serious natural disaster, Hurricane Florence.
YNOT Cam: What prompted you to begin your career online?
Little Liv: I actually did a few different things before becoming a model. When I was [younger], I worked as a clerk in a gas station. It was boring and monotonous and I hated it. After that, I was unemployed for a while… I finally found one again, cleaning beach houses to the tune of $150 a week. Sometimes I would clean ten two-story houses in a day.
Eventually I had moved out of my parents' house and was working three jobs to pay all my bills, and my boyfriend at the time was working two jobs. Not to bore you with all the other details, but I absolutely hated it and eventually quit after my boss pulled some shady things. My other jobs were waitressing and working in retail.
All of these jobs made me miserable. I had heard all through high school, and even knew some girls, that were cam models and made porn. A little voice in my head always said to me, "You could do that, that's really smart." And so, six months after turning 18, I signed up for MyFreeCams and went with it.
I guess I just always admired the people that did this job and really wanted to explore this area of entrepreneurship.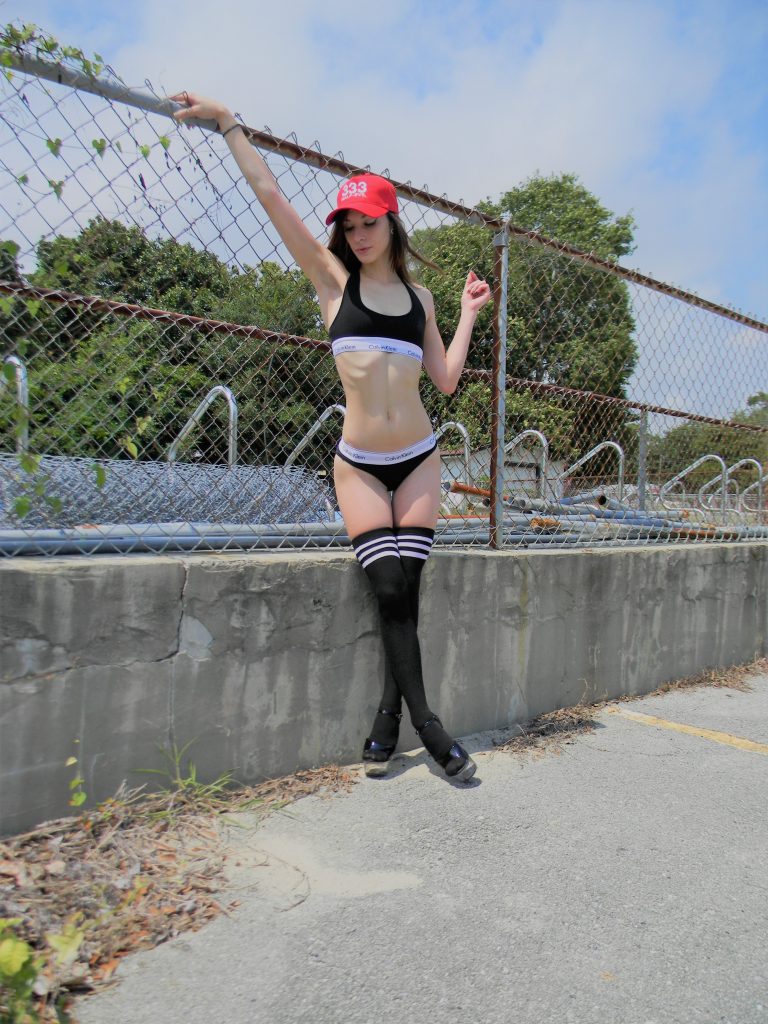 …and now you live in the International House of BDSM?! (or so your Twitter says)
Y'all remember when IHOP was like, "Oh yeah we're gonna be 'IHOB' now"? Well, I made a series of tweets where I was making up words that the acronym could stand for, and International House of BDSM was one of them. It was just a joke about the amount of sex toys in my home!
I love it, hilarious! So, tell us some of the best — and even worst – things about cam?
As far as camming goes, one of the best things about it is actually having a platform where my voice, my opinions and my individuality can be heard. Camming has given me a wonderful opportunity to unapologetically share myself with others and with the world, and I think that's pretty dang cool.
Since I became a cam model, my confidence has increased tenfold. I used to hate looking at myself in the mirror, and now I love it. I love taking photos and videos of myself, and it feels so good to love the skin I'm in!
On the flipside, a lot of the challenges that come with camming for me are some of the same that come with any level of entrepreneurship, mainly the idea that "it all falls on you." Being your own boss is super rewarding, but it takes a lot of self-discipline. I'm still trying very hard myself to master that, but I think I'm making really solid progress.
Also, sometimes you run into scammers, time-wasters, hecklers, people who don't really respect what we do as a craft and even people who want to harm us. But to be honest, being a cam model has been life changing for me, and I will continue to do what I do, even if that means I have to be subject to some of those things.
?buy my xxx snapchat? pic.twitter.com/hgDICa5z0f

— ✨Liv Does Not Exist✨ (@smutwiizard) October 1, 2018
I know you're dealing with the aftermath of Hurricane Florence, which is scary, and we're so glad you're ok… How have you been coping with this and its impact on your work?
[At the time of responding], it's actually been about two weeks now since Florence rolled through North Carolina and the aftermath has been crazy. I honestly don't think I've seen anything like this in my whole life, and I was born here. Some places still don't have power, a dam near some of my family's houses broke and the lake was overflowing, water levels are still dangerously high. Thankfully our home was okay after the storm and we were able to return, but some people we know weren't so lucky.
The power was out for almost a week, and honestly my fans, fellow models and family were the only things that got me through it. Some people sent money for fuel and food, others sent their thoughts and prayers our way. Truly, every bit of it made all of the difference.
The storm caused my schedule to be completely blown out of the water, however, and I'm still struggling to get back to camming consistently. That in turn has caused me to feel guilty because I'm not there for my supporters. I'm honestly humbled at the fact so many people were at my side and ready to come to my aid. I had models offer me places to sleep with my family (my boyfriend and his son) if I needed to drive out of state for the storm. It was really an amazing thing.
I promise I'll be back on my game soon, and so will North Carolina! If you're reading this, thank you for supporting me during one of the hardest times I've ever had to face.
Erika's note: Pause to regroup… We are so glad you're doing okay, Liv!
https://t.co/QoCFcfiPoA pic.twitter.com/G1xnERzA3i

— ✨Liv Does Not Exist✨ (@smutwiizard) October 2, 2018
Outside of work, what are you most interested in?
Outside of work I really enjoy psychology. I actually have wanted to be a Doctor of Psychiatry since I was eight years old, so I spend a lot of time reading about it, studying old forms of psychiatry and new forms. Overall, I would say I'm very passionate about knowledge in general. I want to know more, always, about everything. There's no way one human can know everything there is to know in the world, but nobody said you couldn't try!
If you could change one thing about today's world, what would it be and why?
If I could change one thing in today's world, I would change the way people view religion. I feel like so much self-hatred and the human race's lack of self-awareness comes from a misinterpreted understanding of spiritual practices.
I personally believe that we are all entitled to our own religious practice and basis of spirituality, but I also believe that those things should not limit other individuals' ability to practice what they believe. Essentially, I just would like to see a world where everyone could be unapologetically themselves, and that would be okay — not something people have to accept, but something that just is a part of our lives as human beings.
Also, I just wanted to say a quick thank you to y'all over at YNOT Cam for letting me do this interview… This was my first interview as a model, and it was really a lot of fun! And also, of course a giant hug, kiss and thank you to all my clients, viewers and cam model friends for being here for me and hearing me out and giving little ol' Liv a space to call my own in this community!
You're so welcome, Liv — #cammunity forever! Find Little Liv on Twitter at @little__liv.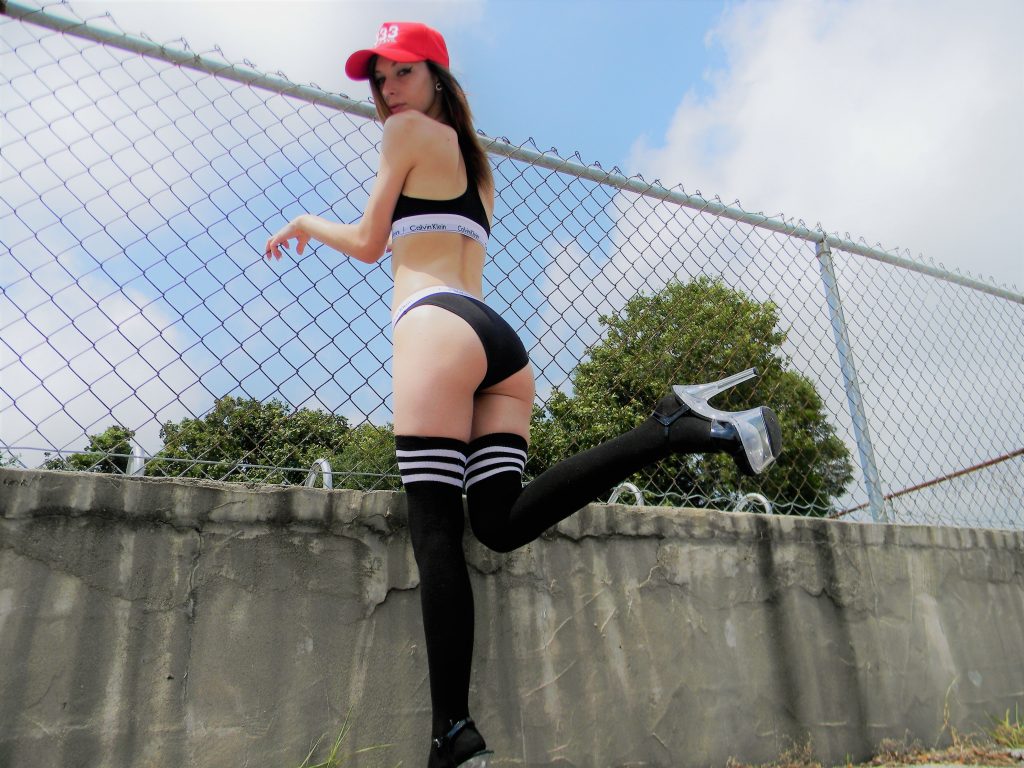 —
Erika is a sex positive people watcher (and writer). Email her at erika@ynotcam.com.