Social IDs were a unique category of items you could sell on iWantClips.com (iWC). Models on iWC could sell chat sessions or access to their Kik, Skype, Snapchat, email, Hangouts, Vine, ooVoo, Periscope and Twitter usernames. But no longer.
iWC has removed the Social ID section effective January 21, 2019. In a recent email to models, iWC revealed that they were directed by the legal departments of Snapchat and Skype to stop allowing the sale of personal social media handles: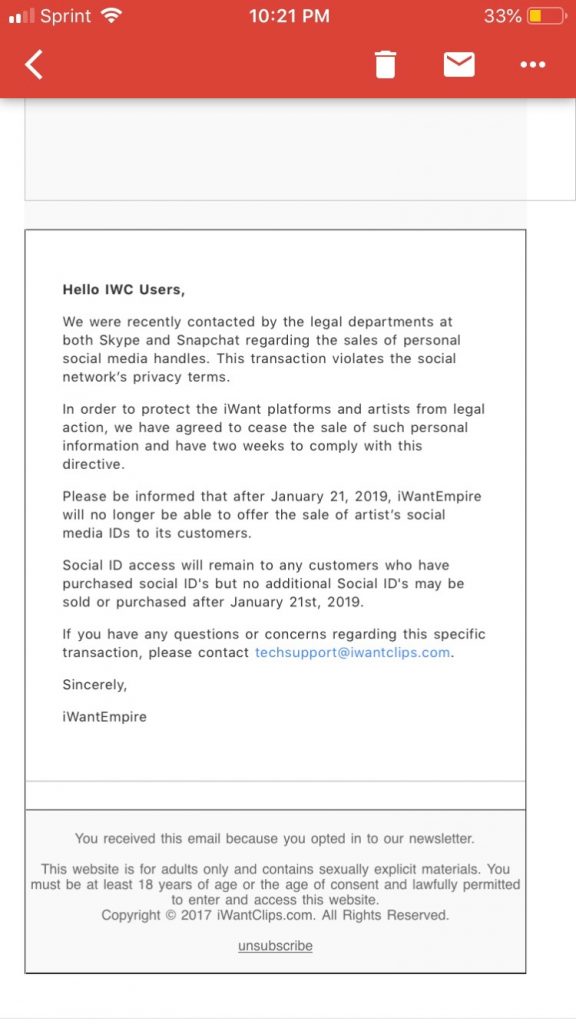 Editor's note: We received the above grab from a model who gave us permission to share it but would prefer to keep their identity confidential. We thank this person for alerting us to this policy change.
This email indicates that the ban applies to all Social IDs, not just Snapchat and Skype.
Snapchat's terms of service (TOS) do prohibit selling access to your Snapchat — "You will not buy, sell, rent or lease access to your Snapchat account, Snaps, a Snapchat username or a friend link without our written permission" — as well as porn — "You will not post content that contains or links to pornography." It is also against the terms of Twitter and Kik to sell access to your username. Vine (archive) and Periscope, as well as Google and Yahoo, do not expressly prohibit selling or leasing access to your username in their TOS. Vine and Periscope, however, are owned by Twitter so the Twitter Rules might apply to them as well. The Twitter TOS, which do apply to Periscope, don't mention selling usernames but it is forbidden in the Twitter Rules.
iWC says they were also contacted by Skype. I personally could not find anything in Skype's Terms of Use or Microsoft's Services Agreement or Privacy Policy that prohibits selling or leasing access to usernames.
It is unclear why, as expressed in the email above, Skype's legal team would cite their TOS as grounds for asking iWC to cease this type of transaction. However, your username may be considered personal information. Although these sites don't always explicitly forbid selling private/personal/identifying information, they do prohibit using their services to break the law. The sale of usernames might fall under certain privacy, identity or copyright laws. If applicable, this sort of legal loophole would likely be the company's defense for forbidding the sale of access to content or usernames — even if it's your own.
iWC's decision to disallow the sale of Social IDs fits a recent pattern of websites cracking down on adult content after FOSTA/SESTA was passed in the United States on April 11, 2018. The law was designed to combat sex trafficking but disproportionately targets sex workers and our online platforms. Companies adjust their policies accordingly to avoid getting into legal trouble and/or shut down. This affects sex workers' income, safety and freedom of speech.
ManyVids (MV) changed a few things to comply with the new law. Instead of selling Skype shows, MV Stars are allowed to sell "Video Chat." Around the same time, Microsoft changed their "Code of Conduct" as well: "Don't publicly display or use the Services to share inappropriate content or material (involving, for example, nudity, bestiality, pornography, offensive language, graphic violence, or criminal activity)." Because Skype is a Microsoft platform, these terms apply to Skype — doing xxx cam shows via Skype (and even using "offensive language") is apparently not allowed.
Here is a full list of Microsoft Services to which their policies apply.
With the exception of doing things that are also illegal, in the United States you cannot be prosecuted for TOS violations. For example, Microsoft's TOS ban offensive language. Using "offensive language" can (technically) get you kicked off their platforms, but you cannot be charged with a crime unless "offensive language" becomes illegal. In the case of Snapchat, you can be banned from the app if you violate their terms by selling a premium Snapchat, but they cannot have you arrested.
Models can contact techsupport@iwantclips.com with questions about Social IDs. Other sites that currently still allow this type of transaction include ManyVids, AmateurPorn and FanCentro. Aside from doing privates on cam sites, popular adult-friendly alternatives to Skype include Discord and Skyprivate.
Disclaimer: There is no way to tell what these sites' policies will be in the future, nor what "sliding scales" of enforcement may currently apply. We mention these sites for information purposes only.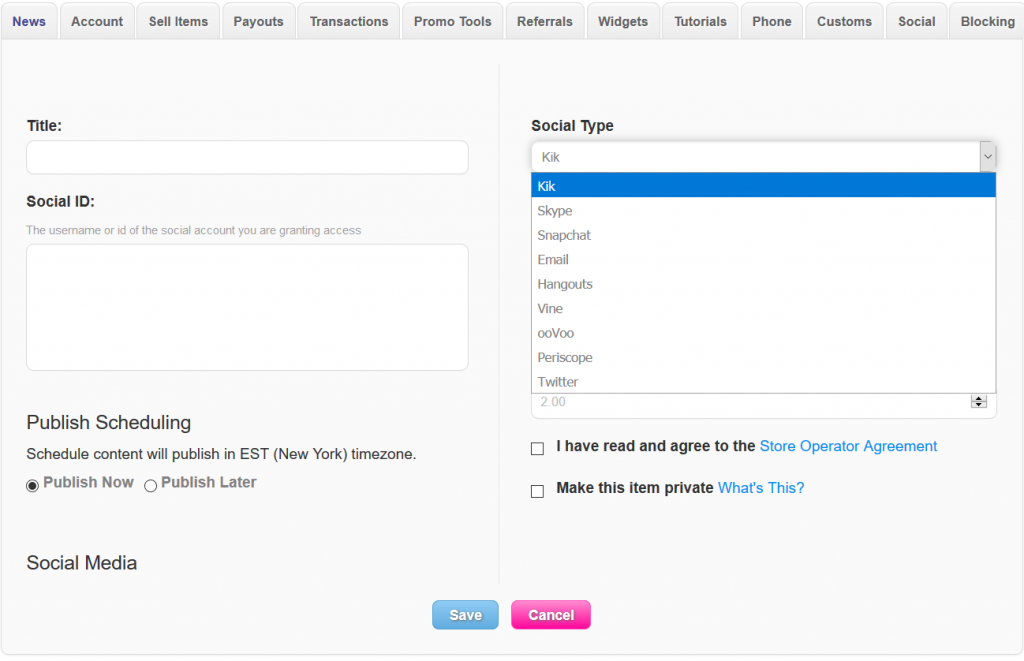 —
Alsanna James is a student, advocate, spoonie, writer, gamer and adult content creator. Half silent oracle, half professional sexpot, you can email her at alsanna@ynotcam.com and find her on Twitter at @AlsannaJames.