Hi Sexy —
This month seemed like a good time to talk about something a little different: The Four Agreements: A Practical Guide to Personal Freedom (2011) by Don Miguel Ruiz. This book outlines a simple but effective code of personal conduct to help you cut down on aggravation, work with more joy and ease and live a better life.
Let me break down how applying the principles of the Four Agreements can help you on cam.
A couple of things to start. The Four Agreements is just 160 pages and might take you only a couple of hours to read. Ruiz's terminology takes a little getting used to, though. The first few chapters are devoted to what he calls "dreams" — stories, narratives or, if you're a sociology major, social constructions.
Dreams are the collective creations we agree upon, such as language, money, nations or gender. Ruiz uses the term "dreams" to highlight the fact that although these constructs can be tremendously powerful — people live and die for them — they aren't "real" like gravity or the weather.
Ruiz's first assertion is that we can agree with these collective dreams, or we can reject them — the choice is ours. Each of us has the power to interpret reality as we see it. We're under no obligation to align with anyone else's version of the world. Instead, he suggests, we should make four agreements with ourselves in order to be happy, healthy and free from undue influence of others.
First Agreement: Be Impeccable With Your Word
Ruiz uses "word" here to mean everything we say and think and "impeccable" to mean "in the direction of love and truth." The First Agreement translates to: Be kind. Don't lie. Don't gossip. Don't think ill of yourself. When we think badly of ourselves, we create a reality where we are bad. This is unnecessary and unhelpful.
When camming, we can choose not to tear ourselves down or beat ourselves up. We can say what we mean, and mean what we say, so we don't send out confusing signals. As Ruiz writes, "How much you love yourself and how you feel about yourself are directly proportionate to the quality and integrity of your word."
Second Agreement: Don't Take Anything Personally
The Second Agreement might be Ruiz's most radical assertion: Nothing anyone thinks about you, good or bad, has anything to do with you — it's merely their projection onto you. Even if someone hates you badly enough to cause you harm, that's the other person's sickness. His advice is to detach completely from other people's opinions.
What would life on cam be like if you no longer took what anyone said about you personally? If you know in your bones you put on a great show, haters and trolls and time wasters don't have any power over you. You can block anyone who doesn't bring you joy, freeing you up to focus on fans who tip well and feed you emotionally.
I'll admit, when I first read this, the first two agreements gave me pause. I thought Ruiz was advising us all to become sociopaths, with no thought to other people. However, he posits the four agreements work together to create human interactions based on wisdom, love and truth. The Third and Fourth Agreements are how we hold ourselves accountable to others.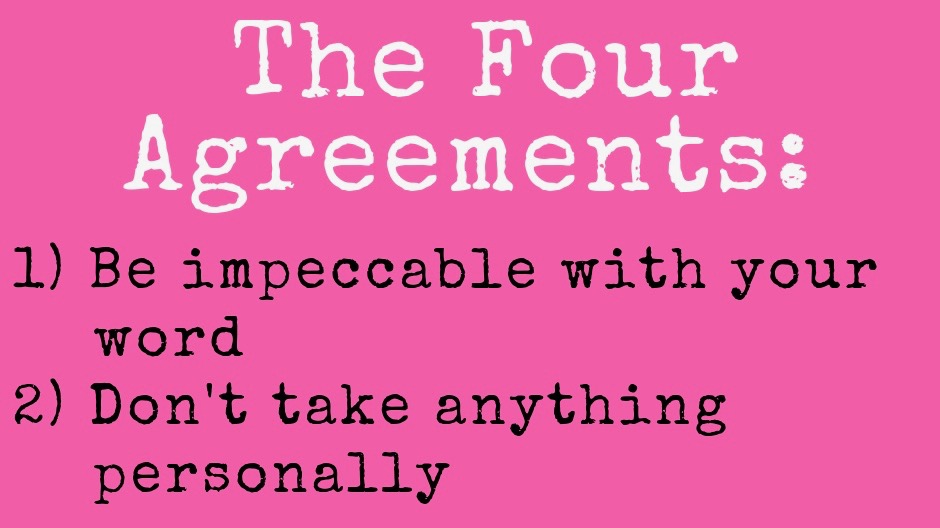 Third Agreement: Don't Make Assumptions
Here, Ruiz points to the limits to our knowledge. "We assume that others think the way we think, feel the way we feel, judge the way we judge, abuse the way we abuse. This is the biggest mistake humans make." He counsels humility: you have no idea what is going on with anyone else. The only way to find out is to ask and to take people at their word.
On cam or IRL, when someone says something that hurts your feelings, rather than stewing for days, tell them what you heard and ask them what they meant. The world is filled with all kinds of misunderstandings, leading to unnecessary pain. 
Fourth Agreement: Always Do Your Best
Such a simple statement, not always easy to achieve. Remember, however, "Your best is never going to be the same from one moment to the next. Everything is alive and changing all the time. Your best will sometimes be high quality, and other times it will not be as good." We need to be realistic and kind, both with ourselves and others.
On cam, always trying to do our best, while acknowledging that we are merely human, is how we avoid regret, recrimination and self-blame.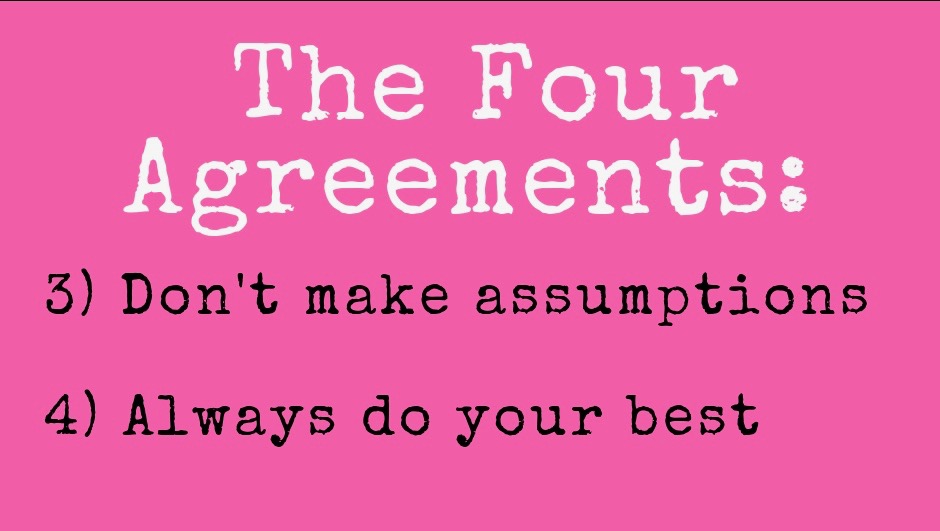 In the months since reading this book, I'm finding it easier on a regular basis to detach from other people's bad behavior — I beat myself up less, too, which feels great. The Four Agreements are a compelling, accessible way to take back our power and treat ourselves right — well worth a read.
Until next time, be sweet to yourself.
Lola D.
—
Lola Davina is a longtime veteran of the sex industry and author of Thriving in Sex Work: Heartfelt Advice for Staying Sane in the Sex Industry, a self-help book for sex workers available at Amazon, Barnes & Noble, iTunes and wherever else ebooks are sold. Get the audiobook version here. Contact Davina at Lola.Davina@ynotcam.com and visit her on Twitter at @Lola_Davina, as well as on Facebook.
Image of Lola Davina courtesy Pat Mazzera.