If you menstruate, you can likely relate to your cam schedule being affected in some way by your period. Tracking apps, however, are a great way to anticipate and pinpoint the stages of your cycle. Here's the low-down on what they're all about.
Period Tracking Apps in General
The average period tracking app features the ability to track your menstrual cycle and log other symptoms about your overall health. Small and mighty, each program has its own unique features but most track basic information about your life and your period, from how many hours you slept to the appearance of your cervical fluid.
Artificial intelligence programming, which works best with regular data entries, helps the apps make accurate predictions about your cycle. For this article, I tracked my information in three of the most popular period tracking apps available on Google Play. I have already been tracking my information in the Flo app for seven months, but I added in the Clue and Maya apps for comparative purposes. I made accounts and logged data in all three apps each morning for seven days.
Here's what I think about each.
Flo Period Tracker, Ovulation & Fertility Calendar

The Flo Period Tracker app is one of the most downloaded period tracking apps available. The clean interface and multitude of logical features make this app easy to use and understand.
Last month, Flo was one of eleven popular apps reported to have used the Facebook Analytics Toolkit, which shared sensitive data with Facebook without user consent. This is not good.
Flo released an app update on February 23 and a written statement on their sitedetailing their response. The toolkit is now deleted from the app and questions or concerns can be sent to Flo's Data Protection Officer.
Despite the major privacy problem and other minor cons, Flo is my favorite period tracking app. It's straightforward yet packed with useful features. I found Flo to be very accurate in predicting my periods, which are irregular due to my hormonal IUD.
Despite my distaste for an overly connected life Flo, is a convenience to me. I still use it after trying it seven months ago because it only takes a few seconds to log my data or glean information about my cycle. It's an all-in-one lifestyle and tracker app to me, so I recommend this app for its ease of use and multitude of features.
Released in 2015 by Flo Health, Inc. Developed in Delaware — flo.health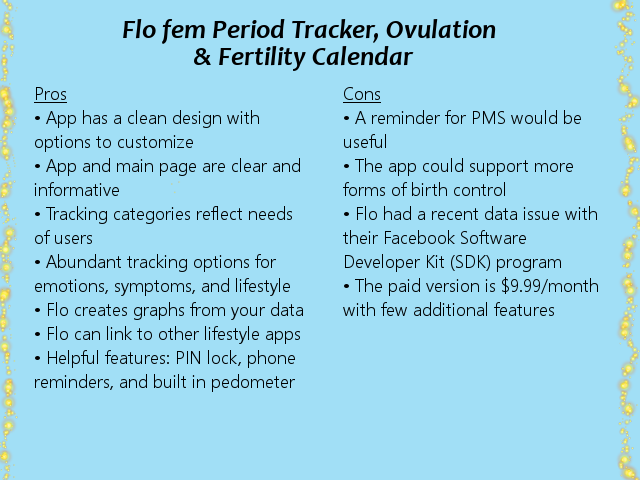 Clue Period Tracker App
Clue is highly popular like Flo but hails from Germany and is a little older. Co-founder Ida Tin has stated her vision for Clue is "to help advance female health globally." Clue's website contains a plethora of blog posts and articles, and it's clear Clue has a mission to become an authority and resource for menstrual health.
Clue's privacy policy is refreshingly transparent and details what they do with user account data, which is sometimes used for medical research in anonymous form. Not all tracking apps are partnered with research universities, so this app seems like a little more of sacrifice to make an account with in my eyes. The policy is complex so give it deserves a thorough read.
As much as I wanted to like Clue, it seemed I was the one who couldn't get a clue. Visually, the whole app confused me, and I couldn't tell where I was in my cycle. I didn't understand the apps' graphics or color codes, and I found the tracking options erratic and inexact. I ended up not being able to track much out of the confusion and disarray. Clue has a clean design, but it doesn't make sense.
I commend Clue's transparency regarding how they handle user data but find their global health ambitions a little suspicious and unrelated to why I want to use a tracking app. Clue's website is very progressive and I think Clue has a genuine desire to help make the world a better place, but the app doesn't compete with the ease of use that others have. I don't recommend Clue at the moment but maybe future upgrades will address some of my issues.
Released in 2013. Developed by BioWink GmbH in Berlin, Germany — helloclue.com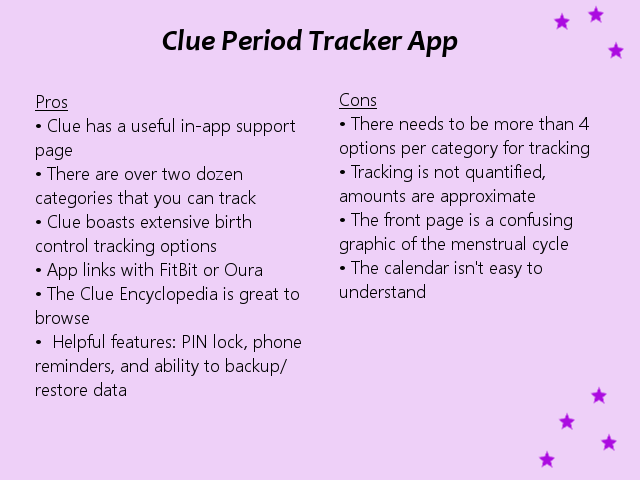 Maya Period, Fertility, Ovulation & Pregnancy App
The Maya app is a unique period tracker that has been around longer than both Flo and Clue. Unlike other apps, Maya features free mood and symptom predictions, making it a valuable consideration.
Maya seems to have a standard privacy policy, but all apps adhere to different data laws depending on their location. Maya is based in India, so read the privacy policy to find the data handling processes they abide by.
Overall, Maya is special because predictions are not a free part of the Flo and Clue apps. I can't speak to the accuracy of Maya yet when it comes to period tracking, but I think this app is great for tracking PMS. The wide range of emotional and physical symptoms that can be tracked are more relevant than what Clue offers and competes with Flo's abundant options.
If you've never tracked your mood, it can be helpful to check the app each day to see predictions based on the phase of your cycle. Tracking can help you navigate hormonal changes and name your feelings until you are able to anticipate them yourself. I recommend this app as a guide for someone who wants to start tracking and tuning into their premenstrual symptoms.
Released in 2011. Developed by Plackal Techno Systems Private Limited in India — maya.live/eng.html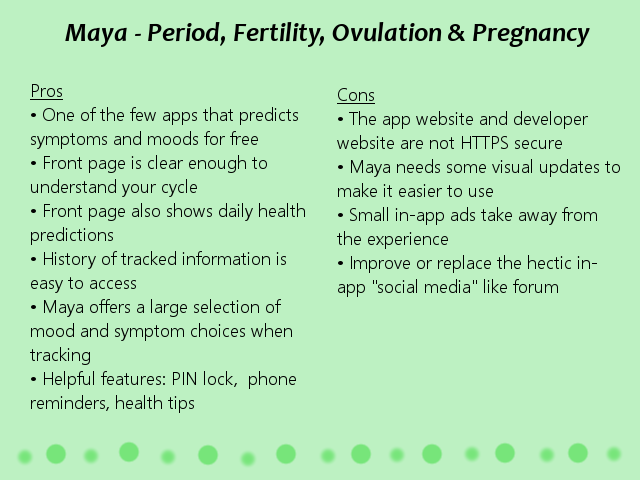 Business Savvy Period Tracking
If you change your whole cam routine based on your period cycle or energy levels, you may benefit from seeing your cycle and symptoms laid out visually. Once you start entering data, the apps will tell you when your next period may arrive. Eventually, it will make accurate predictions after analyzing a few months' worth of data.
Instead of guessing when your period will start, you can proactively plan around your flow days and energy level fluctuations. Having all of this information on your phone also means it's probably nearby at all times.
Having a heads up for upcoming changes that impact your work will put you ahead of the game. Some models focus on phone work and/or offline/behind-the-scenes tasks during their period, so knowing in advance when these times will come up can benefit time management. In-app phone reminders for an upcoming cycle — something a paper calendar can't do — can be a big help too.
Other Considerations 
Just like when signing up for anything tech-based, it's critical to read the privacy policy and terms of service before you proceed with an account. The makers of these apps are interested in the voluntary and sensitive health data submitted to them, so take that time to read the fine print.
Despite my apprehension about data sharing, I recommend these apps because they can facilitate the process of developing your own awareness. Logging your health data regularly can help you tune into your body, which could foster more healthy habits. Personally, I've learned to know on my own when I'm ovulating by noticing the changes in my cervical fluid, which was never taught to me.
As helpful as they are, tracking apps explicitly state they are not substitutes for medical advice from qualified professionals. If you have a health concern, see your primary care doctor or gynecologist and always listen to your body. Let the app verify what you feel rather than tell you what you should feel.
Further, not everyone who uses these apps is in a male-female relationship, identifies as female or identifies as a woman — something the apps seem to fail to consider that needs mentioning. The designs, language and concepts of tracking apps and their accompanying websites are often detached from the diverse community of people who use or may want to use them.
The intent and execution of most tracking apps is not perfect, but that doesn't mean they should be completely disregarded. Tracking apps shouldn't replace your intuition or make you feel excluded by design, but they are potentially useful tools for some models.
What do you think about tracking apps? Let us know!
— 
Anouk Gilmour is a registered yoga teacher at the 200-hour level. Eight years after trying camming in college, she is an amateur adult model again. Find her on Twitter at @anoukgilmour.
Header image via Comfreak. Infographics and screen grabs by Anouk Gilmour.