Lola Bohemia is currently 34 years old – "Although I am actually called Lola in real life, Bohemia is definitely not my last name," she shared with YNOT Cam.
Born and raised in rural Louisiana, Bohemia has spent most of her life in the Southern United States but has traveled and lived all over the country. As a young person, she "had a curious mind that wasn't easily sated, and the curiosity became tenacity, making me something of an autodidact, or 'one who is self-taught,'" she explained.
This tenacity translated into Bohemia developing a seriously amazing skill set.
"I became highly interested in computers and technology in the mid-nineties. Putting things online back then was a hobby more than anything, especially if you had a personal website. The internet absolutely fascinated me though… I wanted to understand how it worked," Bohemia said.
So, working on really understanding the internet, she did. "In 1997, I created a multi-paged website all done in notepad with graphics I made in a very, very old version of Photoshop. I was thirteen when I did this," Bohemia explained. "Ever since I have been interested in seeing if I can either take something apart, break it, but ultimately understand it."
Bohemia took some time out to chat with YNOT Cam about her work, her intellectual curiosity and how that's helped shape her work online.
YNOT Cam: Can you tell us about your work within the industry?
Lola Bohemia: I consider myself to be an "Intellectual Domina," or rather — the "Sexy, Evil Genius."
I offer a cerebral sort of experience and enjoy the mental stimulation and challenge of wits towards typically dominant acting men who ultimately want a woman who can overpower them. What I've realized though is that I have that ability to do so mentally quite well.
Part of my training as a dominant was being able to read others, which was something I was already quite good at so it only became more effective. I took this strength and now apply it towards understanding the industry itself. I want to have as much control over my career as possible and know that what I've achieved is something I've aimed to work very hard towards. To me, that's one of the clearest ways to show my dominance.
This REAL #femdom #digitalDomme loves tearing you apart and finding your secrets. 10 years experience & feedback to prove it. pic.twitter.com/KMwLUdBau5

— LolaBohemia (@TheLolaBohemia) May 17, 2017
What prompted you to begin your career online? 
Well, in 2006 I developed a condition that put me in chronic pain and discomfort. After thousands of dollars of testing and specialists, I found out that I had a dislocated jaw and a slipped disc in the jaw joint. I struggled to stay afloat financially and fortunately it was my self-taught set of skills that got me by.
I was building websites for small businesses and individuals for a period of time, but eventually the pain became unmanageable. I sought pain management and could at least think and function, however, I had moved to Atlanta and not knowing anyone there the market was competitive. I looked into other things I could perhaps teach myself, get creative with and remembered that there was a market online for BDSM and kink experiences.
As early as 2007, I did indie sessions with zero knowledge of how this worked, but in 2010 I signed up on several websites doing live camming. It took a while for me to really define my craft and who I was as a dominant since the BDSM lifestyle is a huge part of my identity. Essentially, being able to do this field of work with the flexible schedule and larger earnings in a smaller amount of time allowed me to still function as a person with a pain condition.
Do you see any downsides to industry work online?

The only thing that seems to be a challenge is that I work from home and having a social life has been rather difficult. There's certainly a stigma for those who choose this as a job — that this is not really "work" or that these are talentless individuals with no valuable skills. For many, that couldn't be farther from the truth.
Camming is also a part-time thing for many but offers full time potential allowing for time to enjoy hobbies or other interests. For those going to school, it's a very effective way of still surviving while having to spend hours studying. I think it's probably one of the most practical and safe alternatives.
What prompted you to move back into your super-computer career? 
My interest in web programming and design has never faded, however what I see now is a bigger need for there to be an online resource for those entering this industry. Sure, there are definitely sites that offer insight, information and guidance, but I feel that as a female with ten years of industry experience and a web developer that the insight I can offer is definitely unique and useful.
There are times performers get "burned out" and need a break. I've had that happen a few times, but now I feel like I need to step away more. When tumblr started to censor its platform is when I became more interested in actively being a part of those who want to still provide a place for people to explore a very natural part of themselves. BDSM is not just a niche that interested me, this is how I identify and prefer to have relationships. I feel that kink and BDSM can be very positive for people if explored with awareness and the proper information. A lot of my sessions started to become guidance for other individuals who were curious as to why they had an interest in such fetishes. I wanted to be able to help others the way that BDSM has helped my own life.
On DigitalDominant.com, you wrote: "For Pro-Dommes doing real time sessions the requirements and experience are definitely something acknowledged as important, but there's definitely not a 'kink degree.'" Can you tell us a bit more about that?

My main passion is genuinely helping others and this industry being as positive of an experience as it can be. Digital Dominant isn't just aimed at those who identify as a fem dom or dominant, but it's more of being dominant in your work and taking charge of the direction you go and how you go about it.
Digital Dominant is a resource site for online performers in the kink/fetish field and covers online safety, creating listings and content on sites and what sort of encounters you might have. As a web developer, I offer digital services as well and will work with people regarding costs and payment plans. Like I said, I want to help others and provide what guidance I could have really used when starting. It's not so much about this being lucrative as it is bringing more authenticity to what people offer.
Speaking of that authenticity, it is definitely an issue that there is no measurement or qualifications should someone actively be a pro domme, especially online. While many interested clients that have lifestyle experience can tell if a domme is being genuine or not, a lot of these clients don't know what that really looks like. There's a huge issue with safety in this regard, not so much for them physically (although I've seen issues with that), but more with mentally and emotionally.
A lot of people don't realize that even though a person might want to be humiliated or degraded that it's a kink and needs an understanding behind it along with proper boundaries. Without this — and I'll be honest — it's simply abusive. I don't think many are intending to be abusive, but without handling matters like this responsibility it can absolutely have that affect on someone.
https://t.co/ZrVfHb2zBp SITE LAUNCH SPECIAL!
Rates are negotiable at this time.
Consults for large projects are free.#webdevelopment #GraphicDesign #PCSecurity pic.twitter.com/VjxJ2197z4

— LolaBohemia (@TheLolaBohemia) January 30, 2019
So, doing some learning work in advance is important..? (This seems obvious, but there's clearly more to it!)
Learning the foundations and basics of BDSM and kink is imperative to becoming a truly successful dominant or kinkster in general. The way I explain it to others is like someone wanting to became a doctor and have an area of focus. Before they get to that area of focus, a university will still require they learn the absolute basics. This will even be required for years before getting into a specialty area.
With BDSM, what draws so many women in is the appeal of financial domination, which is no surprise. The way that it's presented, however, is very misleading and inaccurate. Without an understanding of one's own dominant identity and how power exchange works, you really cannot effectively dominate anyone.
What I see isn't "FinDom" — I see a lot of people with a money fetish, and who doesn't enjoy that? Now, it's not that I am saying that those who offer it aren't trained, educated or genuine, but rather that if FinDom alone is the interest and nothing else that has me question how genuine someone is about their claims as a dominant.
It's important to note that Digital Dominant is a work of progress and a labor or love. I am aiming to have it crowdfunded with all donations also offering a service of that same value. So essentially it will be completely funded by actual work I am doing for the community itself.
@ViciousElegy that's me at 19 or 20…and then around 30. it's mostly that last picture that was accurate. pic.twitter.com/NijgDpx3fi

— LolaBohemia (@TheLolaBohemia) December 16, 2018
In a recent blog post, you suggested that people stop using social media as a primary platform. Can you talk more about this?
Here's the big thing: people will see others marketing or advertising on social media, which is fine and can work to some extent, however these performers do not find their ideal clients in such a way. These performers have websites or platforms that they function off of primarily. So, when I'm on a site which is clearly a pay site where people can engage with me in what I offer, there's less effort required to interest them because they already know why they are there.
On the other hand, if I was to try and do this on Twitter, that's not what people are on Twitter for typically. Twitter is not a platform in this sense and basically makes the efforts to offer your services as effective as cold calling. If you are already on a site where the user is there seeking something, that's basically someone already stepping inside of the "store" reading to make a purchase. Things like Twitter and Instagram are essentially tertiary sources (if that) and are best for networking. Ultimately, it's best to find what sort of platform suits you best and build your audience through those means.
I've noticed that those who are only available through Twitter don't last either. Starting off trying to generate your own traffic is next to impossible. Most shy away from websites because they take a "high" percentage of earnings, however that percentage is being used to bring paying traffic directly to you. These sites are also offering security, assistance and sometimes protection against chargebacks. While getting 100 percent of your earnings is certainly attractive 100 percent of zero is zero.
Outside of work, what are you most passionate about?
Outside of web design, I am very much into cyber security and forensics. I find all of it to be a big puzzle I can put together. Interestingly, I find people to be essentially the same for me (except for the breaking part) in understanding how they work, especially with kink and fetishism.
If you could change one thing about today's world, what would it be and why?  

The attitude and how important we view education and informing ourselves. Most people are content getting by on the smallest amount of effort and settling for mediocrity. Only you limit your own potential and greatness, as well as define it.
If you want to make something possible, go for it. Understand the possible resources and if you need to do it yourself or seek guidance on that.
Find Lola Bohemia on Twitter at @MsLolaBohemia and via DigitalDominant.com.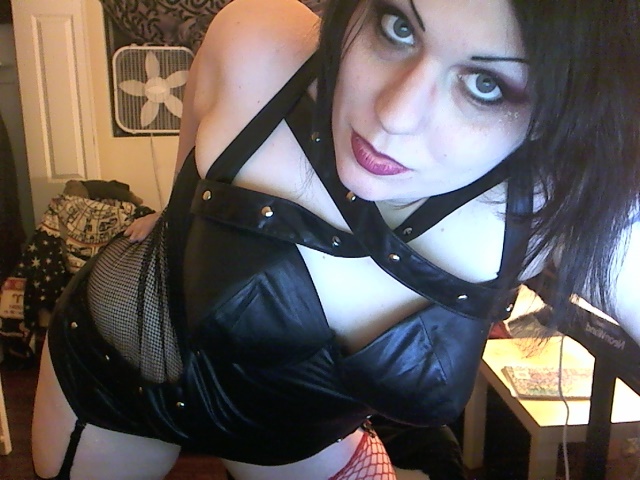 —
Erika is a sex positive people watcher (and writer). Email her at erika@ynotcam.com.