You wake up, and your head is pounding. Your mouth is dry, and you can't *really* remember what happened last night. 
Having a hangover is enough to make anyone consider swearing off booze for good, but sometimes it's not just/"just" the hangover that gets people to make a lifestyle change. In recent years, more and more people are choosing to significantly reduce the amount of alcohol or drugs they take or are going sober. 
This popular — and healthy — lifestyle switch is inspired by some common-sense wellness trends, such as "Dry January" (when a person chooses to abstain from alcohol during the month of January) and "Sober Curious," a phrase coined by Ruby Warrington, the founder of The Numinous and Club SÖDA NYC.
When one is sober curious, instead of skipping booze altogether, people pay closer attention to why they're drinking in the first place. Zooming in on how alcohol (and the absence of alcohol) makes them feel often leads to people cutting way back on their imbibing.
YNOT Cam recently reached out to model Anna Tame and asked her how she navigates maintaining sobriety at work. Tame shared why she abstains from certain substances, how she monitors her alcohol intake and stays sober on cam and more. 
YNOT Cam: What is your sober story?
Anna Tame: I was basically forced into sobriety around roughly four years ago when I had a traumatizing health scare and ended up in the hospital. I won't go into detail about what happened, but that experience has shaped me a lot with taking my health seriously and becoming sober. 
I stopped smoking cigarettes and marijuana, as well as quitting other drugs. So, I haven't smoked for over four years since or done the same drugs that I used to experiment regularly with either. 
It was not an easy decision because my body had to go through withdrawals, and it was the toughest experience in my life so far. However, the experience helped me, too. It woke me up and helped me eat better. I now exercise and stay sober as much as I possibly can. 
I created an erotic emotions photography & word piece when I got into sw last year

Maybe I'll post it one day but this is how I looked ✨? pic.twitter.com/eFZfmqORXQ

— ??• Anna Tame • ?? (@annatame69) March 2, 2019
How has maintaining your sobriety benefited your cam life?
I started webcamming seriously last year around April. I'm pretty new to this industry, but I can honestly say that when I stream sober, I am clear-headed, focused and have natural energy to perform for my viewers.
The only thing I haven't been able to fully kick yet is alcohol mainly. It's something I try to limit as much as possible solely because I can't drink as much as I used to before my incident. Plus I have a hard time learning moderation. I can honestly say, though, for all the months I've cammed so far, I've been 100 percent sober and will continue to stay sober while working as much as I can.
It's benefitted me because I am aware of my surroundings and what I'm doing when I'm sober. When you're drunk or high, you have an altered state of consciousness, which in short can influence you to do things you wouldn't do sober. Not that it's a bad thing specifically, but I prefer to stay sober while working at all times. 
Do you think there are benefits to maintaining sobriety at industry shows and events, even if a model may drink or smoke on their own time?
Yes, I do. Only because if you are looking to keep it strictly professional with networking, being under the influence may contribute to a different type of behavior. However, if taking a puff of a joint or a drink loosens you up a bit and allows you to be more comfortable around people, I see no harm in that. As long as there's no abuse, I see no issue. 
In general, how has sobriety helped you be a better you?
Sobriety makes me a better version of myself in a sense. It's made me a healthier person overall. I make better decisions when I'm sober. I don't think it's terrible to partake in alcohol or drugs, but when it's controlling your life, health and you use substances as a crutch, then that's not healthy. 
I still struggle when it comes to staying completely sober. I think a lot of people do. It's natural for us. We're humans that have to coexist in a world that's full of self-loathing, trauma, death and every other fucked up thing that comes with life. Not that life can't be a beautiful thing, but you get the point… 
However, it can also be beneficial to — let's say — drink a glass of wine or smoke to relieve pain, especially if you have an illness. Some even smoke to reduce anxiety, whereas it worsens mine now. It's all about your health and what's best for you. As long as we can learn to take care of ourselves and not over-indulge, I think that's most important. Balance is key. 
I'm online @MyFreeCams! #onmfc https://t.co/a0XlMcFcLZ ? pic.twitter.com/vZarnHG5MW

— ??• Anna Tame • ?? (@annatame69) March 10, 2019
Any advice for models who are looking to become sober full-time or who are just thinking about staying sober while on the clock?
I'm not the type of person to tell others how to live their lives or do something, considering we are all on different paths in life, especially with healing and evolving. But what I will say to anyone who is seriously struggling with addiction is to get help. Try to stop, or cut back slowly each time. Seek therapy. If you know you are hurting yourself and others around you, do something to better your life.
I think it's essential for me to stay sober while working and outside of work because it's not in my best interest to be fucked up all the time like I used to be. It's not healthy for your mind, body or spirit. Everyone makes their own choices, but I'd say that if you are working on sobriety, that's something that can always benefit your wellbeing, so why not try it out. 
Any advice for staying sober when it's a challenge?
First check how your mind, body and spirit is doing when you are sober versus being drunk or high. Study yourself. If something doesn't work, try something else that may help. Make a routine and stick with it. Sounds easier said than done, but it helps me, anyway. Follow a schedule, eat properly, go outside and get exercise. Develop healthy coping mechanisms for life's struggles. Use essential oils, meditate, read, write — whatever else it is that you love to do, do that. Because if every time we felt shitty we'd grab a drink, snort up a drug or smoke something, we'd never heal. We are only suppressing our pain. So reflect on what it is you are doing, and try to do better each day. 
Some days we will do great, and other days we won't, but that's life. It's full of ups and downs, positives and negatives. As some may say, one could destroy the other, but I also believe that we need one to feed the other, too.
I do beat myself up at times, but I practice self-care as much as I can and doing what's listed above helps most days. When it doesn't help, I'll take a day off or do something that may not be in my best interest. But no one is perfect, including me. Some days might feel like a nightmare, while others feel like a dream, but that's okay — that's life sometimes. 
Any thoughts on how mental illness and addiction are tied? 
I think that addiction comes from dealing with mental health most times. I'm not saying someone with good mental health can't have a drink or smoke or even partake in drug use. But mainly, when someone is having a hard time, then drinking, smoking or doing heavy drugs is essentially escapism in one's life. I know from experience because I used drugs, drank and smoked to escape from the pain I was dealing with because it was the only thing presented to me.
[This] is another thing that plays a huge role: your environment. If it isn't adding anything positive to your life, then you most likely need to cut it out of yours. We have trouble speaking up about our mental health because it's a vulnerable topic, so overall we do things that numb our feelings and make us forget things. Being involved in an industry where sex workers feel isolated, judged and perhaps keep their job a secret… or, if they've told their family or been outed to their family, and their family might not even accept them because of their career… [this] could lead to mental health issues or addiction issues. 
To anyone struggling, I think that we should try to reflect, feel and get real help. I understand that we can go through traumatic events that may not be our fault, but our healing is our responsibility. 
Find Anna Tame on Twitter at @annatame69 and on MyFreeCams right here.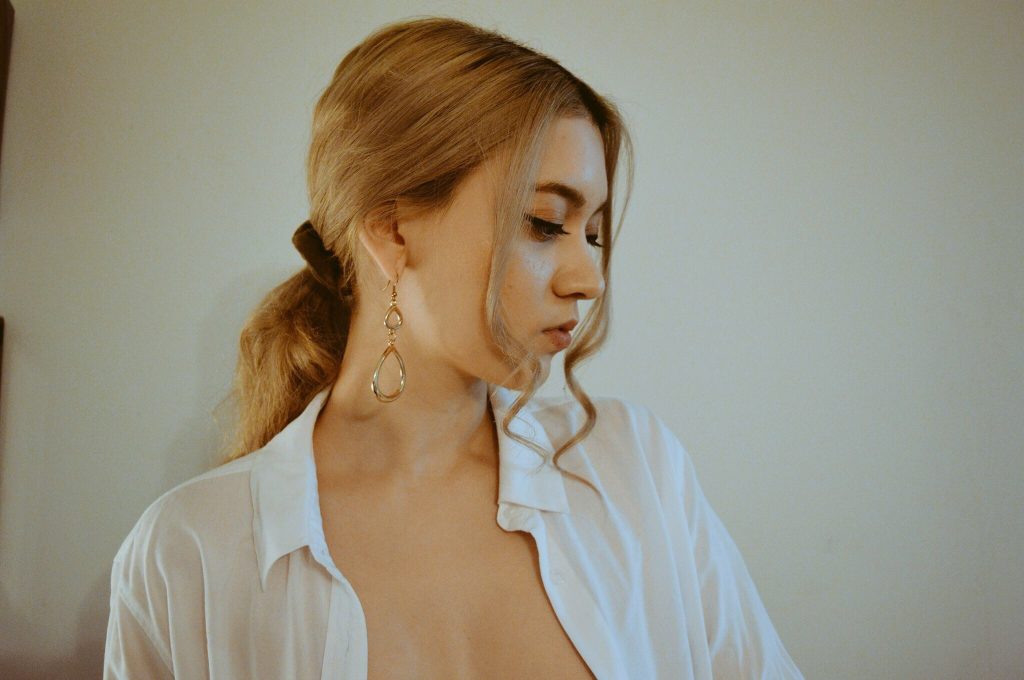 —
Abbie Stutzer is a writer and editor from Lawrence, Kansas. Find her on Twitter at @abbiestutzer and on Insta at @abbiestutzer. Email her at abbie@ynotcam.com.