Who is Clarabelle Woods? 
Honestly, she could be anyone — which is part of the mysterious allure and the business strategy behind keeping one's face hidden online.
Woods, who most people call "Clara," has been an online sex worker for two years now.
"I've lived most of my life in a big, bustling East Coast city but have spent the last few years living further south for school," she shared.
Woods looks some time out from her study schedule to tell us a bit about her work, her writing and her passion for the environment around us.
—
YNOT Cam: What prompted you to begin your career online?
Clarabelle Woods: I started small, just selling panties on Reddit during a semester off from college. I've always been very curious and entrepreneurial, so it quickly turned into much more than that and I've since been able to go back to school and support myself in the process.
Despite being the shyest person in the room, sexuality and performance have always intrigued me, and I actually had been considering dancing before finding out about online sex work.
What are some general observations you have about working online?
The internet has been an amazing tool for sex workers of all varieties and also for our clients. Especially for people with niche fetishes, it's amazing to be able to curate your own library of porn from solo providers and even commission custom content from models whose work you love. I think the quality, variety and sheer breadth of fetishes in porn has never been higher.
I love working online. I don't think I would be a good fit for in-person sex work of any type, so working from wherever I want suits me perfectly. Like any remote position, it can be rather isolating, especially if people in your personal life don't know about your line of work), but the connections I've made with other models more than make up for my lack of IRL co-workers.
Someone just binged on my clips! Are you next? https://t.co/Ll2s8TnUJL pic.twitter.com/Hel41MZ2qk

— Clarabelle Woods (@clarabellewoods) March 24, 2019
Can you tell us about your decision to cultivate a "faceless" career?
I actually have cammed a few times on MV Live. It was fun but I don't think would be a good fit for me as a full-time pursuit.
As far as continuing my faceless career goes, it's honestly all about angles. All models know which angles are most flattering to them. I've just gotten really good at figuring out which angles are best at hiding my face. I started by just selling panties, and my face was obviously not necessary for that. Once I branched out into clips, I decided to keep the mystery, mostly because I find it hot.
I love being an anonymous sexy stranger… Am I the cute bartender at your favorite dive bar? The hot girl in your yoga class? Your demure coworker? Because I don't show my face, guys are free to imagine me as whoever they like. I think that's actually a selling point, and many have said as much!
Tell us about having space on Reddit. What prompted you to utilize that platform?
It's the platform I started out with and also one I used quite a bit in my personal life so it was an easy transition into sex work for me. I think it's a great platform to showcase your personality though I've heard that there's a pretty steep learning curve if you aren't already familiar with it.
Are you concerned about expressly "non-adult" spaces tightening their restrictions on adult content?
In the wake of SESTA-FOSTA, I have a lot of concerns about how mainstream sites like Reddit, Twitter, Patreon and others will censor and restrict sex workers, even if we operate inside a site's TOS. Sex workers bring a ton of traffic and revenue to any site we frequent, so it's irritating that we often find ourselves limited in how we can express ourselves.
When I first started sex work, someone told me "smart sluts diversify," and that really stuck with me – even in the two years I've been in the industry, quite a few platforms have kicked us to the curb and I've had to make big adjustments to my business plans. You should always have a Plan B, a Plan C and never put all of your Tenga eggs in one basket!
All that said, sex workers are extremely resourceful and resilient. I'm not worried about the long-term viability in online sex work as a career, more about short-term set backs that have real and serious repercussions on people's livelihoods.
Another vid sold! Yoga Pants Ass Worship https://t.co/FMih5X68EB #MVSales #ManyVids pic.twitter.com/JvaJV8qr3B

— Clarabelle Woods (@clarabellewoods) March 21, 2019
How did you start writing for ManyVids — or, was that just a one time blog?
A publicist of theirs suggested I write a blog piece or two, and it went over really well with my clients and fans so I've submitted a few more. I ran my high school's newspaper my junior and senior year and have always loved writing and reading – probably why I have so much fun coming up with scripts for various audios and videos.
Outside of your work, what are you most passionate about?
Outdoor advocacy is one of my other passions that I don't talk a lot about, though it may be apparent from how many mountaintop nudes I've posted on Reddit.
Protecting public lands for future generations and getting more people outside is a really important cause to me and ties in really nicely to other big issues like public health and environmental legislation. I donate regularly to organizations that get young people and marginalized groups outdoors and give them the tools/resources they need to become environmental stewards and leaders in their communities. I love volunteering on trail maintenance days too!
If you could change one thing about today's world, what would it be and why?
Climate change is the big one for me. I think about it a lot and wish that the current administration wasn't taking so many steps backwards in regards to environmental protections and climate agreements. Obviously, there are things that individuals can do to help, but larger scale changes need to be made as well and that just doesn't seem to be a priority recently.
The last cycle of elections gives me hope that thing will move more in that direction as we get a younger and more diverse group of politicians elected, but there's a long way to go.
What news do you have coming down the pipeline for your fans in 2019?
2019 is already off to an awesome start for me. In January, I placed fifth in the ManyVids Booty of the Year competition thanks to my awesome clients and spent the rest of the month shooting clips with another model, which I think are our best work yet.
I'm excited to branch out into some new areas of content — namely audio erotica and some other collaborations with Reddit models — and also continue to up my game in video production and Snapchat.
It's awesome to look back at my work from a year ago and feel like I've improved so much, and I know that 2019 is going to be even better. My favorite thing about this industry is the possibility for infinite personal and professional growth. If you can dream it, you can do it — and I have some pretty big dreams!
Find Clarabelle Woods on Twitter at @clarabellewoods and on ManyVids right here.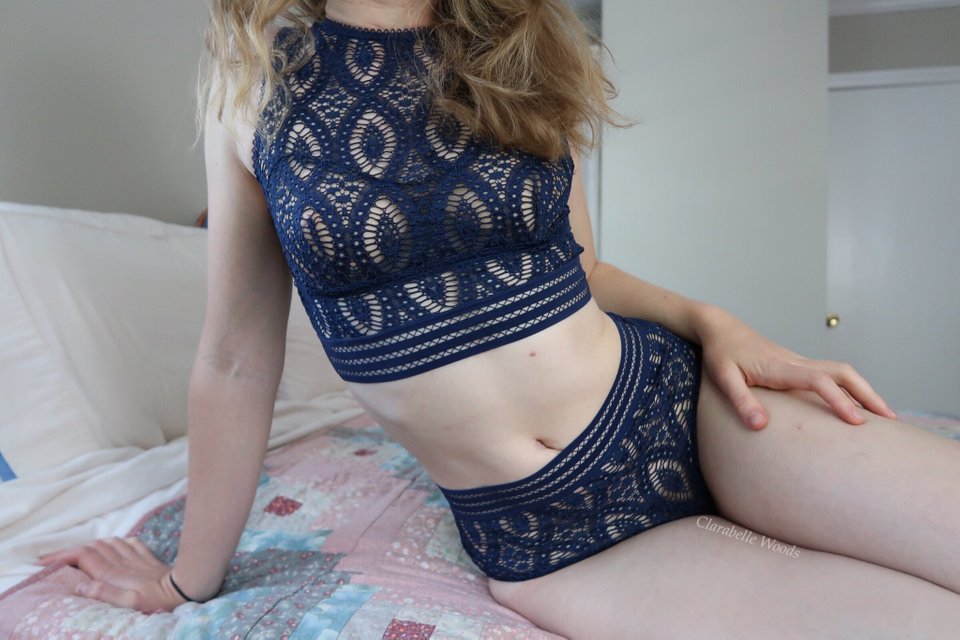 —
Erika is a sex positive people watcher (and writer). Email her at erika@ynotcam.com.
In honor of the environmental protection thread in this interview, I just have to share this Insta with y'all. @PublicLandsHateYou calls out "influencers" and other jackasses that destroy public and protected lands in the name of taking selfies and making ad dollars — definitely a must-look account that's worth supporting IMO.