By Clarabelle Woods
So, you want to be a faceless model? My first column for YNOT Cam was supposed to be about a different topic altogether, but I got so many questions about this after my interview earlier this month that I decided to tackle this first.
Since starting out in online sex work over two years ago, it seems like more and more adult content creators are taking the anonymous or "faceless" route. When I started on ManyVids, there were very few top models who didn't show their face for me to learn from, but there's several of us in the top 100 MV models right now.
This article focuses on the prep work and things you should consider before jumping into online sex work as a faceless model. Part 2 will then delve into the more technical side of things — and also on how to develop your branding.
Just a note: I'm primarily a clip artist. So, while these tips are most applicable to a model looking to break into video production, I hope they're helpful for models in all sectors of the adult industry.
Anonymity Not Guaranteed
This is an important place to start, and something you must be aware of. Hiding your face is not a guarantee of anonymity online.
Several faceless models I know have been recognized from their voice, their tattoos, their bedroom or even their pubic hair. If there would be serious consequences to your family, social circle or employers finding out that you are a sex worker, this may not be the right choice for you.
There are steps you can take to increase the likelihood that you won't be recognized — things like wearing a wig, covering your tattoos, disguising your room, using a mask, etc. — but none of these are foolproof. If staying anonymous is your number one concern, becoming a PSO (phone sex operator) and purchasing pictures of another model to represent you is probably your best bet.
The internet is a huge place and you never know where your pictures might end up and who will see them.  Weigh this very carefully before you begin because you will never be able to get all of your content off the internet once it's out there.
No Easy Money
Any sex worker will tell you that online sex work is not the automatic golden goose it's reported to be. Sure, the income potential is limitless, but it's often a very slow start as you build your audience and skills. I would hazard a guess that it's even more difficult to get your business off the ground as a faceless model because it's out of the ordinary for most porn consumers.
I believe in your ability to succeed as an anonymous model, but you will need to be resilient, resourceful and not afraid to stop and reevaluate your plan when things go awry. Your first clips likely won't be very good, your first cam show will be a little awkward and you don't even want to see the first photoset that I ever shot for someone.
Embrace the learning experiences and continue to improve your craft. If you want to be successful, you have to keep showing up for yourself, learning from your mistakes and sticking with it. A lot of my earliest clips totally bombed, and sometimes I still release a dud. It seems disheartening, but it's actually valuable information for you to have about your business.
Do Your Research First
Not every site allows models who don't show their face. Most clips sites are okay with it (though you will have to send in a full face picture for age verification), but cam sites are pickier. Some will let you get away with a mask, others will require you to show your full face.
Before you begin, take a look at the sort of content or shows that other models with similar branding are producing. If you plan to wear a mask, see what type of content from masked models is most popular. Tubesites are full of verified amateurs getting it on without showing their faces, and some sites — for example, amateurporn.com — even have an "Anonymous Porn" tag so content from faceless models is easier to find.
This will give you an idea of what sort of content is already out there, what content is most popular and what niches remain for you to fill.
Everyone Has Different Limits
When I first started, I viewed myself as at a big disadvantage because I didn't show my face. While there are definite limitations to that choice, I think that mindset really held me back.
Every model has different limits, whether that's showing face, shooting with another performer or even showing any nudity whatsoever. All of these choices are valid, and I firmly believe that there is a market out there for every sort of model, as long as you are willing to go looking for it. Of course, you won't have to spend as much time searching for that market if you don't place needless restrictions on the type of content you produce.
Only you know your hard limits, but if there are things that are on your "maybe list," I really encourage you to try them. Especially in the beginning, trying new things and seeing what you and your fanbase enjoy is an important part of figuring out what you want to focus on in the future. Your decision to show or not show your face is an important one, but also just one of the decisions you make about your career as an online sex worker.
You do not need to apologize for it or any of your other limits, and I think that, marketed correctly, it can actually be a selling point.
Be An Ally
While not foolproof, not showing your face is also a convenient way to avoid some of the stigma attached to working in the adult industry. We are less likely to be recognized while out with friends, less likely to be doxxed and less likely to attract trolls or other unwanted attention.
Being able to make a living in sex work while not showing your face is an extremely privileged position to be in. It's important to recognize that and do what you can to fight the stigma that impacts all sex workers in other ways. Even if you are not "out" to your friends and family, you can still speak up when you hear people talking crudely about sex workers, donate your time and money to sex work related causes and support other sex workers in whatever choices they make.
Read Part 2 for more on branding, boundaries and tech skills as they play out in the world of faceless modeling!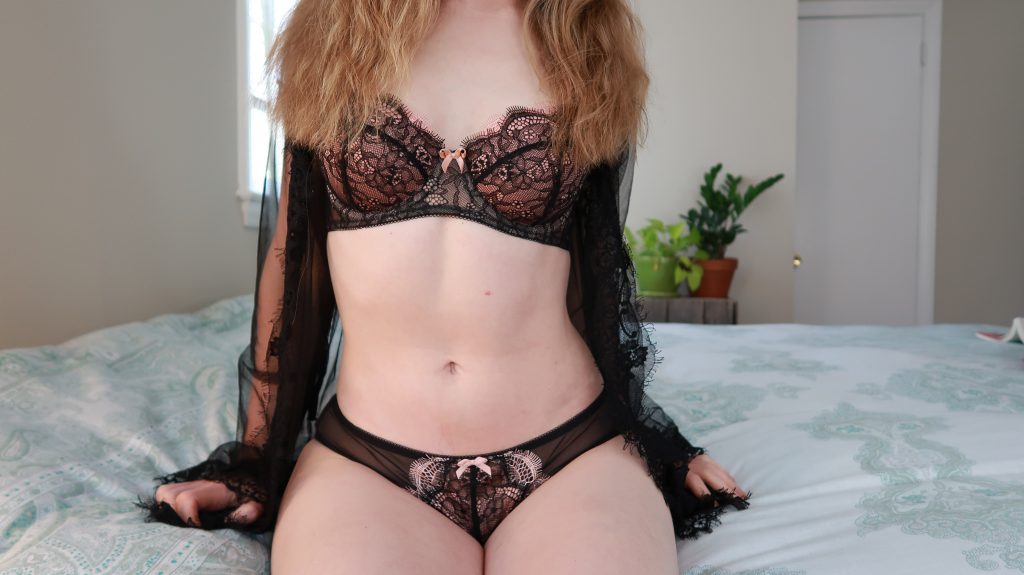 —
Clarabelle Woods is a clips producer and online sex worker. When she's not naked online, she enjoys the great outdoors, the company of plants and a really good book.