By Clarabelle Woods
In my last article, I touched on some of the prep work and considerations needed before jumping into the adult industry as an anonymous, "faceless" model — Here's "How to be a Faceless Model (Part 1)." Today, I have some recommendations for developing your brand, setting boundaries and ideas about the technical skills you need to succeed.
There are some unique considerations faceless models have to keep in mind, but I hope this advice is useful and relevant for any model who is interested in stepping up their clip game.
Play Up Your Most Recognizable Features
Our faces are the most expressive and often recognizable parts of our body, so if we're omitting them, we need to be recognizable in other ways.
When you're starting out, I think it's important to have a consistent look so your clients can recognize you immediately. Whether it's a bright pink wig, your beautiful bedroom or your big, fluffy bush, play up the most recognizable features of yourself and your set. You want to make it easy for your fans to find you again, and consistency in your look early on will help you gain more traction.
Commit to a look or a vibe for a few months to see if it works for you. Once you're a little more established, I think there's leeway to change things up. If you jump around too much in the beginning, however, it's a recipe for looking (and maybe feeling) a bit scattered.
How Will You Stand Out?
As faceless models, a lot of our clients will be people who appreciate a more amateur style of content creation. We are the sexy girls-next-door to these clients, presumably shooting videos on our smart phones while our roommates sleep nearby.
That super amateur look is really popular for a reason — it feels *real* in a way that more professional looking content doesn't — but I think you can also stand out from the crowd by upping your video production game just a little bit. Clean and decorate your room, invest in a $50 lighting kit and shoot in a couple of different angles for every video. Little stuff like this makes a big difference in elevating your content without breaking the bank or disrupting your amateur image.
It's also important to think about what makes your content unique. Is it your outstanding dirty talk, your lingerie collection or your blow job skills? Think about what feedback you get from customers and what you enjoy doing most, and then emphasize those things in the next batch of content you produce.
As faceless models, we can't rely on our pretty faces or disarming smiles to be memorable, so we have to turn up the dial in other ways.
Learn Which Angles Are Most Flattering
The angles you're used to using for selfies are probably ones that are designed to flatter your face. Similarly, the angles I use to shoot faceless content are much more flattering on my body than on my face.
Figure out what works for you: which angles highlight your best features and which angles you should avoid. This takes some experimentation and will be very different from model to model. I look back on some of my earlier stuff and shudder — but I had to learn by doing it, and so do you!
Video Editing Necessities
Eventually, you will mess up and include some of your face in a video. You could reshoot it, or you could learn how to blur it out in whatever video-editing program you're using.
YouTube is full of tutorials for this, as well as any other editing skill you need to learn. Having this in your box of tricks means a five-minute fix versus shooting the whole scene again. I put off learning this skill for months because I was intimidated, but it's been so useful and I wish I'd learned it sooner.
Role Play for Days
This is one of the biggest selling points of faceless porn in my opinion! We are the perfect canvases to capture our clients' fantasies because our faces are always obscured, keeping the fantasy alive. They can imagine us as their sexy neighbor, their domineering boss, their awkward stepsister or anyone else they choose. Similarly, if you have a really innocent-looking face, there's nothing stopping you from adopting a completely new role for your porn alter ego.
No one needs to know you have a babyface if you sell the kinky MILF role convincingly. Role plays are consistently some of my best selling clips and also the most fun to produce.
Tweet About It
Twitter is the absolute best place to connect and learn from other models in the industry. Whether or not you make direct sales from it, there's a lot of industry news that travels fastest on Twitter, and it's important to be informed. Lots of fans have porn Twitter accounts as well, and it's a great place to "collect" your fans who may follow you on several platforms.
Follow your role models in the industry, people whose content you find inspiring and also the promo accounts for the platforms you use. If a site sees that you're an active Twitter user, they will often RT or promote you on their account.
Your Business, Your Body, Your Rules
Many models who start out faceless end up revealing their faces — that decision is yours to make and yours alone.
You can choose to show your face only in exclusive content, only to your favorite fans, only on Snapchat, any other way you choose or not at all. There is no right or wrong way to go about running your business. If a client, another model or even a representative from a website is pressuring you to do something you don't want to do, run the other way.
You call the shots, and anyone who takes issue with that is not someone you want to be working with. There are endless paths to success in this industry, and I know you can find yours — whether or not you decide to show your face.
Thank you for reading this little series! If you have a question you'd like me to answer, give me a tweet at @clarabellewoods.
Did you catch Clarabelle Woods' interview with YNOT Cam? ICYMI, here's some more about this awesome and insightful "faceless" woman — "Mystery Nymph: Who is Clarabelle Woods?"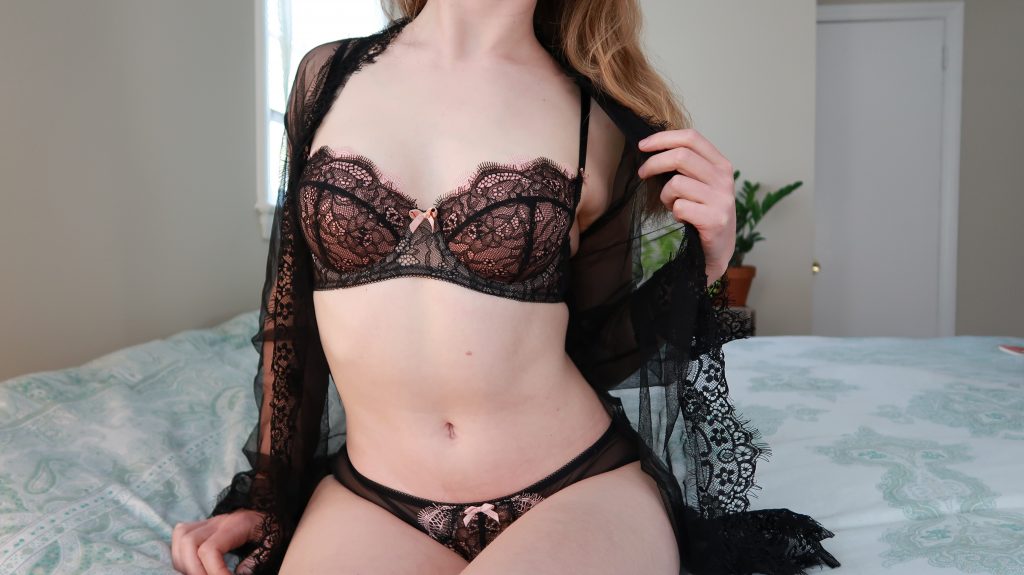 —
Clarabelle Woods is a clips producer and online sex worker. When she's not naked online, she enjoys the great outdoors, the company of plants and a really good book.