Chloe lives in your dreams, as well as the dreams of many others.
Beautifully stylized and self-described as "The One Chocolate Treat You'll Never Get Enough Of," Chloe specializes in "hot taboo phone sex" that taps into some fairly edgy fantasies — breeding and impregnation, DDLG, ebony submission, reverse cuckolding and family taboos.
"I've been a [phone sex operator] since October of 2018, but I've dabbled in it before," Chloe shared with YNOT Cam. "I've been way more successful now than I was years ago — most likely because I've taken it a bit more seriously, and I look at it from a business standpoint. I think in this industry it can be easy to not take things so seriously."  
How does one balance such a dream woman persona with hardcore vocalizing? Fitness, according to Chloe, is one tactic. 
"I love taking alternative fitness classes like pole, burlesque and aerial dancing," she explained. "It's a fun way to meet new women, and I usually find that the type of women that go to those classes consistently are pretty open and friendly."
In a world steeped in sex, sometimes it's challenging — and important — to find outside ways to explore your own interests and desires.
Chloe said, "We're all struggling to learn a new way of connecting… Even though I talk sexy to men all the time, I find that's a different kind of sexy."
"It takes little to no effort to turn a man on when you're a woman. Finding ways to connect with yourself on a deeper, more sensual level — that's an eroticism a woman can only learn by being fully in tune with how she moves and feels about herself," she said. "Even though I can't dance at all, I've always been drawn to how dancers move and are at home with themselves."
In a world of verbal sex and physical sensation, finding ways to connect and explore become increasingly important, as well as challenging. Chloe took some time out to share her thoughts on phone sex, branding and finding ways to know yourself more deeply — and impact your work positively as a result.
—
YNOT Cam: Since you said you dabbled before last year, what prompted you to re-begin your career in the industry?
Chloe: I actually worked as a regional manager at my company and I had tons of responsibility, but I felt stuck. I felt like I was on a hamster wheel going nowhere.
After a call with the Regional VP about some issues going on in the region, I realized I was wasting my young life in a company where change never would really occur. I wanted freedom and that means more time. Our time is the most valuable asset we have, aside from our health. I was living for my company, and I just decided one day I want to live for myself.
What are some general observations you have about your work as a phone sex operator?
Like I mentioned, my time is very important to me and it should be for everyone. Trying to find out how I can create passive streams without being on is huge for me. I want to make money while I sleep. I want to know my guys are happy even if I can't talk.
I'm finding that, as an introvert, being on the phone pulls from me. I love talking to the men that call me, but I have to recover by myself after interacting with people for a long time. I'm really working on striking that balance — another reason why I love going to take fitness classes. I get my blood pumping, I meet real people in real life and I'm not laying in bed talking about cocks all day.
Have a sweet tooth? I promise I'll satisfy your craving with my delectable clips #ASMR #dirtytalk #eroticaudio #roleplay #breedingfetish #taboo https://t.co/aw1cMnUgV1 @Clips4Sale pic.twitter.com/UWAB2yYDow

— ChocolatetreatXO (@Chloexo_treat) April 20, 2019
What are some important things models can be doing to keep their cash flow consistent and brand stable?
I think it's very important that all the women in this industry find ways to make money without having to be present. Luckily, a lot of these women have clips stores, Paterons, Snaps and OnlyFans, but something I do want to stress is getting your own site.  
I'm definitely not an authority when it comes to all things business, but in the vanilla world, I tried many times to launch a business. Something every business coach and guru teaches is that you need to think about staying in touch with your audience. What would you do if Twitter, Instagram, ManyVids, NiteFlirt or whomever disappeared tomorrow or shut down? Would you survive? Get people to signup to your email lists, and get those addresses, even if you create a landing page to just get emails.
What about branding specifically – is consistency important?
Something that's also important when it comes to treating this like a business is your branding. What is branding? It's how people recognize you. When we see the golden arches, we think McDonald's. When we see a white bitten apple, we think Mac.
If you look at my site chocolatetreatxo.com and my Twitter, I'm consistent with my colors, my look and the feeling. Everywhere I am online, it's the same, so I'm instantly recognizable to my audience. Not only do they recognize me, but it attracts the people I want.
If my colors were red and black and I used thick hard lines and I wore leather in my pics, who is going to blow up my phone lines? Submissive men. My colors are soft and feminine, with curving fonts which attract a lot of doms and regular vanilla guys. That's exactly what I wanted.
Look up color theory and see what emotion each color invokes. Use that to help you choose your brand images and brand feeling. Once you do, don't deviate. Don't be blue and gold on NiteFlirt and orange and black on Twitter. Be consistent.
There's so much to think about! I imagine it's difficult not to get overwhelmed while trying to get is all "correct." 
It's easy to get stuck on the design phase and think it has to be perfect, but don't freeze. I DIY everything myself in Canva. If push comes to shove, I can hack some things in Illustrator. You can even find a designer on Fiverr.com, but make sure they're sex work friendly.
If you're stuck on what you want to convey, think about what words you want people to imagine when they see you. Playful? Seductive? Terrifying? Feminine, but not girly? It's easy when you sit down and think about it.
When I started to take phone sex seriously, it was fun and sometimes kinda confusing with its unique set of challenges. What confused me was that I've never been told "I love you" as much as I have been since doing this. A big thing I had to learn is that I'm not real and it's not real, and I had to really hold on to that.
Surround yourself with friends if you can. Isolation was a big issue I had in the beginning. Oddly enough, a caller of mine told me that he wanted me to take better care of myself. "Don't just stay at home being what they want me to be," he said, even about him. Remember to take time for yourself, go out and have fun. I'm glad he said that — he even pays for my fitness classes.
My music is sooo porntastic and I love it, lol. Podcast finally dropped! Sweet Temptations: Erotica for Men❤️ Find it on soundcloud https://t.co/kX0suyj5cE #dirtytalk #asmr #nsfw pic.twitter.com/pgH6NFDE3x

— ChocolatetreatXO (@Chloexo_treat) April 4, 2019
It's sometimes difficult for people to balance "time is money" with self care. How can people be better at that?
I know our time is important and literally every second with us is money. Try not to look at your friends and family time as money — unless they suck. Then forget them and build a new family!
Know that your people are there to feed your soul and keep you grounded. My family knows I'm a phone heaux and while my dad doesn't care for it, he cares for me. They all do, and I know I'm luckier than most.
Outside of work, what are you most passionate about?
Overall, I'm passionate about women's empowerment. I think it's wonderful when women are able to turn a bad situation into something that they can use to pivot into something that gives them strength and power.
Women are alchemists. We can bend and turn things with our will into whatever we deem fit. It may not be easy and it can take some time, but we're amazing and I love it. I enjoy seeing the support a lot of the women in this industry have for each other.
I'm a huge proponent for learning. Learn how to keep empowering yourself with business knowledge and just knowledge of who you are as a person. If I could do anything in the world, I'd love to create a community that helped women connect with other each so everyone could learn how to pivot.
Find Chloe online at chocolatetreatxo.com and on Twitter at @Chloexo_treat .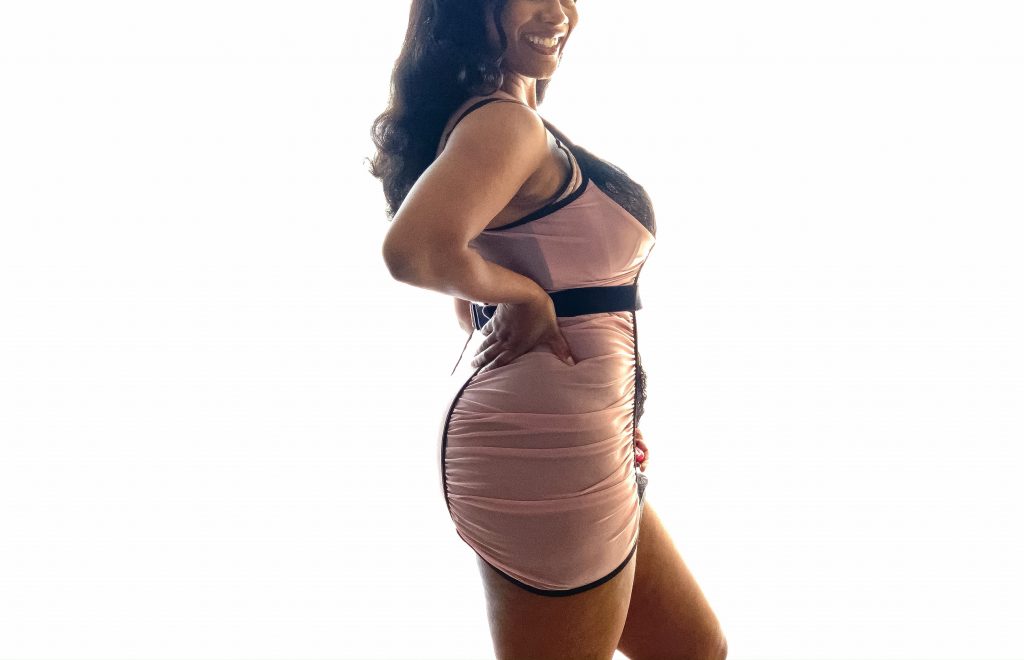 —
Erika is a sex positive people watcher (and writer). Email her at erika@ynotcam.com.