Lily O'Riley is currently in her mid-20s and has been in the adult industry for about five years now. She's originally from the southern region of the US, but now she's a "mildly reluctant resident of the Midwest." "Mildly reluctant" mostly because the winters are so horribly cold, which is something I totally feel.
"When I'm not fielding custom requests and trying to stay caught up on my social media, I spend most of my time building naturalistic vivariums for my small herd of reptiles and amphibians," O'Riley shared with YNOT Cam.
"Vivarium" is a word/thing I had to look up. It's a usually-enclosed area or habitat used for keeping and raising animals or plants for observation or research. Given that she mentioned a "small herd" and "reptiles and amphibians," I am left fully intrigued about what exactly it is that O'Riley is doing with her vivariums in the Midwest.
We didn't hear more about that, but we did get to learn about a lot of other stuff from Lily O'Riley — and now you can too. Read on!
YNOT Cam: What prompted you to begin your career online?
Lily O'Riley: Before I got into the industry I was just a run-of-the-mill undergrad student at a respectable college. I'd been toying with the idea of getting into digital work for a while, but it wasn't until I went with my then-girlfriend to a shoot — and later got invited back by that same company to shoot with them — that I realized that this was the career I wanted.
What are some of the best things about working online? What are some challenges?
The highlights are definitely the flexible schedule and ability to be my own boss. I love having the ability to tell disrespectful clients to take a hike and the knowledge that my hustle can directly impact my income.
Challenges? Learning to be self-motivated and keep track of my obligations was an incredible struggle when I first started. It also took me an embarrassingly long amount of time to learn how to set — and stick to — boundaries, especially when talking to more established studios and producers.
I see on your website that people can buy content directly from you, as well as from all the major clips platforms. Why have you opted to go this route?
Each clip site has its own benefits and drawbacks — some give higher payouts while others generate better traffic or custom requests — so I've found that spreading my net in that way gives me the best possible chance to find those potential customers that would be a good match for me. Having a "Buy Direct" button on my website, which is through IndieBill, allows me to direct customers that I find outside of the clips sites to the place that will benefit me the most, especially since they're generally not already locked into going through one site over another.
Speaking of IndieBill, what do you think of their service? People often complain about the fees billers "take." What do you think about that? Is the service worth the cost?
I absolutely adore IndieBill! I've actually written an entire Twitter thread on why they're delightful because I'm incredibly fond of what they offer.
There's no up-front cost. They just take a fifteen percent cut — which, to my knowledge, puts it at the top of the options for processing credit cards. They also offer chargeback protection, so they're where I route potential customers who try to push me into using PayPal or something similar.
Alright, y'all, I've been on @indiebill for a while now and I just want to say how much I love it as a clip-selling platform. They give you 85% of each sale. 85%!

If you want to see my IB store: https://t.co/oPgwUk5hCH
If this helps – my referral link: https://t.co/XjOq3oTYPd

— Lily O'Riley 🔞 (@LilyOhRiley) April 17, 2019
The following grabs show the rest of O'Riley's IndieBill thread on Twitter.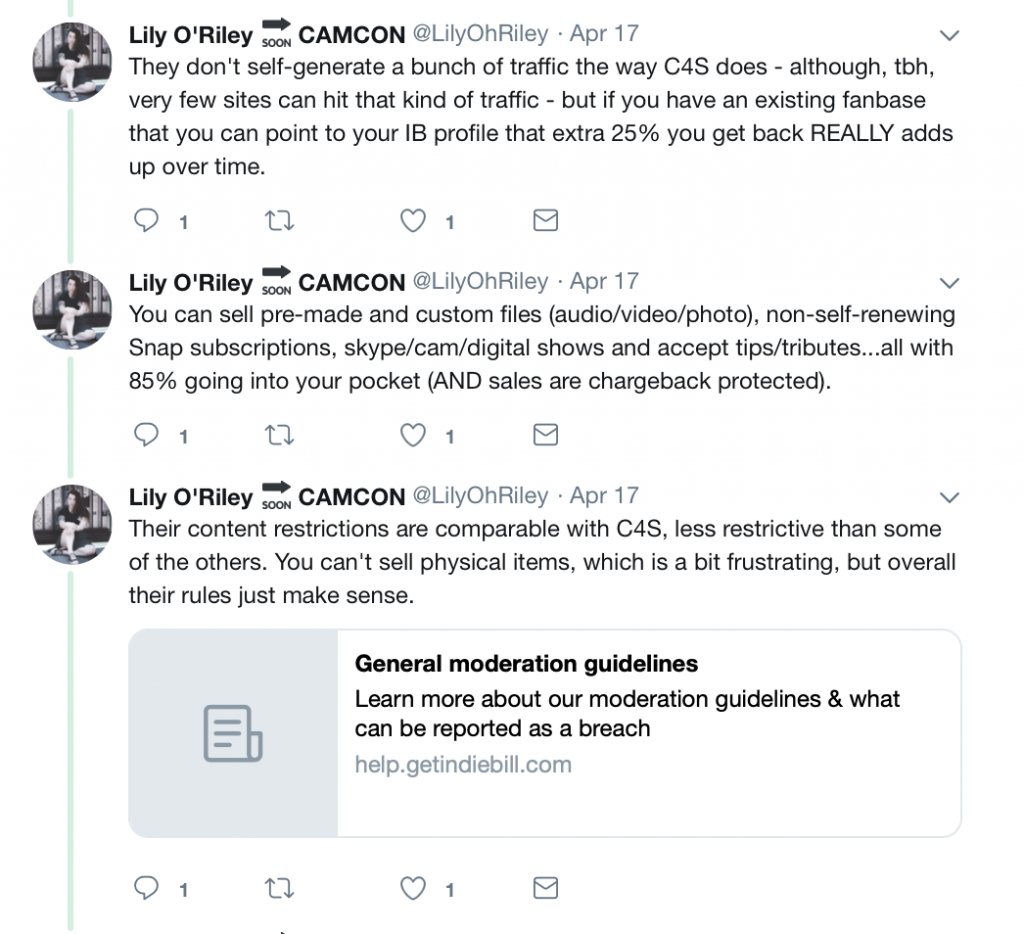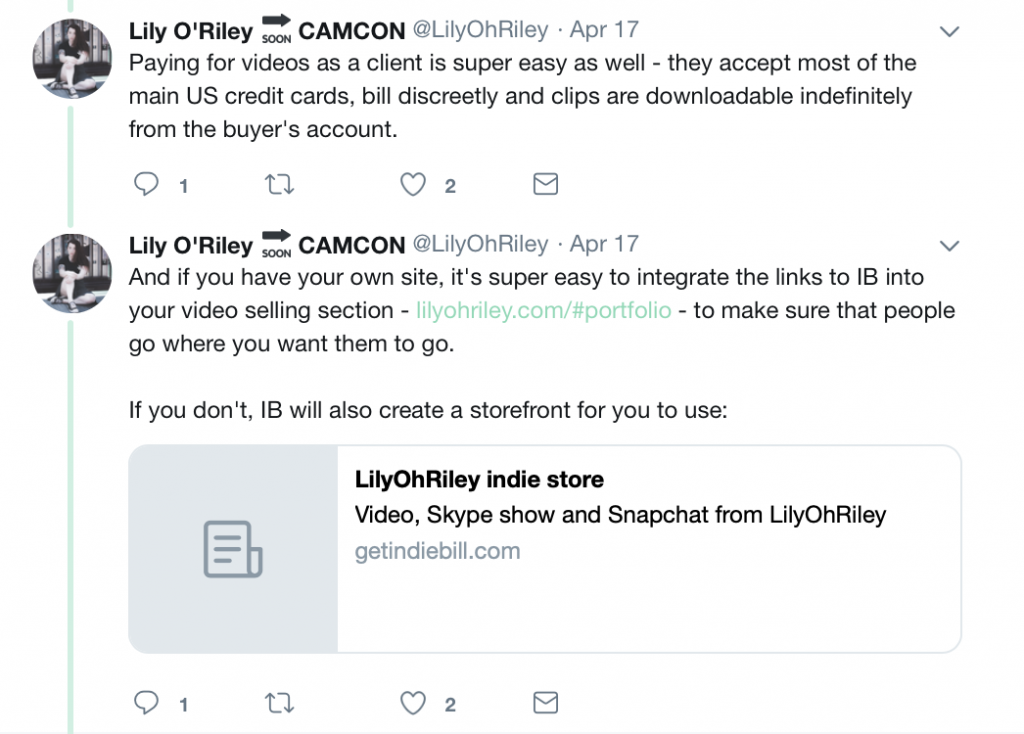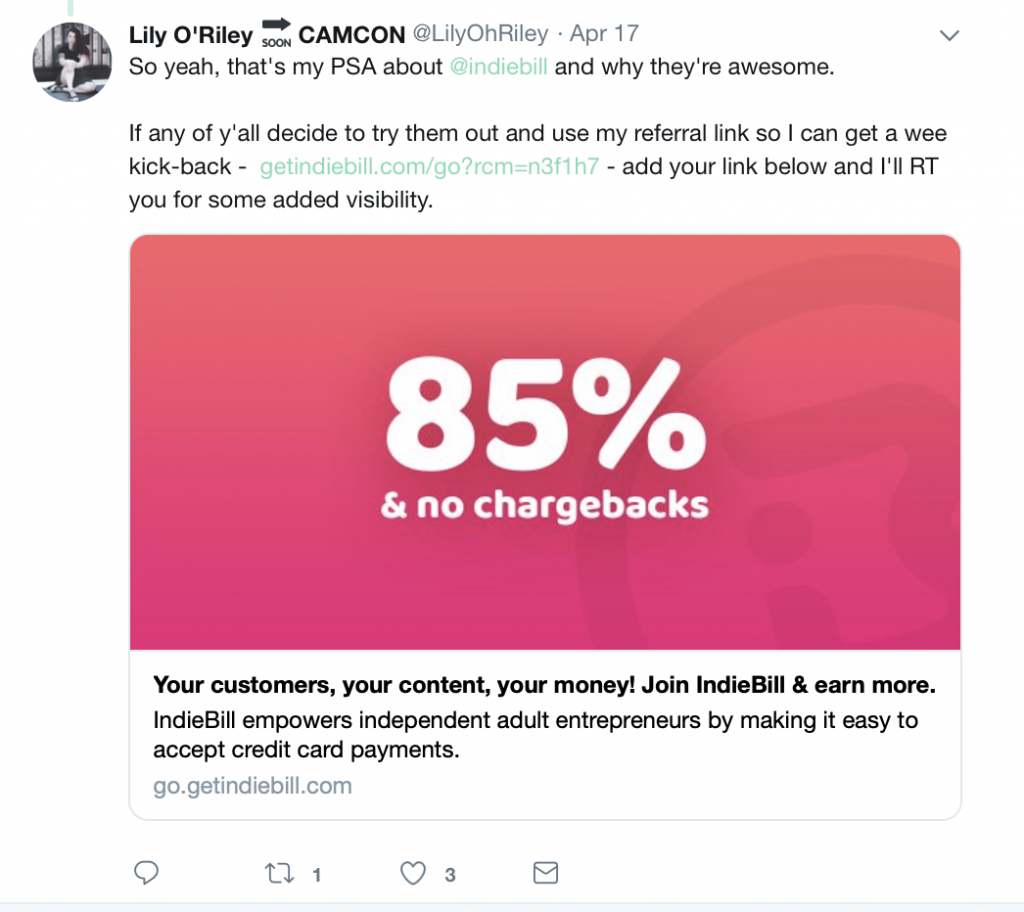 Your YouTube channel is awesome. Can you tell us about your reviews and the content you post there in general?
Would you believe that I started my YouTube on a whim? I'd been talking it over with my marketing guy and trying to decide if I was ready to take on the additional stress of publishing one to two more videos a week. Eventually, I just decided to commit to a three-month trial run and recorded all of the first videos in one marathon day.
When I started releasing them — mostly pulling items from my extensive personal collection — and the positive feedback… and increased sales, custom requests and Snapchat subscriptions… started rolling in, I knew I had to keep going, which eventually turned into what I've got going on now.
Outside of your career, what are you most interested in?
Interested in… Oh, many things. I have a tendency to pick up a new fascination every few months. Lately I've gone down a rabbit hole regarding limnology — basically, how lakes work — and before that I was indulging my fascination with fan-made Pokémon games.
I'm basically a broad-spectrum nerd, so anything that falls under the science or comics and gaming umbrella is generally fair game for me.
If you could change one thing about today's world, what would it be and why?
I'm going to sound so idealistic, but I'm one of those optimists that wish we could find a way to provide everyone with healthcare, education and financial stability so that we could see what kind of potential exists in people who are otherwise dragged down by the circumstances of their birth.
Find Lily O'Riley on Twitter at @LilyOhRiley and at lilyohriley.com.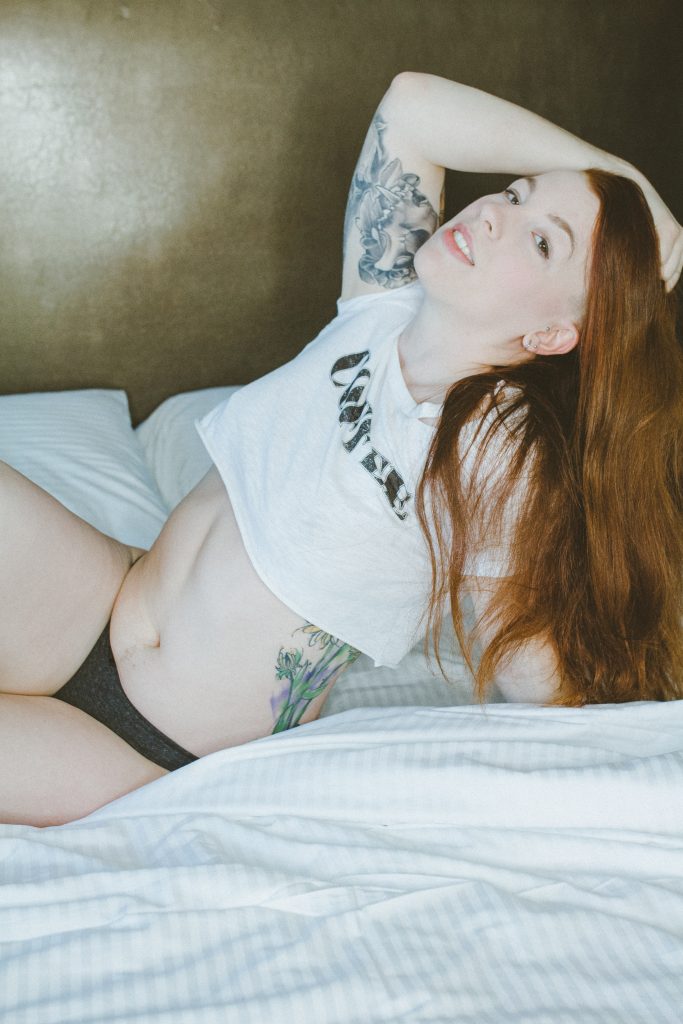 —
Erika is a sex positive people watcher (and writer). Email her at erika@ynotcam.com.