Hi! I'm Lily O'Riley, and today we'll be taking a look at Her Ultimate Pleasure from Pipedream Products' Fantasy For Her line.
Pipedream manufactures a wide variety of products, covering toys, wands, rabbits and dildos for anyone and everyone. Her Ultimate Pleasure is a multi-faceted toy that can be used both for penetration as well as externally on the vulva and clitoris. I had seen a few content creators on Twitter rave about it and, to be fair, I was a bit skeptical. I picked it up on a whim, and let me tell you — it blew my mind. I filmed the review (below) a couple of days after using it and had to spread the word about how good it was.
So let's jump right in with the basics, yeah?
Basics and Safety
Her Ultimate Pleasure comes with the toy itself, two suction attachments, a small nubbly TPE sleeve (TPE: thermoplastic elastomers, which are also called thermoplastic rubbers) you can put over the tongue end and a magnetic charger. I really like this type of charger as there's minimal fuss when charging it up.
The design is very streamlined, with light purple coloring on the toy and attachments and pink on the tongue end.  The exterior handle end is covered in body-safe silicone and does connect seamlessly to the control panel at the top of the toy. The two attachments come in an oval and a circular shape, which are useful in determining how much of your clitoral area you would like in the suction.
It doesn't look like a whole lot at first glance, but trust me when I say: It delivers. Just to be safe, I would be careful with how far you insert it and with washing/cleaning afterward.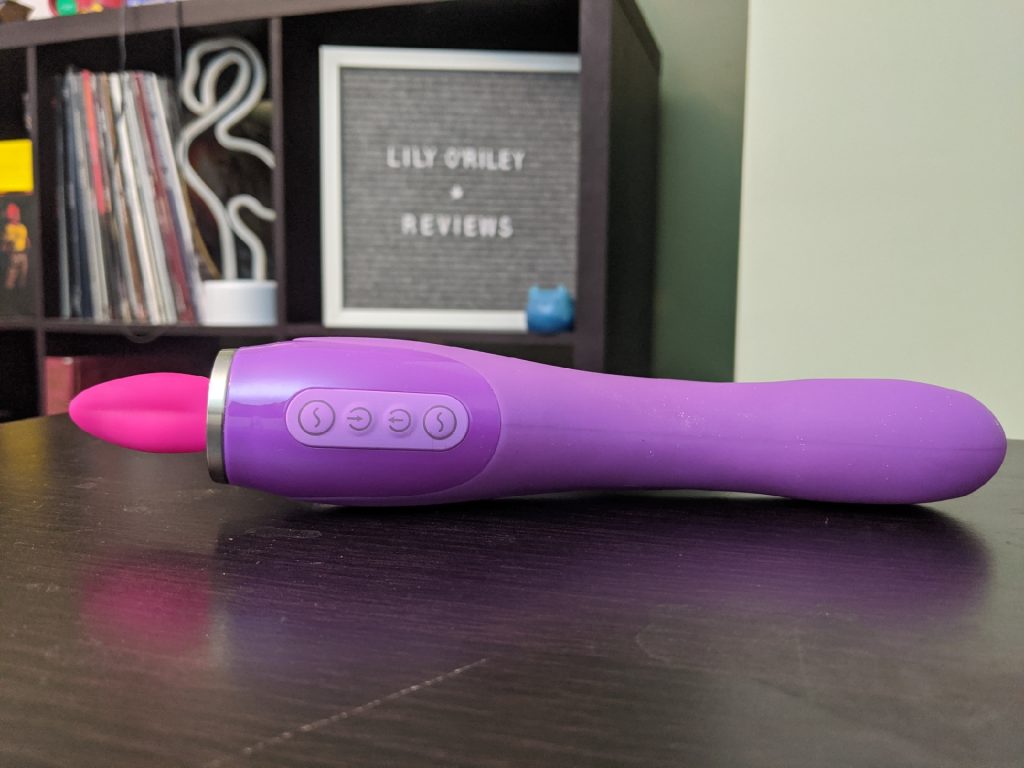 Use
This toy does a lot of things and does them oh so well. The "handle" end is a vibrating dildo that feels amazing because of its curvature and size. It has ten different vibrating intensities and patterns, which is a standard amount you should find on many mid-to-high range vibrators. Its design means it also doubles as a great ergonomic handle when you're using the tongue/suction end, so you can easily hold and grip it in a variety of positions.
The handle end is a medium-to-firm silicone, with a fair amount of flexibility that can handle some intensive G-spot play. It's able to be angled well without being "punchy" or too firm. The handle end is also very soft, and with its slight angling, does wonders with external clitoral stimulation. Just rest it between your labia and the natural curvature hits all the right spots for you. I love a deep, rumbly feeling, and this delivered when I was using it externally. So much so, I took up almost half of my Snapchat show just using the handle end because I was having so much fun with it!
When you flip it to the other end, this is where it really starts to shine. As I mentioned earlier, this toy can do a lot. And replicating a human tongue right on your clit is another area where it blew my mind. The silicone tongue attachment has severn (!) different patterns of motion. I've met entire people who didn't have seven different patterns of motion. Not only that, but some of the patterns have both vibration and motion. I'm just going to let that sink in right there.
The complementing function on this end of the toy is the suction. As I mentioned earlier, it comes with two different shaped attachments. The suction control is right on the same panel with all the other functions, and you can alternate between three different timing patterns of suction and release around your clitoris.
So now picture the suction around your clitoris, the tongue moving and vibrating at the same time and a little bit of lube and this… well, this becomes something else. It doesn't complain that you're taking too long or make you feel awkward about whatever unwieldy position is needed to get you there. It goes as long as its battery does or until you tap out. Now, note that because of the shape and positioning, it will most likely be directly on your clit. I enjoy this, but it might take a fair bit of maneuvering if you want more indirect stimulation.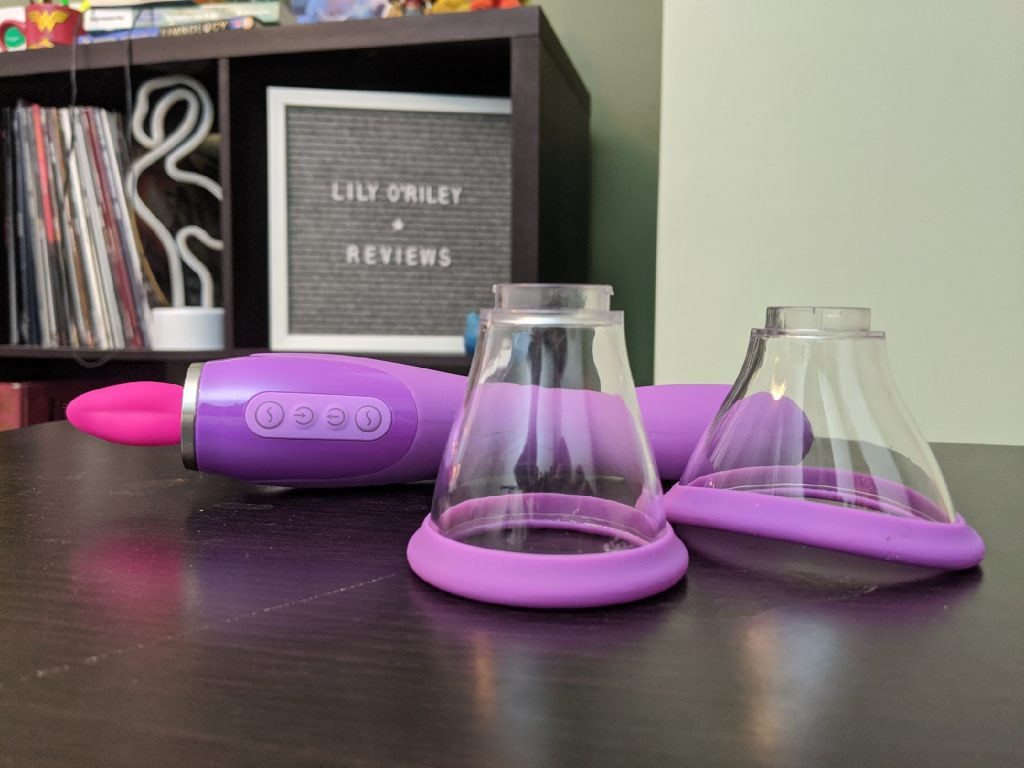 Income vs. Effort
At the time of the video review, the Her Ultimate Pleasure had a retail price of around $120. Currently though, the Pipedream website says "$150.00 each" and also "Not Available" — yikes. Her Ultimate Pleasure can be found elsewhere on the internet for as low as $73.99, but reduced price sex toys must always come with a "Buyer Beware" disclaimer.
As far as workplace use, it's a great toy but it might be tough to properly show on camera. Even on my shows, it takes a little bit of work to get the right angles so you could see the tongue attachment in action as well as my physical reactions and pleasure.
Another side effect is the suction attachment might fog up, making visibility to what the tongue is doing on camera tough as well. The vibrator/dildo end works perfectly and is a good size that you can easily show off different penetrative angles without it taking up too much in the frame.
Random Notes
After extensive testing, I'd say this functions well as either a single-user toy or one to use on your partner. It's not designed at all for a harness, but entirely for handheld use in some form.
For storage purposes, I always tend to err on the side of caution with silicone toys and avoid storing them touching one another. Gallon-sized Ziploc bags do well for this. Be sure to wash them well after use, especially if a silicone or silicone-blend lube was used.
Conclusion
In sum, Her Ultimate Pleasure does what it does so well. I rate it up there with my Doxy in terms of vibrators that are "must-haves."
The vast majority of my toys are organized for shows or clips, but this went right into my personal rotation without hesitation. It's not the most photogenic toy for using on camera, but regardless of that, it is absolutely phenomenal in execution. If you like oral when it's good, you'll have it right there ready to go with this toy.
—
Lily O'Riley is a professional clips maker, part-time model and gently sardonic toy reviewer hailing from the Midwest. Find her on Twitter at @lilyohriley and contact her via lily@ynotcam.com.
Product images by the author.