Hi! I'm Lily O'Riley, here with another written installment of Lily O'Riley Reviews! Today we'll be taking a look at The Mustang from Vixen Creations.
Vixen Creations specializes in realistic dildos, not just in look but also in feel and texture. Everything is handcrafted and, since they use 100 percent platinum-grade silicone, their Mustang is non-porous and body-safe.
So, how was the toy? Well, let's just say it ventured into territory that very few toys ever will. Let's start the review, shall we?
Basics and Safety
The Mustang is made using Vixen's proprietary VixSkin silicone technology. It's a dual-density toy, with a soft outer layer that you can pinch and squish (almost like skin) with a firm inner core. It has a little bit of give, but it's not too squishy. It's not an exact doppelganger of an actual penis, but it comes very close!
That grade of silicone means it's safe, but you'll still need to take care of it. It can be cleaned easily either through basic soap and water or boiling it in water for about three minutes. Just because bacteria won't get into the silicone doesn't mean that they won't hang around on the outside. Body safety is always a priority.
From tip to base it's about 7 inches, with about 6.5 being usable when you straighten it out. If you lay eyes on the toy, you can see that it has a bit of a curve for G-spot or P-spot stimulation, which is a really nice and realistic touch. It has a diameter of 1.75 inches at the base and 1.5 just under the tip. Overall, a very realistic toy with parameters that aren't far outside a statistically average penis.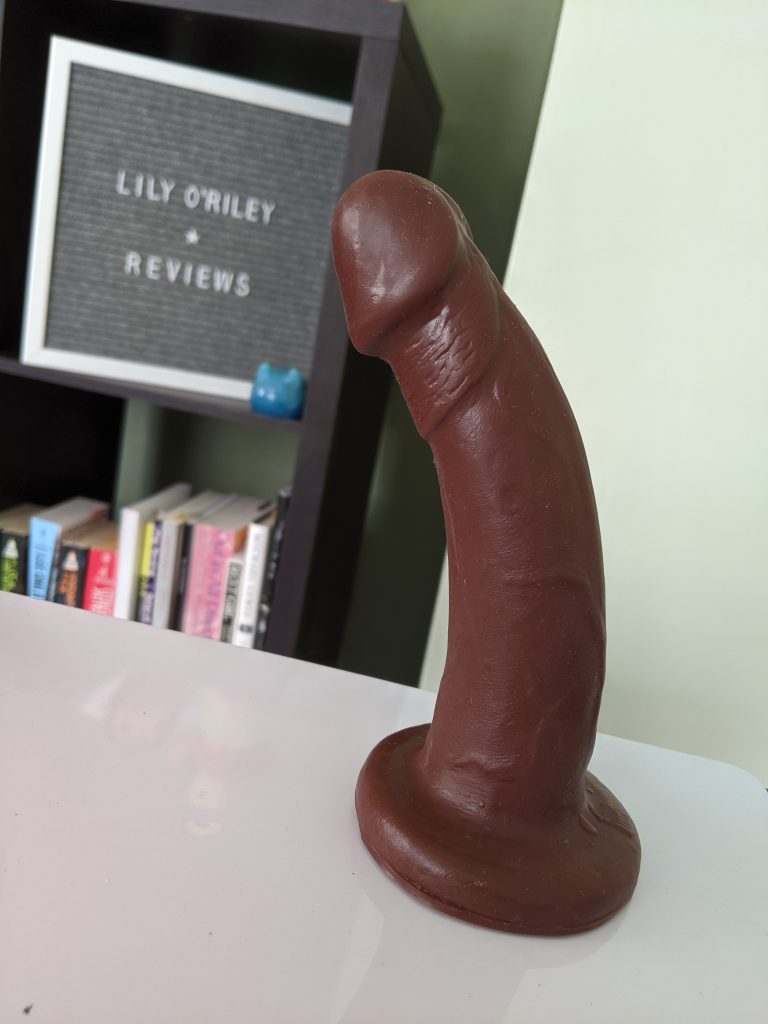 Use
So if you've followed me for a while, you know that anal is not necessarily my cup of tea. I have a very discerning booty and am very picky about what types of toys I use for it. That being said, I genuinely enjoyed The Mustang as an anal toy! I can safely say it's one of only three toys that I would ever use if I want to do any sort of anal play.
For vaginal use, it's basically the same seal of approval: the texture and softness of the toy make it incredibly pleasant when you're using it and, with a lot of lube, it almost has a silky feel to it. It has enough give to be flexible to your body, while also retaining enough firmness to hit the spots you want it to hit.
The Mustang takes to lube extremely well, and the design and texture of the veining gives it some great sensations that aren't overwhelming. Seriously, I can't get over how much I love the texture. It's that perfect blend to give it just the right amount of squish when you grip it, especially around and on the head.
Per Vixen Creations' website, the silicone is able to be warmed as well as retain body heat. I can vouch that it does warm up from your body's own heat, though I haven't fully tested it yet to see how long it actually retains it. That ease of warmth is a great feeling, giving it that additional sense of realism during use.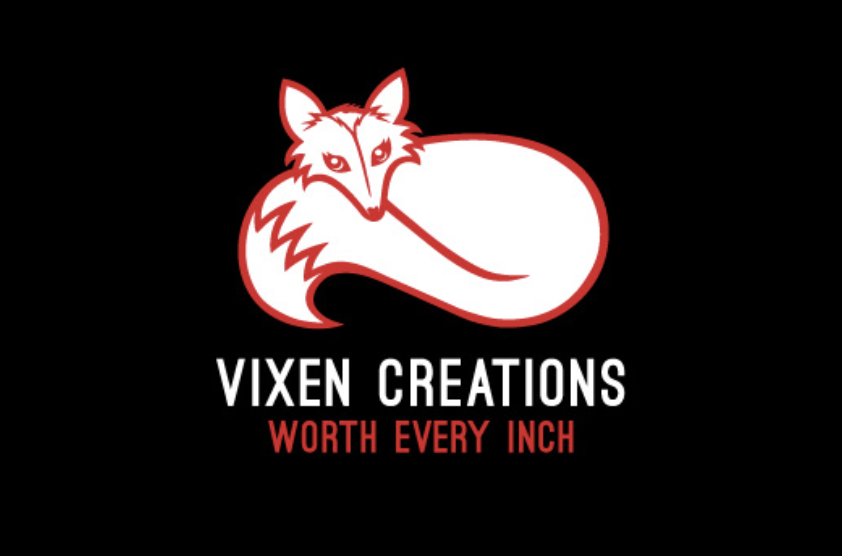 Income vs. Effort

The Mustang retails for $114. It's not a cheap toy by any stretch of the imagination, but after testing I feel it's well worth it. Vixen Creations knew what they wanted to make, and they made it very well.
Random Notes
The Mustang comes in three "realistic" color variants — "Chocolate," "Caramel" and "Vanilla" — along with four others that are neon, bright tie-dye, etc. which look great if you really want it to pop visually on camera.
After extensive testing, I'd say this functions very well as either a single-user or duo toy. The design of the toy means it's anal safe and harness compatible. It also has a slight indentation at the base, which gives it a suction effect when you stick it to flat surfaces. This was hit-or-miss with me, in that sometimes it would stick without a problem and other times it wouldn't at all.
Curious about *the best* dildo mounting technique ever? Read Nikki Night's article "At Last, The Secret To Mounting Your Dildo Is Revealed!"
As always, for storage purposes, I tend to err on the side of caution with silicone toys and avoid storing them touching one another. Gallon sized Ziploc bags do well for this, and be sure to wash toys well after use, especially if a silicone or silicone-blend lube was used. 
Conclusion
I genuinely enjoyed The Mustang. It's a toy that I'm going to keep using both during clips and cam shows, as well as part of my personal use collection. When I get a toy and I genuinely can't keep my hands off of it, I know this is one that I'm going to enjoy — and I hope you do as well!
I would love to hear any feedback you have on this toy or any others I've reviewed. Also, if there's a toy you'd like me to review, let me know. I'll see you next time for another review. Bye, guys!
—
Lily O'Riley is a professional clips maker, part-time model and gently sardonic toy reviewer hailing from the Midwest. Find her on Twitter at @lilyohriley and contact her via lily@ynotcam.com.
All product images by the author.