Hi! I'm Lily O'Riley, and I want to welcome you to the first written installment of Lily O'Riley Reviews! Today we'll be taking a look at Sleipnir from Bad Dragon.
Bad Dragon is a company that produces adult toys based off of mythological creatures, which can be customized in a wide variety of colors and patterns. Sleipnir, specifically, is based on Norse mythology: He was born from Loki shapeshifting into a mare and getting intimate with a stallion, from whence he was born and became Odin's most prized steed. So, he's had an interesting life! 
Let's start with the basics, yeah?
Basics and Safety
Ok, so off the bat, this version of Sleipnir I'm reviewing is a Small. 
Yeah, I'll let that one sink in a bit. Bad Dragon definitely tends toward the generous end of toy sizing, so please take that into account when looking at the sizes. This particular size measures 7.75" length, from tip to base, with an insertable length of about 6.5." The average circumference is also about 6.5," so it has enough girth and length that it provides a nice stretch. It weighs just a little over 1 lb, so there's a satisfying heft to it when you pick it up too.
Sleipnir, like many other Bad Dragon toys, comes in a variety of sizes: from Mini to XL. For comparison purposes, the Mini has a length of 5.75" from tip to base with an insertable length of 4.8" and circumference of 4.75." This makes it a great option if you love Sleipnir's look but are hesitant about the size. The XL, on the other hand, has an insertable length of 12.5" and a circumference of 12.5" — perfect for those looking for more of a challenge. 
Sleipnir is made from 100 percent body-safe silicone, meaning it's body-safe, waterproof, non-porous and very stretchy and durable. This toy also has a fair amount of firmness, but their Medium silicone is a great compromise. You'll feel some amount of give when you squeeze it, so it's not overly rigid.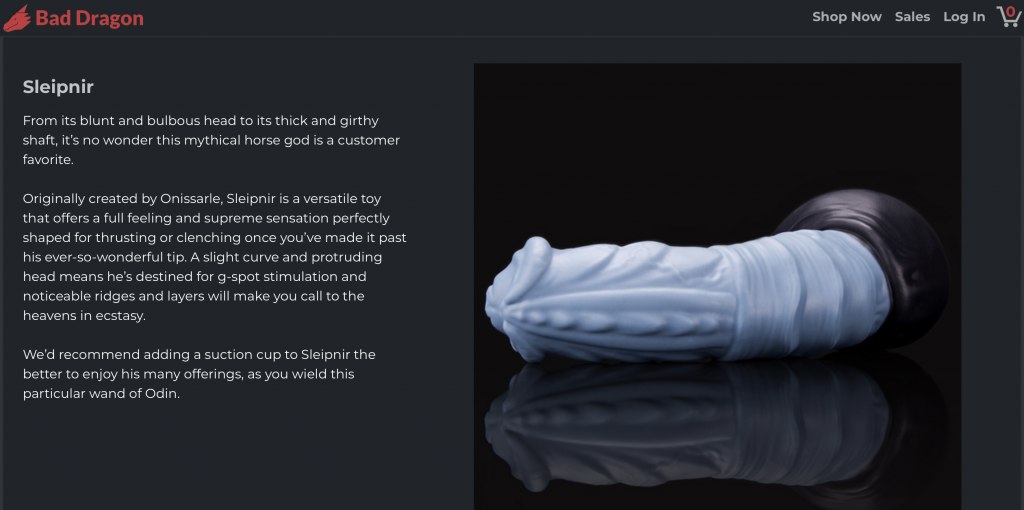 Use
This toy's primary use is for penetration, which works well with the design features. The ridges along the underside and its bulbous head are AMAZING for both G-spot and, I would assume, prostate play. Do note that this toy has a good amount of girth, and due to the blunt, non-tapered head I would hesitate to recommend this toy to beginners. Given those points, I'd say that this is a bit more intense than a realistic toy with similar measurements, so it might require a bit more lube or preparation. 
Aesthetically, I would say that my toy is gorgeous! I picked it up as a clearance item (hence the non-standard coloration you can see in my review video below). I found that the detailing really pops on camera even in a moderate amount of light, making it a great choice to film with.
An important thing to note: You can choose to order most items on the Bad Dragon website with or without a suction cup on the base. For this one, I didn't, and I'll admit I sometimes consider picking up a second with that option. I love having that versatility because toys are much more useful for filming and personal use when you can stick them somewhere and they stay put. Despite this minor hangup, I think Sleipnir is such an enjoyable toy that I just chalked it up as a learning experience.
Income vs. Effort
Given how Bad Dragon is often the first brand that comes to mind when thinking of monster-themed toys, there's a considerable draw based on the simple fact that it's a brand the consumer is aware of (as opposed to the lesser-known monster toy brands like those found on Etsy). There's a different vibe that monster toys bring to a video or cam session as compared to a realistic dildo, so I'm willing to say that there's a benefit to picking up this (or another monster-themed) toy if you want to expand your repertoire of filming options. 
Random Notes
The Small retails for $75, with the price going up and down based on size. The Mini goes for $55, and the Extra Large runs $200. There are also firmness combination options that may add a few more dollars to your final cost. 
After extensive testing, I'd say that this is a single-user toy. It could theoretically be used during a duo show with one performer operating it and another on the receiving end, but it lacks the functionality of a double-ended toy or similar. It's an item that could be used equally in personal and professional contexts. 
As far as storage goes, I tend to err on the side of caution and avoid storing my toys touching one another — gallon Ziploc bags do well for this — and do be sure to wash them well after use, especially if a silicone or silicone-blend lube was used. 
Conclusion
To wrap up, Sleipnir is a great toy for those who have some experience with penetrative toy use and want something outside of the ordinary. Keeping with the toy's mythological inspiration, I'd be willing to say this is a very good Norse horse, one worth adding to your stable. 
I'll see you next time for another review. Bye, guys!
—
Lily O'Riley is a professional clips maker, part-time model and gently sardonic toy reviewer hailing from the Midwest. Find her on Twitter at @lilyohriley and contact her via lily@ynotcam.com.