Johnny Goodluck, currently age 32, is from Baltimore, MD. He grew up crabbing. Like, fishing for crabs.
"That's right — my father, brother and me in a tiny boat pulling in bushels of the Chesapeake Bay's finest blue crabs," Goodluck explained. "Still do, when I get the chance, and I'm back on the east coast."
This is basically the most quintessential Nor' Eastern thing I've ever heard, and I love it!
In addition to being a performer and clips maker on the rise, Goodluck is a professionally trained chef, a multi-talented musician and one of the best mixologists you'll ever met. He shared some insights about being a "man of hospitality" and a Jack of all (production) trades with YNOT Cam.
YNOT Cam: What did you do before you began your career in adult entertainment?
Johnny Goodluck: I've always been a man of hospitality, from kitchens to bartending to running my own show. Porn sort of fell on my lap, so I took it for a ride and I'm still rolling.
The kitchen will never leave my heart. In fact, I already have a new plan on how to bring it back to the forefront of my world. Being a chef was just what I was meant to be. I've done it since I was a kid, and it's where my heart belongs. I was cooking before I knew what cool was, and I just happened to fall into the rock 'n roll punk style. I feel like rowdy, ruthless types like me [have] a similar style out of the kitchen realm. Somehow it got trendy?
Soon I'll be launching my new podcast and YouTube show "Orally Fixated," which will have fellow performers cooking and creating with me in the kitchen and behind the bar. Get ready for that! 
What's it like to being a "Jack of All Trades" in your production work versus conventional porn where I assume you "just" perform?
This has become way more of the focal point for work than I ever would have imagined. If someone told me once I became a known performer that I would spend most of my time jockeying a keyboard, you would've had me mistaken. It is definitely a process to keep up with everything without an assistant. Answering emails and writing synopses and bios, as well as learning social media, daily upkeep and engaging people… not to mention learning how to use a camera, edit, post and tag. Then you level up: you produce, write and direct content for you and for other people. It becomes its own income stream. You need a team, instead of just answering the phone to go perform. It's very hard to get everything done.
The benefit of having my own site, first and foremost, is keeping all of the profit. The platforms such as Clips4Sale, ManyVids, iWantClips — everyone has their piece… Granted, with a site you have to build and maintain the site, but it can be far more rewarding once you get over the threshold of the overhead. The benefit of using the other channels is cross-utilizing the crowd on all channels to take them to find what they really want. There are things I can put on ManyVids and OnlyFans that just don't work for my site, so I have to strategize and put the content where it belongs.
Outside of your career, what are you most passionate about?
Living life has never been more important. I'm a very busy guy, but I'm also happily married to my wonderful porn star wife, Draven Star.
I'm in my thirties, which would seem like a time to relax a little, but the workload keeps stacking up. So, I have to balance the fun in the work — that's why my new project is so important. It lets me use my kitchen passions again, and I can't wait to get started. I want to travel more. We just got a taste of Europe for the first time last year, and now I want to go everywhere.
If you could change one thing about today's world, what would it be and why?
I wish that kids got more of a chance to grow up on their own these days. I was the last generation before the great tech takeover, which now has kids in first grade with smart phones. I miss the days where you were naive to grown-people things, until they naturally came along. Now, every child can find out the most arbitrary, yet highly adult content all over the internet. Also, being able to learn how brutal the world is, again, via content found on the internet — it's always in the palm of their hands.
Also, I wish people cooked together and ate together uninterrupted more often. It's so important in so many ways.
Find Johnny Goodluck on Twitter at @MrGoodluckXXX and on Instagram at @MrJohnnyGoodluck.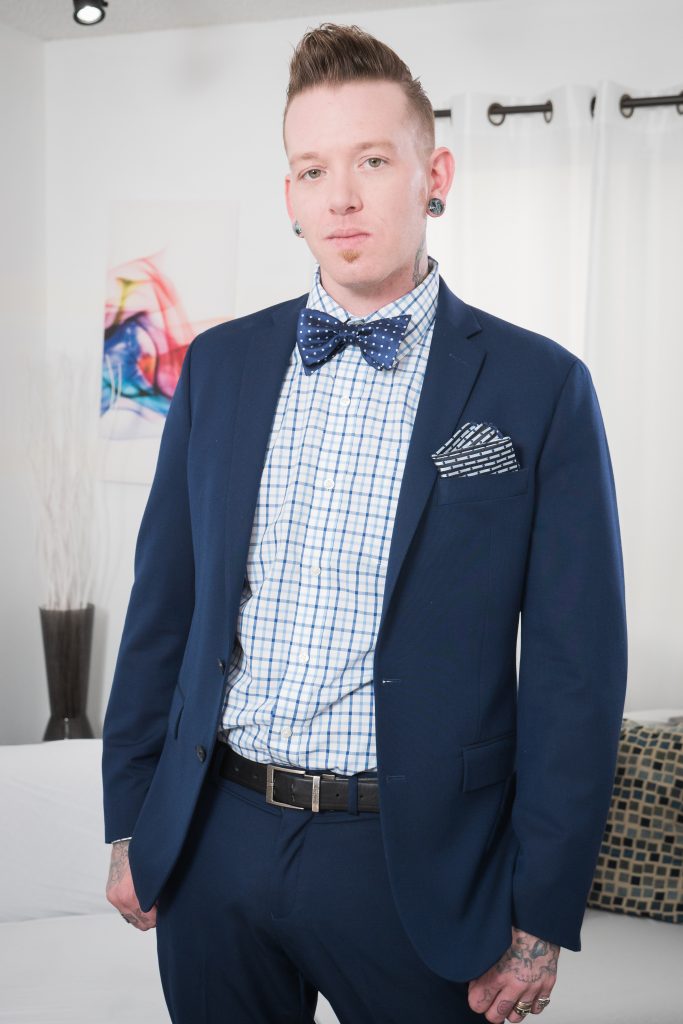 —
Erika is a sex positive people watcher (and writer). Email her at erika@ynotcam.com.