ManyVids has made some changes to its vid uploader and editor for easier, faster distribution.
On August 16, ManyVids (MV) announced a slew of positive changes made to the video editing page. You can read the full blog post here, but let's take a closer look at the changes they introduced:
1. Changes recently made to the vid uploader are being reverted. Last month, MV introduced "upload improvements" that earned a whole lot of negative feedback. They are rolling back those changes.
2. You can easily delete or download your vids directly from the Edit page. Before, in order to download your own vids from MV, you might just create a separate MV account and send an MV Link to yourself to access/download those vids. Now, you can download directly from the editor!
3. You can stream your vid from the Edit page. Before, you could only stream from the video viewer page (while logged in as the owner).
4. The Edit page has been slightly redesigned. The vid window has been moved to one side of the page for easy access, where it also displays the vid's permalink. (You can stream it there too!) On the other side, you can scroll to edit your vid title, description, tags, exclusivity, generate and upload thumbnails.
On desktop, the new Editor looks like this: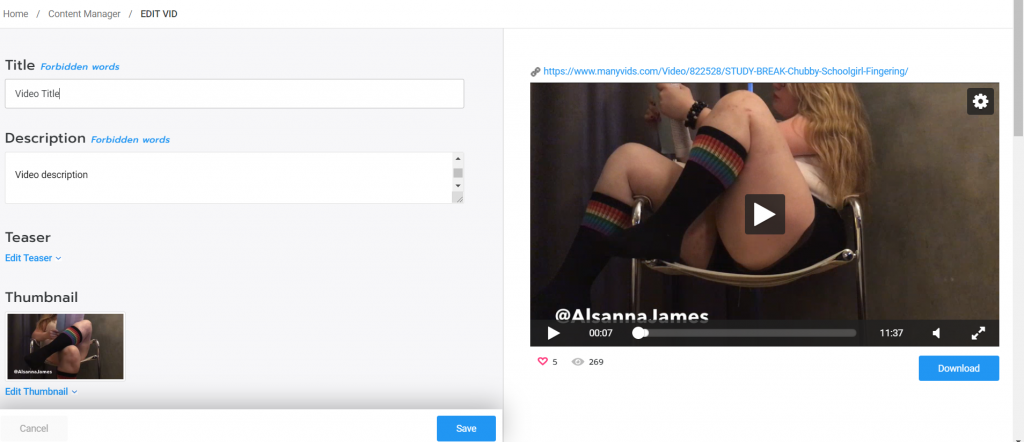 There are a few more updates, including:
The time required to transcode vids has supposedly been improved, so they should upload easier and faster.
Uploadable file types are limited to MP4, M4V & MOV.
You can mark each vid as "Vid Without Nudity (SFW)" or "Vid With Nudity (NSFW)." The company may use content marked SFW (safe for work, without nudity) for "mainstream marketing campaigns."
Please note that MV is not at all unique in claiming this right to use your content for marketing purposes. It's standard for content-sharing sites to include a similar licensing clause in their terms of service, granting them access and the right to use your content. For instance, Clips4Sale (see section 5.9 of their TOS) and YouTube (see section 6-C of their TOS) have these licensing agreements, too. You can't upload to these sites without agreeing to such terms.
By uploading your content to ManyVids, "You agree and understand that MV may make use of your Content for promotional or commercial purposes only and to render the services pursuant to these TOS" as specified in their terms of service for uploaders, section 3.6. MV frequently does this to promote weekly contests, blog posts, announcements, tweets and other promotional materials.
Of note: MV elaborated on the "Vid Without Nudity" option in a recent blog post. Before, as soon as a vid was uploaded, you had to wait for the site to generate and encode a preview and selection of thumbnails. MV will no longer automatically generate a preview and thumbnail, but you can still use MV's generator by selecting "Create from vid" in the Teaser drop-down menu.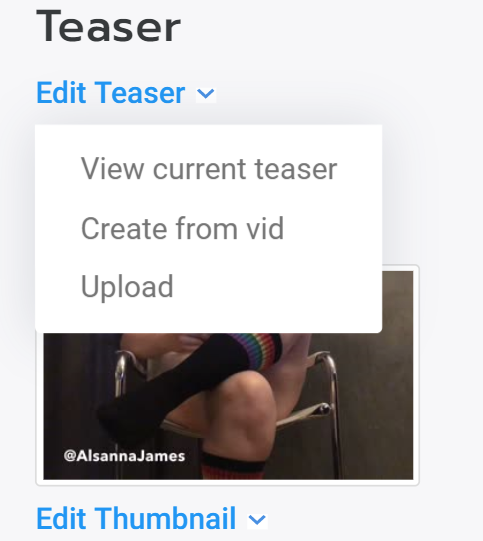 You can also choose to generate a screenshot/thumbnail from the vid or upload your own. Since you can stream your own vids, the only way to view a vid's current preview (as it appears to other viewers) is to open the vid's Edit page and select "View current teaser" in the Teaser drop-down menu.
Other Recent MV Updates
Additionally, MV announced a few more changes they plan to make soon:
Reintroduction of the "replace vid" feature. Accidentally uploaded an unwatermarked version of your vid? Need to edit out a blooper? The file is too big, broken or low quality? MV will be bringing back the option to replace vid files — without losing sales data, likes, views and reviews.
A faster preview generator
The ability for MV Members to choose between different video resolutions. (Tube sites like Pornhub have this feature.)
This summer, MV also made some cool additions to their live cam feature, MV Live: Lovense toy compatibility and integration of a digital, customizable MV Live Wheel.
In July, they also announced an opportunity for each MV Star to earn 100 percent payout on anniversary sales (vids only). Every year, on the anniversary of the day you created an MV account, you will receive 100 percent of vid sales for 24 hours. The period starts at 12 am on your MV anniversary, in "MV Time" — UTC+00:00.
"MV Time" can be checked via Earnings → My Earnings. MV says your anniversary is the date you "Joined" the site, as noted in your profile's "About" section. So, for instance, if your anniversary is December 1, you will get 100 percent of your vid sales on December 1. Kinda neat!
MV says they will email each MV Star one week prior to their anniversary date, as well as the day of, to remind them. There has been some reported concern about glitches, such as MV not notifying models about sales made, emails not being sent, and uncertainty about the correct anniversary date. (Is there a difference between the day you created an MV account vs. the day your account was approved?)
Growing pains and bugs with new features are to be expected. As with all site features, we hope MV continues to make improvements that benefit the community.
—
Alsanna James is a student, advocate, spoonie, writer, gamer and adult content creator. Half silent oracle, half professional sexpot, you can email her at alsanna@ynotcam.com and find her on Twitter at @AlsannaJames.
Screengrabs by the author.