If you've been creating erotic hypnosis content for Patreon, you likely already know that the platform doesn't like you. If you're creating content featuring any form of "transformation" process, things like bimbofication, sissification, feminization or any form of body growth or expansion, you know that Patreon also doesn't like you. And even if you're making non-adult content for the LGBTQA community, you know that — guess what — Patreon doesn't like you either.
But if you fall outside of these groups and are still making adult content and utilizing Patreon, you may wake up one day to find your profile under review — or, gone altogether.
Paypal and a Change In Policy
From the start, Patreon didn't really allow "adult content," at least in so far as the fact that they don't allow porn. They even used to have a very unhelpful guideline as to what porn is, which basically said you "know it when you see it."
In 2017, those guidelines saw a change. The platform stated that they had to "ramp up the proactive review of content on Patreon due to requirements from our payment partners." Around the same time, Paypal had just been added as a payment partner, which has long been strict on not allowing their service to be used for the exchange of online sexual content.
When the guidelines were initially changed, CEO Jack Conte was quick to address media that was spreading that said that Patreon was cracking down on adult content. Conte claimed that nothing had changed except that they had changed the wording for a ban that had always been there. Porn was never allowed, and now the guidelines better conveyed that. Moreover, he also clarified that only four things were truly banned: bestiality, incest, sexual depiction of minors and suggestive sexual violence.
It's that last one, though, that has been affecting adult content creators ever since.
The Continuous Ban of Kinks
Since the initial ban on "suggestive sexual violence," the definition has been changed to suit many different forms of kink. Erotic hypnosis was banned because it demonstrated a power dynamic in which someone did not have the power to say no, and Patreon does not allow for anything non-consensual. Body transformation was banned because it demonstrated someone being forced to change their body for someone.
Hypno Changer observed that, "They did the hypno ban, and now they're coming after transformation. Patreon seems to just hate kink…"
Those creating content with these kinks were told to removing the offending content or have their profiles removed. Many other fetish creators are concerned that their kink is next, particularly if any part of it can be considered violent, such as the sadism and masochism dynamic depicted in BDSM.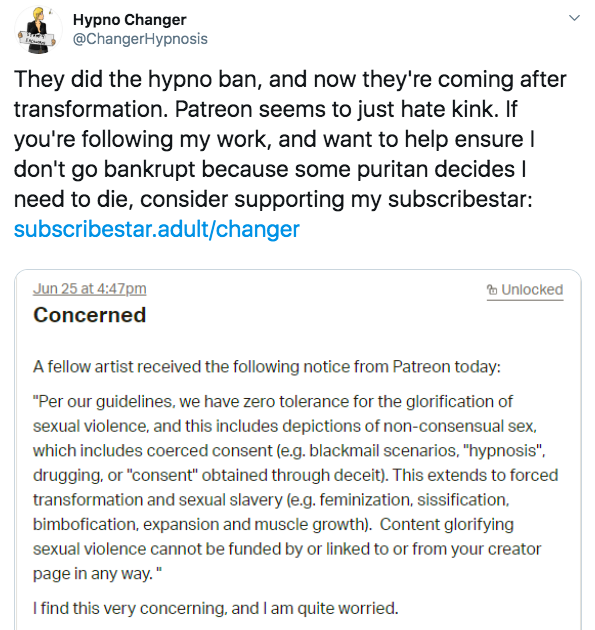 Is Your Content Safe?
Most likely, the answer is no. If your content in any way depicts a fetish, it's unlikely that it's protected from Patreon's changing rules.
At the very least, your content on Patreon isn't actually going to help you much when it comes to making additional income, unless you already have an established following elsewhere and you can point your followers towards your Patreon. And it's getting harder to build that following on other platforms.
If you are making adult content of any kind, including anything that has nudity or "implied nudity," you'll have had to mark your page as having "adult content." And by making that mark, you effectively just shadowbanned your own account. No one can search for your page on Patreon. In addition to your own name, certain words are shadowbanned as well. Let's say you make BDSM content. If you search "bdsm" in Patreon, nothing with BDSM will actually come up.
If you're okay with being shadowbanned, you can still get some use out of Patreon while you're still allowed to. But it would be good to plan for the ban and make sure that you're developing a presence and income on another site. It seems inevitable that the day will come that you wake up to an email from Patreon saying your kind of content is forbidden.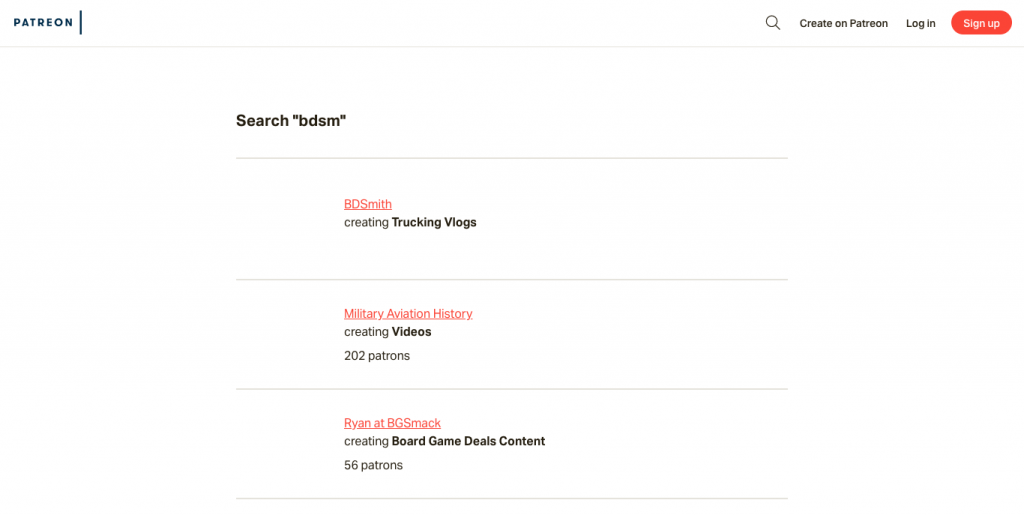 —
JackieMichele is writer and marketer living in the San Francisco Bay Area. Her work has appeared on Yahoo, Food and Wine and the Huffington Post. She's been an editor, an influencer strategist and ghostwriter, a librarian and a teacher. Follow her Instagram at @jackie_gualtieri and contact her via jackie@ynotcam.com.
Background header image by S. Hermann & F. Richter via Pixabay. Screengrabs by the author.