Princess Kira sounds like she might just be an actual princess.
"I reside in the Midwestern United States," she shared. "I'm 21 years old, I play the cello and received multiple awards throughout high school for my musical achievements."
Though the ability to throw down on the cello may sound like one sort of royalty, Princess Kira is actually more about domination than, say, diaries.
Princess Kira has been involved in the adult industry for three years now and has been a full-time model for just over a year and a half. She plans to move to Florida soon, too. And — and this is important — she has amazing almost-kelly-green hair.
"I've had green hair for seven years now!" she enthused when asked about it. "I began experimenting with bright colors in my early teenage years and tried everything under the sun: red, blue, orange, purple, pink, even rainbow."
"Eventually I tried green, because it was the only shade I hadn't done yet," she continued. "I ended up loving it more than any color I'd ever done before! I decided from then on that green was the color for me and haven't changed it since."
Like the shade of her hair, Princess Kira stands out. Read on to learn more about her experiences as a model, age play and the importance of self-reflection and healthy evaluation when working online.
—
YNOT Cam: What prompted you to begin your career online?
Princess Kira: My only other job before entering the adult industry was at a restaurant! I worked behind the counter at a bbq joint taking orders, bagging to-go food and pouring sauce.
Ever since I discovered written erotica and pornography, I was fascinated by it and wondered how I myself could delve into this world. It seemed like such a fun place to be. I've always been an exhibitionist so the idea of sharing my sexuality with the masses was incredibly appealing. As soon as I was eighteen, I dipped my feet into the water by joining NSFW Twitter and immersing myself in the community of online Dommes, pornstars and cam models.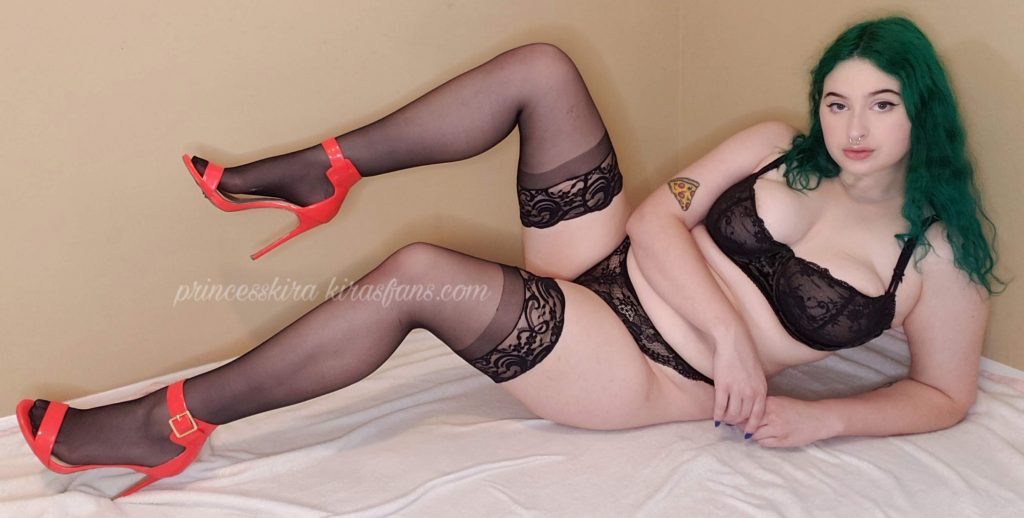 What are some of the best things about working online? What about challenges?
Some of my favorite things about working online are of course the flexibility and freedom it gives me. No "requesting" time off for important events or vacations, and I don't have to worry about getting reprimanded by a boss if I need to take a sick day — or three.
With all of that freedom definitely comes challenges, though. It takes a certain amount of self discipline and willpower to be able to work completely solo, with no one telling you what you should be doing or what your next task needs to be. Developing a routine that worked for me and sticking to it was something I struggled with immensely during my first six months or so of being a full time online model.
Do you ever find yourself comparing your work to others'? How can one self-evaluate in a healthy way?
It's so easy to begin comparing your work to other models' since you're constantly exposed to everything everyone else is doing. It can definitely cause one to feel pressure about their own business model and way they run things. I often start wondering if I should rework how I do things, film videos differently, change up my set up and so on.
This isn't necessarily a bad thing. Critiquing and evaluating your own work is a great way to brainstorm new ideas, but it's important to remember that every model is different, and what works for one person may not work for another. You never know how much trial and error models you look up to or compare yourself to have gone through to get where they are today.
Just made a sale! Smoking in Pleasers https://t.co/AgS86QZpwV #MVSales pic.twitter.com/dVE4dzLeoZ

— ♚𝓟𝓻𝓲𝓷𝓬𝓮𝓼𝓼 𝓚𝓲𝓻𝓪 ♚ (@princesskiraxxx) May 10, 2020
How does age play manifest in your work? How can models incorporate it safely/sanely into their work, if so chosen?
In my personal life, I'm very involved in age play. It's a part of my submissive side and comes naturally. This is a big reason I wanted to involve age play in my videos. I love showcasing my genuine interests and sharing my real fetishes through my content.
For my clips, I mainly age play in my DDlg (Daddy Dom little girl) videos. This can range from simply wearing a onesie and my hair in pigtails to more intimate acts like thumb sucking and cuddling with my stuffies (stuffed animals, for those of you not versed in little-talk).
Age play is different for each person who partakes in it, and there is no "right" or "wrong" way to be a little or to age play. To me, age play is letting myself enjoy all of the things we're taught to give up as we age, like coloring books, playground equipment and juice boxes. Succumbing to your inner "little" is soothing. It allows you to forget about all of the real-world responsibilities you have and enjoy simpler things.
I think doing what feels natural and comfortable to you is the most important thing about age playing. You don't need to fit into any kind of submissive stereotype to enjoy it!
You list aftercare as one of your turn-ons. Can you speak about the importance of aftercare in BDSM in general? How about in a professional context?
Since everyone is different and some people do not feel the need to partake in aftercare after a domination session, I can't say that everyone needs it after heavy BDSM play, but for me personally it is a very important aspect of the power exchange. Even simple things like tenderly stroking an area that was spanked make a big difference to me. I feel even safer with my Dominant when aftercare is given to me, and it becomes easier to completely submit to them during playtime.
It can negatively affect submissives in the long term if they are not given proper aftercare after things like extreme humiliation or degradation. Compliments, general praise and letting the submissive know what a good job they've done are great ways to facilitate aftercare. I think aftercare is especially important in a professional setting for the safety and wellbeing of the performers.
Outside of your career, what are you most passionate about?
Outside of my work as a model and clip artist, I'm absolutely obsessed with nature. I love spending my free time exploring park trails and hiking. Or, when weather isn't permitting — or when we're under quarantine — I binge nature documentary after documentary. I'm pretty sure I've watched every single nature show across Netflix, Hulu and Disney+ at this point.
Besides the great outdoors, I enjoy spending time with my black and white tuxedo cat Jinx, baking cookies or cakes and reading horror novels.
If you could change one thing about today's world, what would it be and why?
If I could change anything about the world, I would change how unkind people are. I think a little more kindness in the world could go a very long way. I hate to see all of the greed and selfishness in today's society. Maybe it would make people less concerned about themselves and more generous and kindhearted towards others.
Find Princess Kira on Twitter at @princesskiraxxx and on ManyVids right here.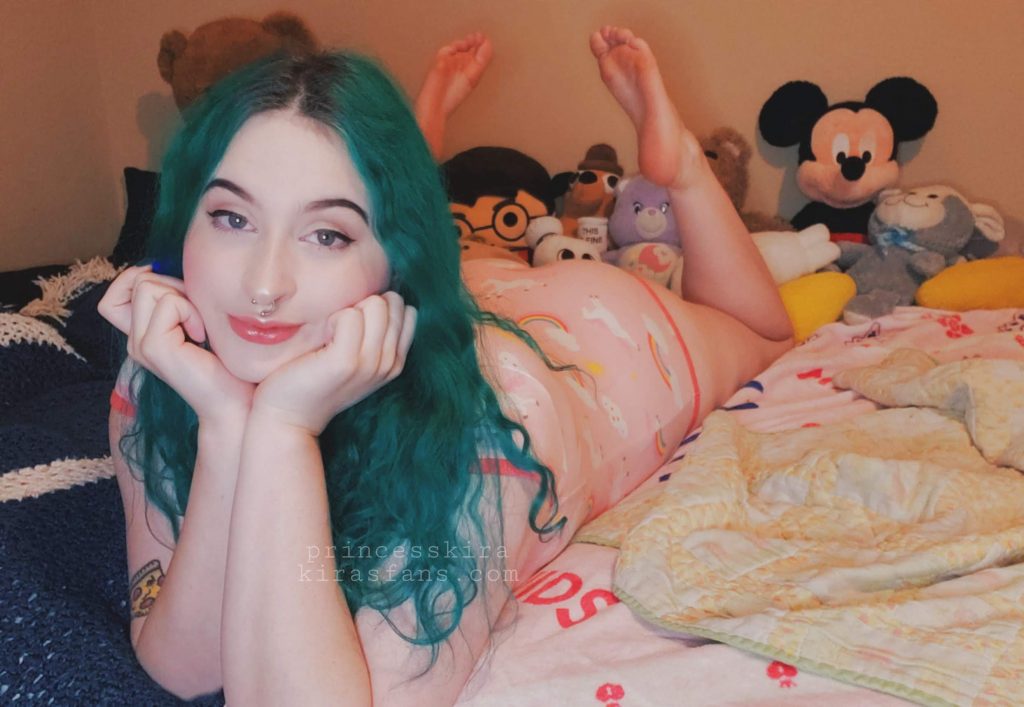 —
Erika is a sex positive people watcher (and writer). Email her at erika@ynotcam.com.