Dolls Kill — unlinked on purpose, but dollskill.com is their site — really stepped in the shit this week.
The brand touts itself, per its Twitter bio, as "Goodiez for the misfits & the Miss Legits" — and Shoddy Lynn, Dolls Kill founder, hardcore flubbed two Instagram video apologies concerning her brand's recent racist activity.
One video concerned a photo of heavily armed police in front of a Dolls Kill storefront that Lynn posted on one of their personal profiles. The other video was about a shirt the company has since pulled from its site that featured the words "Goth is White" printed across the chest and concerns about a Native American headdress the company sold in 2014.
(In a screenshot below, you'll see a shirt that features the words "Dead Girls Can't Say No." In one of the videos, Lynn claimed that Dolls Kill did not sell this shirt.)
Plenty of people, including @gimmemulaputa, have noticed Dolls Kill's missteps and thankfully, according to Alt Press, brands, such as Broken Promises and Kill Star, are beginning to cut ties with the store.
y'all REALLY support dolls kill after this shit pic.twitter.com/yAxVjz9iqg

— erin ⁷ ♡ (@gimmemulaputa) June 2, 2020
The above racist offenses are absolutely enough to make anyone never patronize the Dolls Kill brand again. End of story.
Vicky Vixxx, however, recently brought our attention to another fuck up Dolls Kill perpetrated — and seemingly has not fixed.
Fyi I've been saying this forever. Do not support @dollskill !
Not to mention they profit off SW culture by making apparel that says things like "camgirl" but shun the adult industry just the same. Never once have they spoken out about sex worker rights 🖕 https://t.co/DL8g2mhQHQ pic.twitter.com/XflwOo0jna

— 👸🏼Vicky Vixxx✈San Fran June 23-24 (@RealVickyVixxx) June 4, 2020
Vixxx recently tweeted about a Dolls Kill shirt that features the text "Cam Girl." The shirt's sleeves also feature the degrading and misleading text "EZ Money Cam Girl." A quick scroll through the brand's Instagram feed shows the "Cam Girl" shirt isn't the only piece Dolls Kill has sold that sells the "sex work is easy" esthetic.
In just five minutes, I found a Playboy magazine used as a prop to sell shoes and a clutch insinuating that finding a sugar daddy is easy to do in a pinch.
Pictured above and below: examples of Dolls Kill's "sex work is easy" esthetic
Although Dolls Kill is especially teeth-grating, there are plenty of other websites that print "cam girl" shirts and the like for cheap without supporting the industry. A basic google search pulls up the usual suspects: Amazon, Redbubble, etc.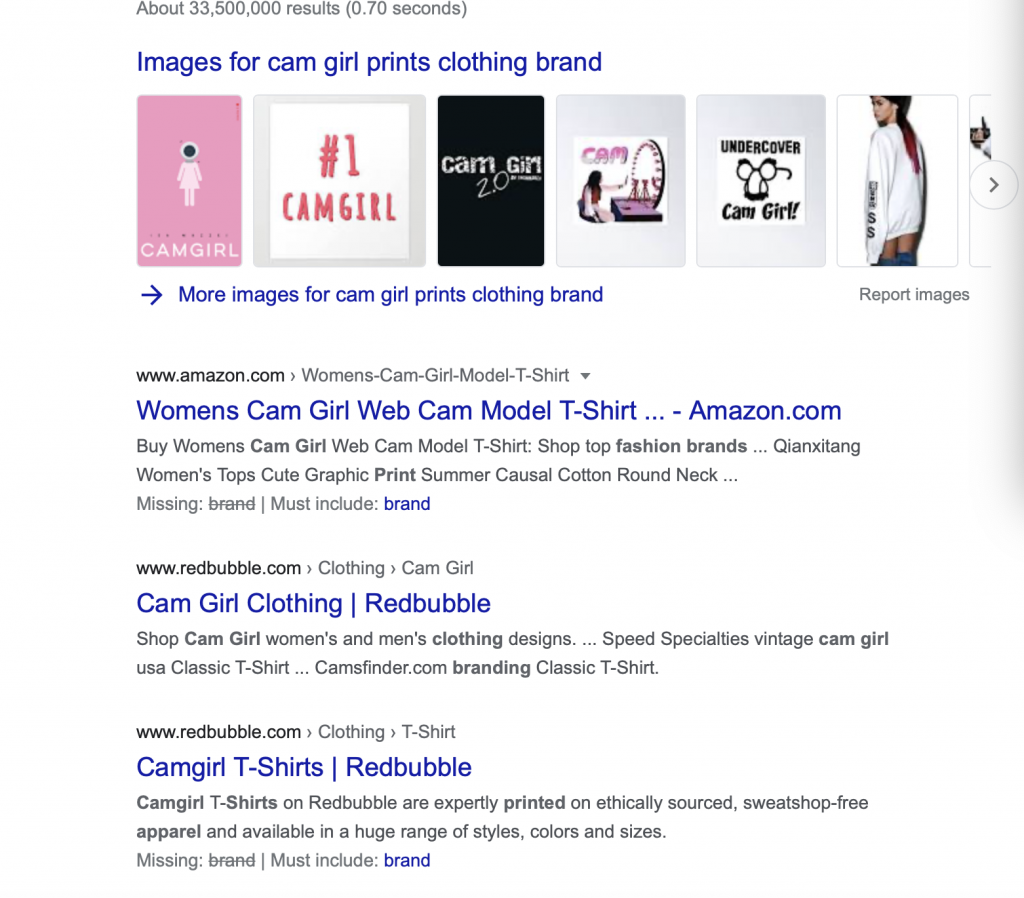 Buy Something Cute from a Creator/Brand that Actually Supports Your Work
If you're looking to possibly patronize a brand that supports sex workers and work, consider buying some of Jacq the Stripper's pieces.
Pieces include clothing with a "Pay My Rent," "Tip Them" or "Sex Workers" print, and other assorted sex worker positive items.
Jacq, also known as Jacqueline Francis, is a stripper, comedian, artist and author from Canada. Francis started stripping after ceasing her traditional dancing career and moving to Australia.
Francis has used her talents to create art that supports and features sex workers. In 2018, Francis participated in a group art show (which was her first) in Manhattan called Sex Work Art Work. "The exhibit, which centered around the artwork of sex workers and their allies, featured Frances' newest medium of watercolor," reads Francis' bio. "Her first solo show, Motivational Bimbos, is currently on exhibit at Body & Pole." You can read more about Francis and her work here.
If you have any favorite brands you regularly patronize that also are sex worker positive and support people in the industry, let us know. In the future, we'd love to publish a more comprehensive list of brands that deserve your hard-earned money.
Even the dictionary sees you, Shoddy.

—
Abbie Stutzer is a queer, non-binary writer living in Kansas City, MO. You can find them doing witchy stuff at home with their numerous pets or at the local animal shelter saving lives. Contact Stutzer via abbie@ynotcam.com.
Screengrabs by the author and YNOT Cam. Header image by YNOT Cam.