"My favorite part of the song is the beat drop," TsBlondie tells me, referring to the recently released Lady Gaga/Ariana Grande collaboration, "Rain on Me." "It brought me back memories of her first album, The Fame. I got to meet-and-greet Lady Gaga at her album release party for The Fame. It was my first concert I ever attended."
Jealous! Blondie and I started chatting about "Rain on Me" on Twitter recently, and now we all get to learn more about her in this interview as a consequence.
"Chromatica and 'Rain on Me' are music to my ears!" she continued. "Both Lady Gaga's and Ariana Grande's voices go so well together. It embodies me to I listen to it every day! I'm hooked."
Same.
TsBlondie was born and raised in New York City. She's worked as a cam model for five years now and is currently approaching her second year in the clips space.
"I'm a freelance makeup artist where I worked with Revlon and on 'The Biggest Loser' campaigns, along with many professional and freelance photographers and upcoming models," she shared. "Over the years, I been perfecting my makeup skills and my network. Who knows what the future may bring — perhaps I'll be designing and creating my own makeup line some day! Stay tuned."
Read on to learn more about this woman with great ambition — and excellent taste in music!
—
YNOT Cam: What are some of the best things about working online?
TsBlondie: I decided to venture myself in the cam world. I found it interesting and challenging, but I love challenges. Without them, there's no growth.
Winning Chaturbate's Halloween contest back in October 2017 was so big for me. I really needed an upgrade. I was shocked! I had never won anything, ever. It meant a lot for me. Also in 2019 winning my first YNOT Award topped it for me — so grateful and happy. Now, a year later, we are all facing unprecedented times. I'm so ready to see my cam family and friends but, most of all, my fans — I miss you guys!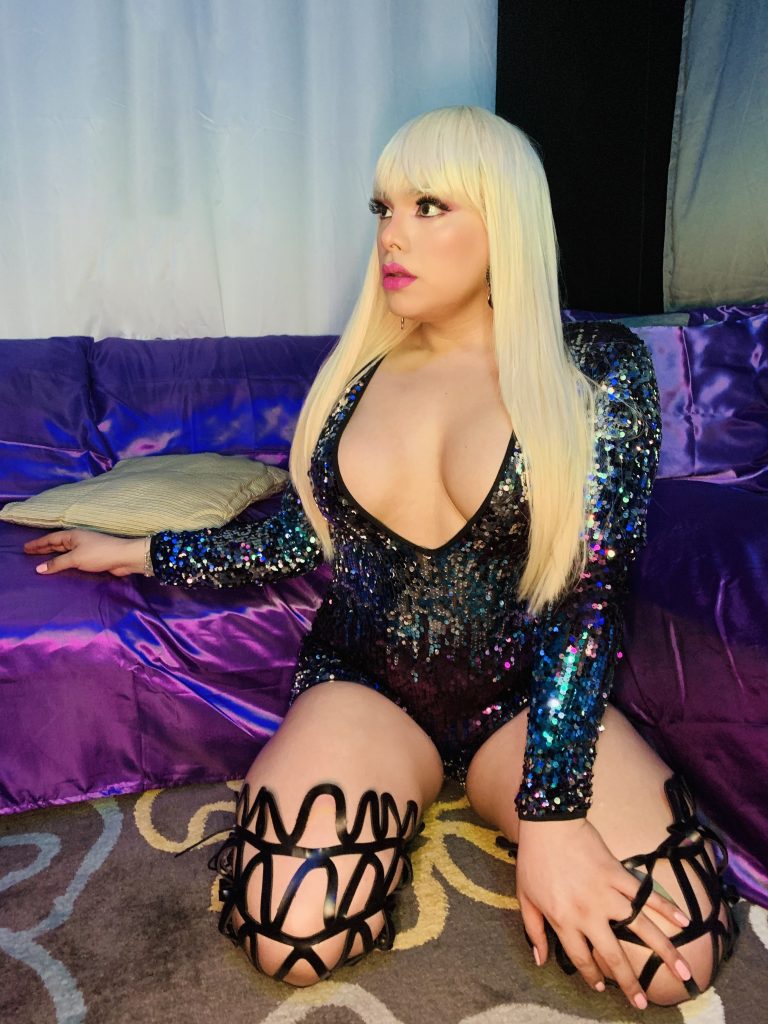 What about any challenges that come with working online?
Keeping up with everything is a challenge within itself, but like I said — without challenges, there is no growth. Hosting private shows, making and editing my own video content, meet-and-greets, cam model workshops, staying in touch with fans, networking, being a team player and being ready for the next adventure… It's not as easy as it looks! You have to put in the work. You have to go to the events, participate in the industry and network overall.
Working online, I guess, for me, is not as private as I wish it was. Finding my own recent livestream shows online on other websites that I never signed up for or agreed to have screen captured is not a good feeling. My message to these sites is: stop it! It takes away from the fantasy and curiosity and is not fair to my fans.
What prompted you to move from Niteflirt and phone sex to clips and cam? How do the different spaces compare to each other?
I was more active on Niteflirt for about four years, but now in the present I'm on and off. My fans wanted to see me live and I didn't know anything about the camming world, so I researched a bit about it and a few months later I made my debut. I signed up and started camming. After a few years on cam, I saw a new opportunity to expand into my own original exclusive clip content.
Being a phone operator on Niteflirt and live camming and making vids are so different. As an operator, you don't have to get glammed up to pick up the phone. Being on cam or making clips, you have to get glammed up, making sure your lighting is right, my wig is on tight or my real hair just right — and don't forget your makeup must be on point!
No matter the platform though, all my fans are different. Catering to all takes time, skill and dedication.
#NeverAloneWithNiteFlirt ☎️ Call Me Tsblondienyc ☎️ https://t.co/4ueXYRLW7b pic.twitter.com/3bigcnHb3W

— TsBlondieNYC 🍰 🌸 𝐵𝒹𝒶𝓎 𝒥𝓊𝓃𝑒 𝟤𝟩 ☮️ (@TsBlondieNYC) May 27, 2020
Community in the adult industry is very important, and you seem like community is very much a part of your life in the industry. How do you feel the industry is holding up during this time of isolation?
We are living in unprecedented times and hardship. The clip industry and live cams could use more diversity. Let's give everyone an opportunity and equal exposure… That way, cam models succeed in the industry. My opinion is that cam models are the foundation of platform success. Our fans become loyal customers, which is good for the industry and models.
How are you yourself holding up during this time of isolation?
I am maintaining myself with a positive, upward-thinking mindset. I'm from New York City — the city that never sleeps. Well, right now everyone is sleeping more during "quarantine life."
I've been doing things I have never done before: practicing social distancing, staying home and wearing a mask while doing essential shopping. I finally Invested in the stock market. I learned how read market charts and company quarter balance sheets.
On the entertainment side, I learned how to play Modern Warfare on PS4. It's so much fun! The adrenaline, I like it! I'm cooking way more now. It's been a learning experience, just few burnouts here and there! Sometimes I wish I could just grab the phone and boom — your dinner has just arrived! Most of my favorite restaurants and retailers remain closed around me.
#JamaicaQueens #protests2020 pic.twitter.com/57zxka5Y37

— TsBlondieNYC 🍰 🌸 𝐵𝒹𝒶𝓎 𝒥𝓊𝓃𝑒 𝟤𝟩 ☮️ (@TsBlondieNYC) May 31, 2020
Outside of your career, what are you most passionate about?
I'm most passionate about working hard staying safe and healthy and striving for my dream home with a piece of land to grow my garden and fruits and have my little chickens. Then I can look at it and say, "That's all mine, all mine muahahaha my precious!"
If you could change one thing about today's world, what would it be and why?
I would change hate. We need love, respect and unity for one another, and we need to strive for world peace for a brighter future.
Our future generations need to learn from our mistakes. We must educate ourselves and others. We need to unify everyone and let everyone know we all one race, the human race. Everyone is equal.
Follow TsBlondie on Twitter at @TsBondienyc. Find her on ManyVids right here.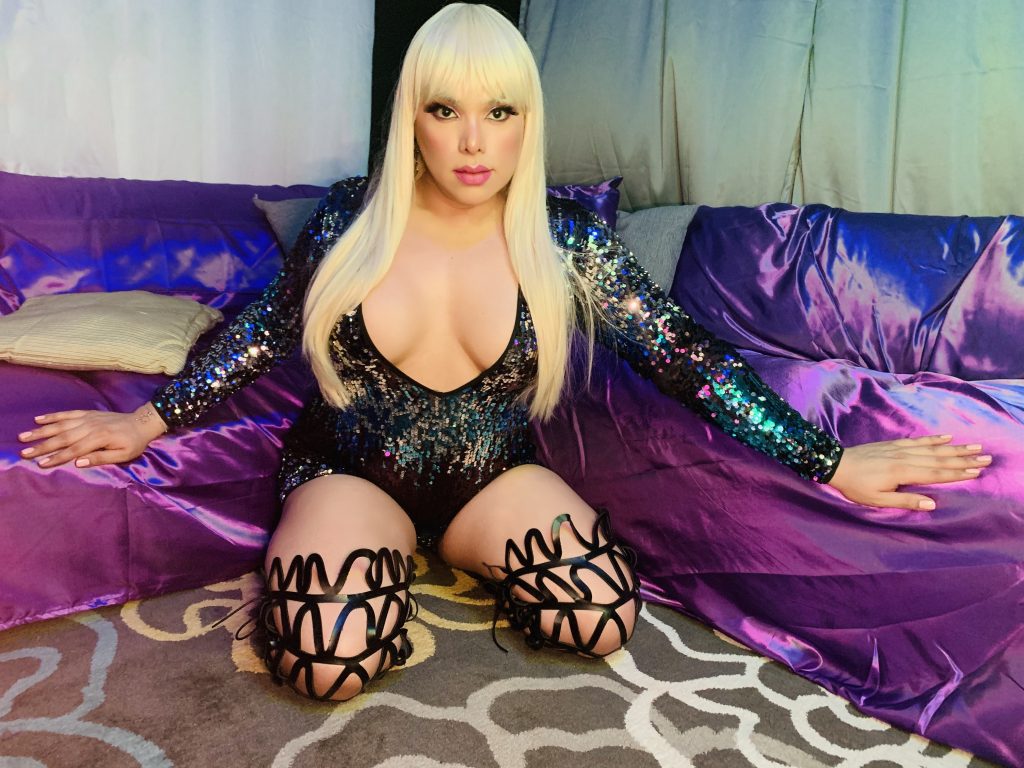 —
Erika is a sex positive people watcher (and writer). Email her at erika@ynotcam.com.
Like me and like TsBlondie, you are *powerless* to resist this sonnnng: