The first episode in the 10-part comedy series, Cam_Girlfriend, recently debuted on YouTube. Here's some press about it:
Los Angeles, CA – Cam_Girlfriend, a new comedy series following the life of a cam model, has released the first episode in its 10-episode series on the Camming Life YouTube channel, the show's creators announced today. As described by its creators, the new series explores "romance, technology, connectivity, and love, introducing the story of Chloe Cables, a rising cam star, and Mike, her boyfriend."
Lily LaBeau, a popular adult performer and fan-favorite broadcaster on the Chaturbate platform, portrays Chloe, who is struggling to juggle her relationships with Mike and her dedicated camming fans. Dave Keystone, the 2018 Canadian Screen Award winner for Best Host of a Web Program, portrays Mike, who "quickly discovers the intricacies of sharing living space with not only Chloe, but also her online followers."
In the first episode, "The Registry," Chloe and Mike "cover-up their tracks after they devise a scheme to use Chloe's camming registry to start paying for their friends' wedding presents," according to a description of the episode provided by its creators. "The situation comes to a brew after an expensive espresso machine is purchased."
Shirley Lara, Chief of Operations at Chaturbate, said the series "creatively mixes the real-life struggles of what it is like to be a cam model and the comedic addition of intimate relationships."
"Each episode uncovers a new comedic element of what a cam girl goes through in their day-to-day and lets the public see behind the curtain of the internet's hottest trend," Lara added.
The executive producers of Cam_Girlfriend said the series was inspired by their feeling that "camming was a fascinating world rich with comedic material for us to explore."
"It's a place where so much more than just sex happens," the producers added. "Friendships are formed, art is expressed, and hilarity occurs daily. In an increasingly digital world, we realized there was no better way to look at digital relationships than through the lens of a cam model."
CAMGF1 Productions is the company behind Cam_Girlfriend. The series was created by Ethan Cole, directed by Daniel AM Rosenberg, co-written by Ethan Cole and Michael Goldlist and produced by Jason Kennedy and Daniel AM Rosenberg. In its launch announcement, Chaturbate said the series was "made possible thanks to the Independent Production Fund."
Cam_Girlfriend is now playing on the Camming Life YouTube Channel.
You can watch the episode there or embedded below. Press material did not indicate the episode release schedule, but I am assuming… weekly? Regularly, at least!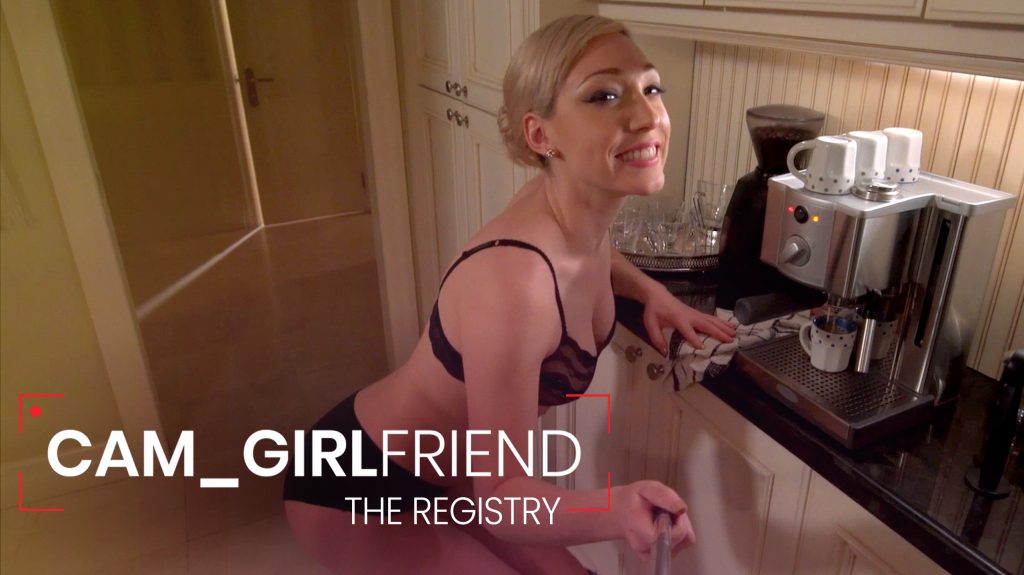 Thoughts on Cam_Girlfriend and "The Registry"
I watched "The Registry," and I have thoughts about it, as well as about the series concept overall. Here they are:
1. When I first heard about this series, I thought it was something Chaturbate had created in-house/itself. I was incorrect though.
This series seems to have been spearheaded and is being lead by people outside the industry. *However,* they are in fact being informed by LaBeau, who even gets a "Story Consultant" credit in addition to being listed as a star. Also, this is clearly being done with Chaturbate's blessing (and collaboration?), which is great too.
Honestly, this whole "informed collaboration" thing is actually a big — fuck, HUGE — step for the civilian world. I applaud the creators for making the effort, which — yes — feels kinda like applauding people for simply behaving in a decent manner that they should've already been doing. But given the mainstream's penchant for and long history of exploiting the industry and creating completely ass-backwards false narratives that function only to further stigma, isolation and misconceptions, this actually is a big break from the established mold. As such — good job, project creator dudes!
2. Full disclosure: I adore Lily LaBeau.
LaBeau is a wonderful actor and has such lovely energy. She co-starred in one of the greatest films ever made — ever, in my opinion, out of all films (not "just" porn) — called Wasteland (2012). If you have never seen it, watch it. It will leave a sliver of ice in your soul and break your heart in a million pieces. Or, maybe it's just me.
Seeing LaBeau in this series though makes me really happy. She's great, and I hope this is a great opportunity for her.
3. The storyline of "The Registry" was cute, but I have two things to nitpick about.
First of all, it made me furious (furious!) when Mike hijacked Chloe's wishlist for his stupid dictionaries. In addition to why-on-earth-did-he-need-a-print-dictionary (maybe it was a rare old book?), you don't just get to  co-opt her work with your wants, bruh!
Chloe was clearly not happy with Mike for doing this without her permission. Her character doesn't seem to be especially fiery so far, but she was clearly hurt and mad and he just blew her off. And then, later in the episode, she seems to jump on his further co-option of her wishlist in an effort to get his approval. This narrative taps into some gender disparity and heteronormativity issues that I really don't like, but they also are not necessarily untrue/non-existent in human social behavior. Guys railroad women all the time, and women often just let it go. This is shitty, but it's not fiction.
Which leads me to the second point — the "scam" part of the story line, meh. Chloe even says she don't like their registry scam being referred to as a "scam," but a scam is exactly what it is. And just like gender disparity, scams happen in the world… including in the world of webcam.
I just wish that maybe the very first episode of Cam_Girlfriend wasn't about a model essentially tricking her members in this manner, cute and charming and delightful of a scam as it may be.
So, in sum, I'm looking forward to the next episodes of Cam_Girlfriend. Here's hoping it does its lead actor and the adult industry space she works in IRL justice.
—
Erika is a sex positive people watcher (and writer). Email her at erika@ynotcam.com.