Being able to quickly, easily edit clips and videos for sale can be critical to a cam career. Most of your editing needs are probably fairly straightforward: branding your vids with intros and watermarks, chopping longer videos into clips, adding transitions between shots at different angles or maybe trying to tone down that background traffic noise your mic keeps picking up.
Unfortunately, many video editors have either a steep learning curve or a high price — but don't despair! We've found four easy to use (and cost-efficient!) software options for you. These choices will give you both ease of use and the editing power you need for professional quality content.
iMovie
Ah, good old iMovie. You're probably familiar with it already, if you're a Mac user. Free with any new Mac computer, iMovie is often a stepping stone to beefier editing programs, but it's a solid go-to. You can trim clips, add transitions and titles, color-correct shots, edit audio and other basic editing tasks very easily with iMovie.
iMovie is well-known for the simplicity and intuitiveness of its drag and drop interface, which makes it very easy to use and excellent for novice editors, but those with more experience may find it limiting. It doesn't give you as many options as other editors, but what it has is user-friendly and produces high quality results.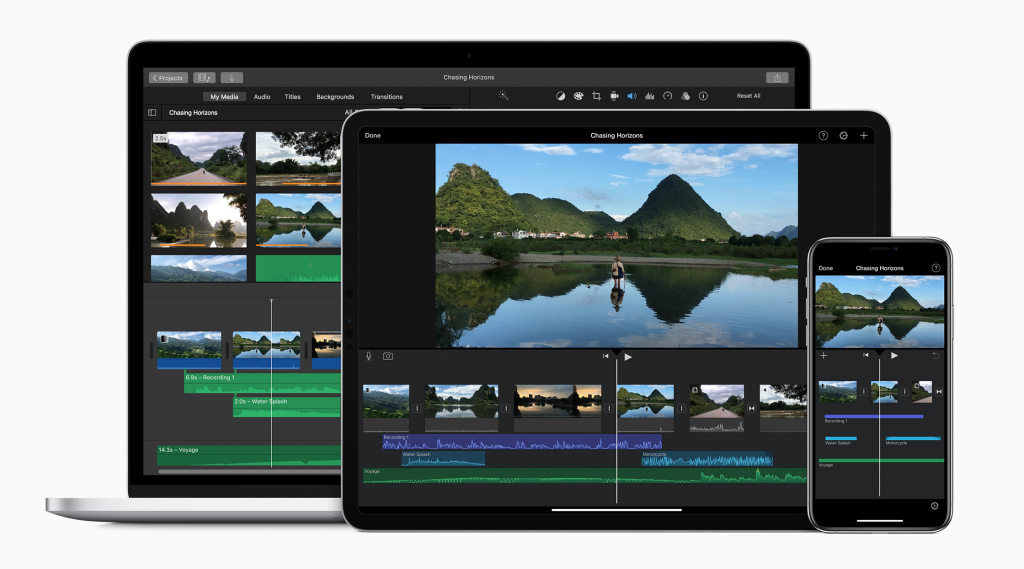 OpenShot
If you want something with a little more oomph, OpenShot is an open-source video editor for Windows, macOS or Linux that is specifically designed to be as accessible as possible. With a drag and drop interface similar to iMovie's, but more customizable, you don't have to hunt for the editing tools you need.
OpenShot's unlimited track layering system allows for quick and easy watermarking. You can also create your own title templates to add your personal style to your vids, or choose from various animated title and effect templates (though you'll have to download Blender, also free and open-source, to access the latter). When you're done editing, you can export in just about any format you might need, to upload across your different platforms.
The best part? You can get OpenShot for the low, low price of free.
Thrilled to see that we made the cut in this review of the best free editing software for 2020! https://t.co/xHbEsElbyR #OpenShot

— OpenShot Video Editor (@openshot) June 26, 2020
Shotcut
Shotcut is also free and open-source cross-platform software. Although it has a similar array of features to OpenShot, the interface can present an initial challenge, because most of the panels are hidden on startup. It may seem weird, but everything is easily accessed by clicking the buttons at the top of the window, and Shotcut allows you much more customizability.
One really interesting feature that Shotcut has over many other editors is its recording function, which allows you to capture footage into the software directly from your webcam. It also has a convenient history function that makes it easier to undo edits than in other programs.
Shotcut version 20.06 is released with slideshow maker, proxy editing, and 360 video filtershttps://t.co/yTDjbP1HCm pic.twitter.com/H3ANRRMxlz

— Shotcut Video Editor (@shotcutapp) June 29, 2020
Filmora9
Filmora9 is another great editing software option, for beginners and veteran editors alike. Filmora's interface is not as customizable, but it's intuitively designed, and the program is easy to get into. It has a wide range of editing tools and capabilities, some probably more advanced than you may need, that will help you take your vids to the next level.
Filmora's library of effects and transitions is high quality, but you do need to download the ones you want to use separately, which can be a turn-off. Another downside is that the free version of Filmora9 puts a watermark on your exported videos. The paid version of Filmora9 is much cheaper than, say, Adobe, at $40 annually for PC users ($45 for Mac) or $70 for their lifetime plan, but the watermark is really the most significant difference.
Filmora's Insta speaking our language!
You want to be able to produce consistently high-quality content that will keep your fans happy and put that content out on a regular basis without having to spend hours or days editing and rendering each video. One of the best aspects of software that's free, or has free versions, is that you can download it and try it out without spending anything but time.
Do some research of your own, test drive a few programs, and make sure the software you choose works well for you and your needs.
—
Monday Lovelace is a queer Black writer and graphic designer out of the Pacific Northwest. They're out here to live their best life and help others do the same. Contact Lovelace via monday@ynotcam.com.
Header image via Unsplash here. iMovie screengrab by YNOT Cam.