By Gem Stoned
Oftentimes, as independent content creators, we run our business as a one-person show, wearing several hats while juggling a multitude of tasks at any given moment. Bots can be utilized to help lighten that load a bit and take care of time-consuming tasks.
A chatbot is an artificial intelligence (AI) computer program that can be programmed to converse with customers on your website, helping to generate leads, close sales and/or answer customer service questions when you are unavailable. They are great automation tools that help you grow your business and focus more on what matters — your customers.
With a little bit of creativity and innovation, chatbots can also be great marketing tools, as well as a great tool for generating engagement on your website. The use of chatbots encourages your customers to spend more time on your site while guiding them towards the content you want them to see most. Chatbots can also aid in building relationships with your clients and establishing value.
How do chatbots work?
But before we get into how we can utilize them as content creators, let's look more at what chatbots are and how they work. 
As mentioned above, a chatbot is an AI computer program that can engage in conversation. There are lots of different types of AI and chatbots, but the type we are looking into today are bots that run off of soft AI.
Soft AI focuses on solving problems and is pre-programmed with solutions. It does not offer solutions outside of what the programmer lists within the commands. Most customer service chats you see on websites are run by web-based soft AI programs. This is because they are easy to use and install. They come pre-programmed and allow the website owner to customize a chatbot to their specific needs. Most even offer free templates for lead generation and customer service.
There are a multitude of different options when looking for a chatbot hosting platform, but for the sake of this article we will be using Tidio as a reference. Tidio is free, easy to use and doesn't require any coding skills whatsoever. They also have reasonably priced business tools and add-on functions that simplify a lot of tasks.
And, most importantly for us, it's the only adult-friendly chatbot platform that I am aware of as of today.
How do you program (?!) a chatbot?
Chatbots work to solve problems and perform tasks for you. Simply build your bot via Tidio your dashboard and program it to do tasks via triggers. Use a map (see image below) to answer anticipated questions, present information and perform simple tasks. These tasks can range from answering frequently asked questions, advertising new content, acquiring contact information for your mailing list and sending email campaigns.
Once programmed, install your bot onto your WordPress-based site. The bot then runs in the background and interacts with those who are actively viewing your website. When customers interact with the bot, it picks up on the programmed cues, carrying on a conversation with the customer while performing the tasks triggered.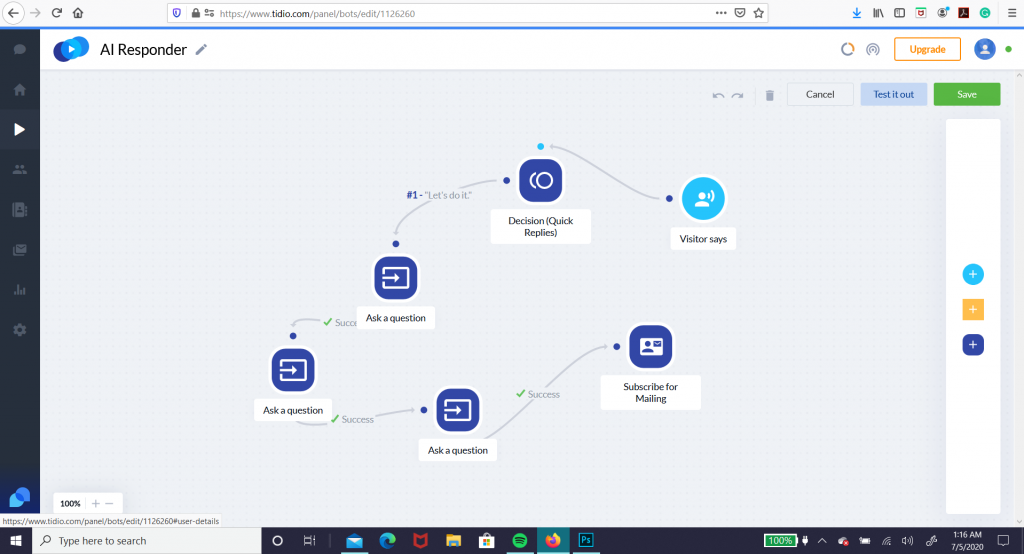 You can monitor these interactions and even take over them yourself if you so choose to let your customer know they are talking to you rather than your bot. This can be done from the same dashboard you programmed it in. This is also where you can view, export and/or import your contact lists, conversations and statistics to help you grow.
Some chatbot platforms like Tidio can also be integrated with Zapier, which is a popular automation tool for businesses. This integration allows you to set up triggers for your bot to complete other tasks outside of Tidio through programs such as Google Spreadsheet, WordPress Blog Scheduling, Google Calendar and more.

Tidio also has premium options you can upgrade to for as little as $10 a month — things like being notified when a new visitor is on your page, as well as being able to see what customers are typing live. They also have a built-in email marketing system you can opt into.
As much as I love Tidio, I'm not a personal fan of their mailing service though. I'd suggest integrating with YNOT Mail instead. HubSpot also offers a free trial to new members if you are just starting your email list and not quite ready to make the leap to paying for a mailing service.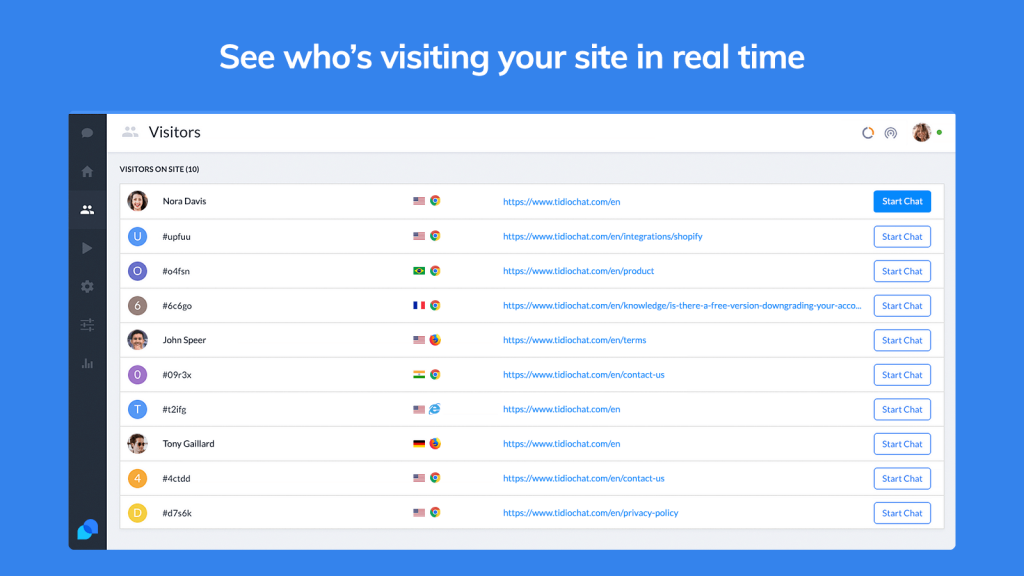 What can a chatbot do for you?
As mentioned above, Tidio allows adult content. This is so long as the content you are posting follows all rules and regulations in accordance with adult content.
This provides adult content creators with a powerful creative marketing tool that can be used to facilitate engagement and promote new content, as well as build value with your customers through well thought out conversational cues and responses that satisfy their needs. You can also set up polls that make visitors feel valued, as well as program rewards or fun games that may then lead to sales.
With this being said, when marketing, it's best to keep it to teasers and vanilla content — things like simple flashes or short GIFs if you're inputting your nude content to the bot for any reason. As a rule of thumb, if any clip platform has a certain type of content banned, then it's probably not wise to input it into your chatbot as a loss leader or promotional flyer.
But… I thought customers preferred "genuine" interactions, not bots?
This is every online sex workers' conundrum at some point: how to provide real, "'genuine" interactions that customers crave while still being able to maintain life/balance/sanity in the face of demands for attention that can quickly become overwhelming. This is a good point to bring up.
Customers are looking for genuine interactions with humans, but customers also love instant gratification. So, when you use a chatbot to help you automate some aspects of your customer service, while following up yourself personally, you allow yourself to provide more customers with service that leaves them satisfied and feeling valued.
Unlike a human, a chatbot can run 24/7 in the background of your website. Chatbots can fulfill many time-consuming tasks that come with running a business and provide your customers with basic solutions and answers. This allows you to have more time to focus on genuinely engaging with your audience — because between basic tasks and genuine engagement, there's often a big difference. Using bots also provides one with the ability to create new content that their audience will love based on the statistics gathered.
All in all, chatbots provide you with the ability to give more efficient customer service while simultaneously freeing up time for you to engage your audience, create new content and market it. If used correctly and strategically, chatbots can be a win-win all around!
—
Gem Stoned is a budding author, illustrator and sex worker. Her work can be found at GemuineGemStoned.online.
No daddy has spoiled me in a way long time and its just so unfair.

I just wanna shop with someone else's money. pic.twitter.com/qqHKF3BhPY

— Gem Thinks Black Lives Matter Stoned ✊🏼✊🏽✊🏿 (@Gem_Stoned) July 13, 2020
Header image via Unsplash here.