Often, trying out mainstream social media platforms as a sex worker can feel like walking on eggshells. How much nudity is too much? Are direct clip site links allowed? Are there any banned words?
This is a consideration for all mainstream platforms, but let's take a deep dive today into YouTube. YouTube can be used as a tool for your business, and this guide will help you to avoid common mistakes sex workers might make when leveraging this platform.
Researching the YouTube Rules
Before creating a YouTube channel, take a look at their terms and conditions. YouTube is pretty clear about the fact that it allows only family friendly content.
It states that "Depiction of genitals, breasts or buttocks (clothed or unclothed) for the purpose of sexual gratification" and "Pornography depicting sexual acts, genitals or fetishes for the purpose of sexual gratification" can lead to your channel being terminated. You also cannot use or display "sex toys to provide viewers with sexual gratification." To view other types of content that violate this policy, read more here.
Of course, there is always an option to only make content that is family friendly to increase your chances of getting monetized.
Criteria for monetizing your YouTube channel
Here are the criteria for monetizing your YouTube channel:
— Live in a country or region where YouTube partner program is available
— Follow all the Youtube monetization policies
— Have at least 1000 subscribers
— Have more than 4,000 valid public watch hours in the last 12 months
— Have a linked AdSense account
You can see the full list of countries where YouTube partner program is available here and see the monetization policies here. Once you have submitted the application, it usually takes about a month for your channel to be approved or rejected for monetization.
Sex Workers who made YouTube Work for Them
Mayvendoll has been running her YouTube channel for about three years.
"I started a YouTube account three years ago but never really had the time to put much effort in to making videos and promoting it. I left it alone for a really long time, and then about seven months ago I had an interview with Holly Randall on her podcast and YouTube channel. I decided to check into my old account and clean it up a bit," Mayven said.
Although her channel isn't monetized, she uses it for costume and sex toy reviews. On top of that, she recently started posting cuckold series where she educates her viewers on cuckolding.
"After I started using YouTube more regularly doing both the unboxings and cuckolding talks, I started noticing more comments on videos saying: 'I love your ManyVids/Pornhub content,'" Mayvendoll added. "I have not quite reached 700 followers on YouTube, so I feel like it is already showing itself to be a big form of new traffic flow to my profiles. Possibly better traffic than social media has been."
Filming😜😈 pic.twitter.com/A7uRuKj19P

— Mayven 😜 mayvendoll.com (@Mayvendoll) December 4, 2020
Gem Stoned uses her channel to post quite different content. Although she has posted a few sex toy reviews and ball gag karaoke videos, most of her content is focused on meditation and spirituality.
"I've noticed a bigger fan base from using YouTube and, even though my videos aren't monetized, I do use affiliate links for products I review and earn that way. I've also reviewed some really awesome toys I received from companies," Stoned said.
🥺🥲💕 Thank you! I'm proud to be a #CamDoll💕 pic.twitter.com/LT4hwfIXYR

— Slut Who Thinks Black Lives Matter ✊🏼✊🏽✊🏿 (@Gem_Stoned) December 8, 2020
Schahrzad Morgan, who works in several different aspects of sex work, pointed out different benefits of having YouTube channel. She uses it to appear more approachable to potential clients who might be too shy at first to see her.
"It doesn't bring me a ton of business, but I think it helps. I think it is up to the providers to provide all the information about us, to make men feel that we're safe, that we're reliable, likeable, nice, consistent and keep our word, and I do that through my social media," Schahrzad explained.
"Most of my JustFor.fans subscribers came off my YouTube channel. Women can make channels about anything, even gardening or cooking, and advertise their JFF," she suggested.
Good morning! pic.twitter.com/7FgLDUGXUs

— Schahrzad – The Persian Princess (@MorganSchahrzad) December 6, 2020
Facing the Pitfalls of YouTube
When it comes to downsides of utilizing Youtube as a sex worker, there quite a few. Since the content by online sex workers often has to be marked age restricted, it limits the earning potential and the views on their content.
"I have to mark almost all videos as age restricted to avoid getting deleted or banned. Which means those videos cannot be monetized and sometimes it can be harder to push yourself to make videos you cannot immediately earn money on," says Mayvendoll.
Age restriction also decreases the potential to gain more views, since these videos cannot be viewed on most third-party websites and the user has to be logged in to watch the video.
"The downside really is that we have to remember what social media platform we're on and follow the rules. I have too often violated the rules and therefore had my channel taken down," shares Schahrzad.
A few bits of advice before you start
If you have read this far and still have your mind set on making a Youtube channel to promote yourself and your business, here are some bits of advice from sex workers have already been doing it.
"Remember it can be a lot easier to be banned as a sex worker from so many forms of social media. I am really careful in how I word and film my videos especially the large dildo reviews," Mayvendoll advises.
"Attractive thumbnails are very important and just like our NSFW content – tag, tag, tag! Ask you viewers what they want to see from you and try out a variety of content. The analytics on YouTube are a great tool at learning what content can work for you."
Gem Stoned and Schahrzad Morgan offer some heartfelt and encouraging words advice to fellow sex workers.
"Be your authentic self and have fun with it! My videos that do the best are my ball gag karaoke videos where I'm just having fun trying to sing karaoke with a ball gag on," Stoned says.
"Many people seem uncomfortable in front of the camera. I'd say do it anyway. Pretend you're talking to a friend or God or whatever helps you. Anything new is uncomfortable. Don't let that fear of the new be your guide," encourages Morgan.
What does all this mean for you?
Despite being quite family friendly platform, YouTube can still be utilized by sex workers. Although there are certain disadvantages we have compared to vanilla creators, having a YouTube channel is still a good way to attract more potential clients.
Before taking this step, take a good look at terms and conditions. After that – just have fun and be yourself, as cheesy it might sound. I wish you the best of luck in your YouTube journey!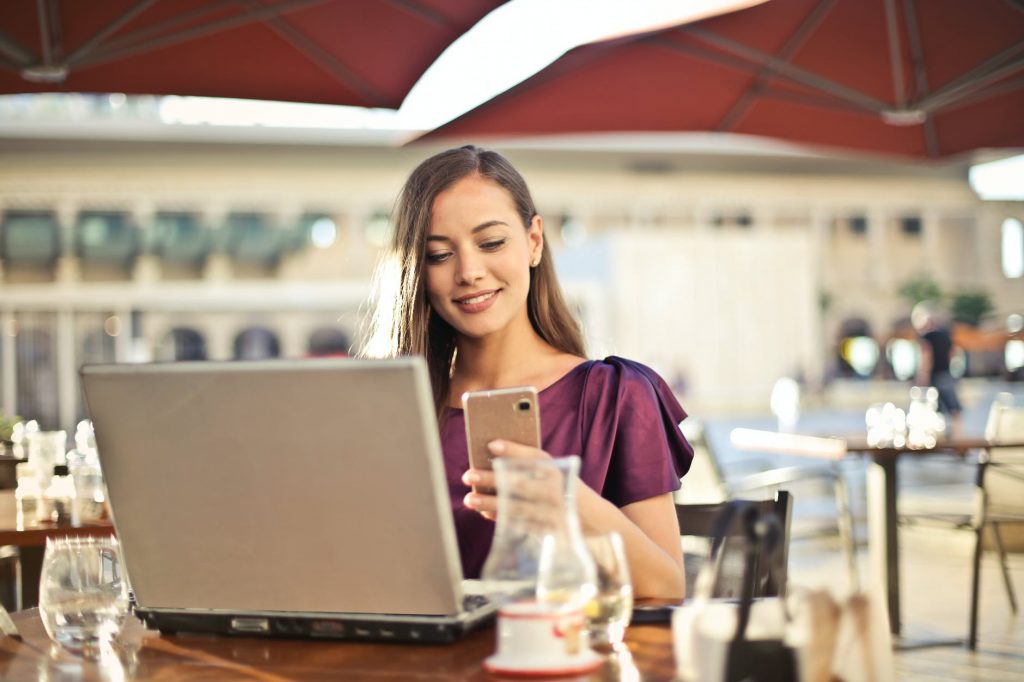 —
Alison Sparks is a solo adult content creator and writer. Find her on Twitter at @itsalisonsparks and email her via alison@ynotcam.com.
Background header image via Pexels here. Woman in cafe via Pexels here.