Goddess Mia Sophia was born in Colombia, adopted at a young age and brought to the United States.
"I grew up in Minnesota surrounded in nature with not a care in the world," Mia Sophia shared with YNOT Cam. "I've been slowly moving more West the older I get, and I find my home to be most happy when filled with plants."
Mia Sophia began dabbling in the industry when she was 18 by starting a porn blog on Tumblr during college with a few friends. From there, she got on Snap and "started on the Snapchat hustle."
"I loved the connection with fans, as well as showing off," she explained. "Then I had my first girl-girl collaboration with Annabelle Rogers in 2018. After that, I started to think about the industry as something that could become a career…"
"I was still young and under the assumption that, after college, I'd get a 'real' job. Although, I had sort of fumbled my way into having a strong and loyal fan base by the time I graduated, I was unsure what direction to go — the traditional route or full on sex work," she continued. "I tried the traditional job route. I tried door-to-door selling and working at a jewelry shop, but nothing was better than working for myself, setting my own hours and not having to work to survive."
Then, COVID-19 happened, and Mia Sophia figured, "Why not?"
"If I'm really honest with myself, I'd rather shove things in my ass then work 40 hrs a week getting underpaid at a job that doesn't really care about me beyond my productivity level," she shared candidly. "So I started to take sex work seriously and really engage in the community around me. Now, I couldn't imagine doing anything else. Even though I'm only 23, I feel so blessed to be in an environment where I can be creative and artistic and true to who I am and what makes me happy."
Mia Sophia took some time out to share a bit more about herself and her work life on cam in this great new interview!
—
YNOT Cam: What prompted you to begin your career online?
Mia Sophia: I was a student before I was a model. Coming fresh out of college, I feel like sex work has really helped me grow and mature a little faster than my peers. I've always been a social butterfly, so the social community has always attracted me. I love traveling and meeting new people, so it's been even more fun to meet with other models to create special clips for our fans.
I've always been creative, and sex work allows me so much creative freedom and self-expression to shine in my career and daily life.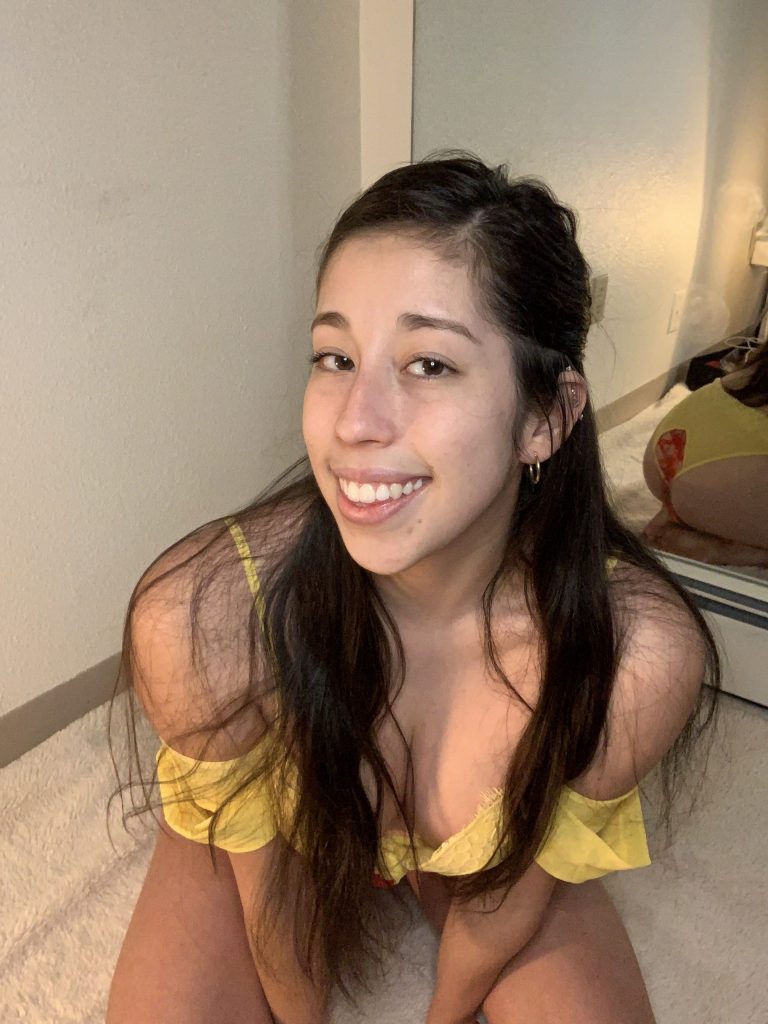 Working online can be isolating IRL. How can one make online sex work less lonely, in a peer sense?
Working online full time as one woman operation can be isolating and lonely. It's hard to find a network of online sex workers to talk to and share advice with. It's important to really start becoming a part of the community and working with those around you.
Once I started engaging with other models more on Twitter and networking, it's made working online much more enjoyable. Having a community of models who can share information and help motivate you to continue to hustle and grind has helped me increase my sales and overall happiness.
Now that I've been around a bit, I always work to be the type of model I wanted to help me when I was still a baby sex worker. That means sharing information and being a community resource so we can all build our business bigger and better.
I see you are on Frisk.chat – What is that platform like?
Frisk is a new platform similar to Onlyfans, but it was created by a sex worker for sex workers. It's a fairly new site, so it's still gaining traction, but I love the interface of the platform. The creators of the site keep models updated in real time about various updates that are happening on the site. I'm happy to be on a site that respects us and gives us clear and open communication!
Outside of work, what are you most passionate about?
I graduate with a degree in Sustainability and Sustainable Energy Science, so I'm really passionate about sustainability and taking care of the earth. I'm really into plants and spend lots of time in the garden working to grow my own food. I'm a vegetarian, so it's fun to go out into the garden and grab veggies to cook for dinner. I'm also artistic and enjoy painting and drawing.
If you could change one thing about today's world, what would it be
and why?
I would like us to re-look at our relationship with the earth. Oftentimes we're told the best way to save the earth and to reduce climate change is to reduce our footprint on the earth. We're not told that we can have a positive relationship with the earth through being good caretakers of the ecosystem around us — that includes becoming less dependent on the capitalist food system we have in place and becoming more independent by growing our own food.
We can have a positive relationship with nature where we can use nature's natural processes to be beneficial to both us and nature. That includes creating a healthier and more sustainable ecosystem in order to both feed us and regenerate the natural ecosystems to create stronger biodiversity.
These ideas are not my own. I gather a lot of my inspiration from Geoff Lawton, who has been working in Saudi Arabia to re-establish nature's natural systems in order to bring life back to the desert. It's absolutely mind-blowing…
Find Mia Sophia on Twitter at @GodMiaSophia and on ManyVids right here.
Tonight you'll be in a Goddess Mia Mania 👉🏽https://t.co/b3jpZpavLb 👈🏽 let me take over that weak little sub brain pic.twitter.com/DVsEzLOyjm

— Goddess Mia Sophia 💎🔪 PRO-Switch (@GodMiaSophia) July 27, 2020
—
Erika is a sex positive people watcher (and writer). Email her at erika@ynotcam.com.