The email subject read "Announcing Centro U, The First Business School for Sex Workers" — followed by "FanCentro Opens 'Centro University' for Online Sex Workers" — and (of course) I am already confused!
Not all sex work is the same… Is Centro U like a liberal arts college that dives into all aspects of sex work? Maybe a trade school that offers certifications in different discrete sex work occupations? Or, is it just for online sex work?
Like I said, I'm already confused…
The press material kinda cleared it up though… But also not really.
Centro University, the first school specifically for porn stars, adult influencers and other online sex workers, opens [September 30] with over 700 students. Centro University's innovative online curriculum was developed for sex workers by sex workers in an effort to address the rapidly growing market for self-produced adult content. The first live webinar, a new student orientation, is scheduled for October 7. Courses of study include:
— Adult Film Production
— Branding and Marketing for Adult Businesses
— Online Sales and Distribution
— Adult Contracts and the Law
— Privacy and Censorship for Sex Workers
— Health, Safety and Consent on Set
— Taxes and Accounting
"Sex work is real work, and benefits from education and training just like any other," says Kat Revenga, Vice President of FanCentro. "With the shift to premium fan sites, sex workers need to be versed in online marketing and film production, as well as actual sex. They need to manage distribution, draft contracts, guard against censorship and protect their brand. CentroU brings together experts and leaders in the sector to help both established performers and industry newcomers grow their businesses."
Centro University is free to all adult performers, influencers and content creators, and features classes in English, German, Spanish and Russian. Adult platform FanCentro has been working to develop the program for the past two years, but the COVID-19 shutdown fast-tracked the process as tens of thousands of new creators entered the adult marketplace.
CentroU's introductory classes are available on demand, so performers can take them at their own pace. Live webinars will begin on October 7, with an orientation for new students, after which a full schedule of live classes will be announced. The school is building out a coaching and mentorship program connecting students with experienced performers, as well as a library of readings, research and resources for online sex workers. When travel and gathering restrictions are lifted, FanCentro will begin holding limited enrollment in-person training for those already enrolled at CentroU.
CentroU has also partnered with Free Speech Coalition, the adult industry trade organization, to expand its educational resources for new performers. CentroU instructor MelRose Michaels (pictured below) helped host an FSC webinar in April for performers struggling with the global shutdown, and is working toward creating more partnered content in the coming months."The more support we can give to performers, the more our industry will thrive," says Revenga. "Our industry is changing rapidly, and we believe that by providing adult performers a free education and career support, we're investing in the future of our community."
While live classes may eventually be limited by size, those wishing to join Centro University's inaugural class may still do so at CentroUniversity.com.
For access to coursework, interviews with students and faculty, or other information on CentroU, contact:
Mike Stabile
mike@polarimedia.com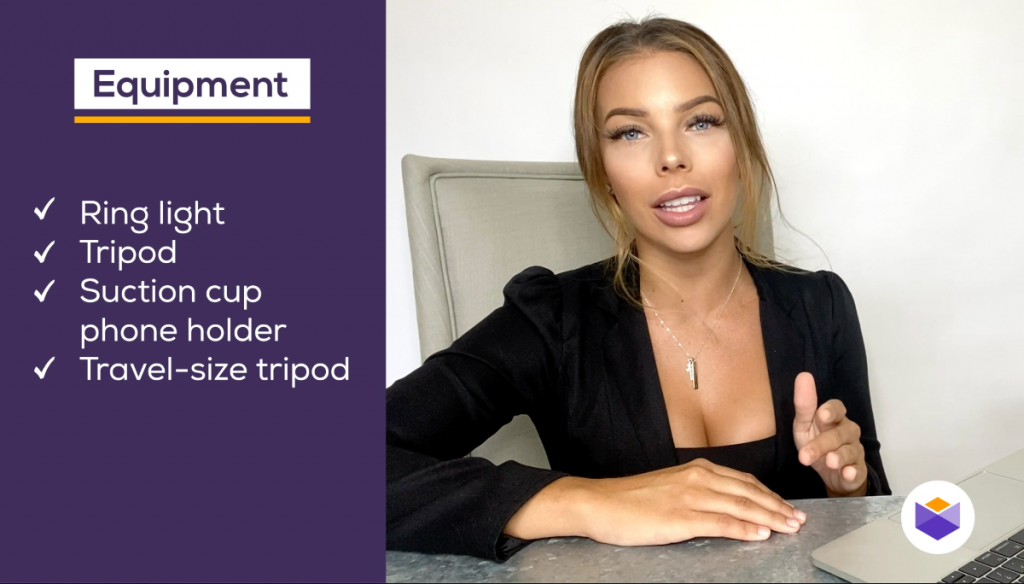 A quick pop over to the Centro University website showcases an array of cute available videos — an intro and ten targeted lessons — but if you want to access the videos, you have to register as an influencer with FanCentro. So, though there seems to be no monetary "fee" to attend Centro University, there most certainly is the "fee" of signing up with their system.
Now, this is not a bad thing. FanCentro is providing a resource, and an email address is a small price to pay for access — but it's also not exactly the open-source information space that the PR presents. What if you are new/curious and are looking for info before you take the plunge into the cam space? For total n00bs, do they even know to have a business email for sign ups? Meh. It also makes me wonder about the 700 students FanCentro claims to be starting with. Is this just 700 existing platform accounts?
Also of interest, when mousing over the tenth lesson — "Where to Turn for Help" — a little pop-up reveals what's the true purpose of Centro University: teaching people how to work FanCentro.
Here's the pop-up text (and yes — I took a picture of my computer screen with my phone because I couldn't figure out how to copy the text itself and was too lazy to transcribe it. also, for impact!):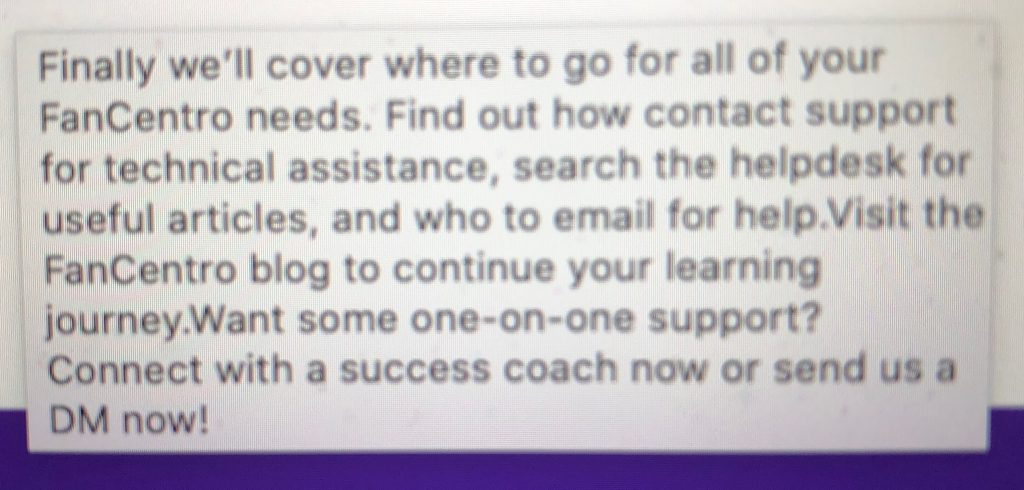 So, if you want to learn more about types of online sex work work specifically that occurs within/on the FanCentro platform, check out "Centro University." I guess the mission is in the name, I just wish the tag lines and teasers were a bit more… direct?
—
Erika is a sex positive people watcher (and writer). Email her at erika@ynotcam.com.