Yes, I know tax… stuff… just passed us by. But guess what?! It's coming back again next year for a whole new round of fresh fun!
It's never too early to get your records in order and start to establish a system for your tax management. Further, just because you currently have a system that works, our industry is always changing — and so are business modalities and finances. It's never a bad idea to assess and evaluate what you're doing now. Is it still working?
With all that in mind, Sex Work CEO recently released a tax course. And even though the course kinda barely squeaked in for this year, the fact remains that taxes will always come back up. This course comes at the PERFECT time in terms of getting ready for next year.
It's worth a look and some consideration. Here's more information about the overall offering:
Sex Work CEO recently released a new course in collaboration with sex worker and accountant Daisy Does Taxes. The course teaches how to manage taxes as a self-employed sex worker.
"This course comes just in time for online sex workers and content creators as they file their federal income tax returns — due this year on April 18th," said Sex Work CEO founder MelRose Michaels.
"Daisy is an incredible accountant, and I'm so proud to be able to share sex worker-specific advice on taxes. It's a topic that is often very misunderstood, especially with online or hybrid creators that have multiple revenue streams on various platforms and applications," Michaels added. "Being a Sex Work CEO means being empowered to build your entreprenarial empire, but it also means making sure things like your taxes are covered."
The three-part video series launched April 11th and was announced via press release on April 15th. The information tackles the tax basics for self-employed sex workers, covering topics including filing tax returns, what income sources to declare, the records to retain, what expenses can and can't be deducted and how much to pay in self-employment taxes, as well as how they're calculated. Going through this information now may help people looking to get their tax records organized for 2022 and beyond.
"Sex work is work and like all workers, we need to file taxes," said Daisy Does Taxes. "There is a lot of misunderstanding around filing taxes as a sex worker, but if you're earning online or with cash apps or bank deposits, the IRS already knows how much money you made. Take a deep breath, it's going to be ok. These videos will help you understand the basics to get started."
For many individuals and small businesses, 2021 taxes need to be filed by Monday, April 18, 2022. In most cases, an extension can be filed to push the deadline until October 15, though a tax payment may still be due on April 18.
Sex Work CEO was launched by veteran content creator and entrepreneur MelRose Michaels on International Sex Workers Day 2021. The free, educational and sex worker advocacy platform works to educate performers and help shape the future of sex work by helping content creators grow their business and advocate for themselves and their rights.
The full suite of courses by Sex Work CEO can be accessed by visiting sexworkceo.com/swcourses. All other resources, including tools, downloadables and blog posts can be found on sexworkceo.com.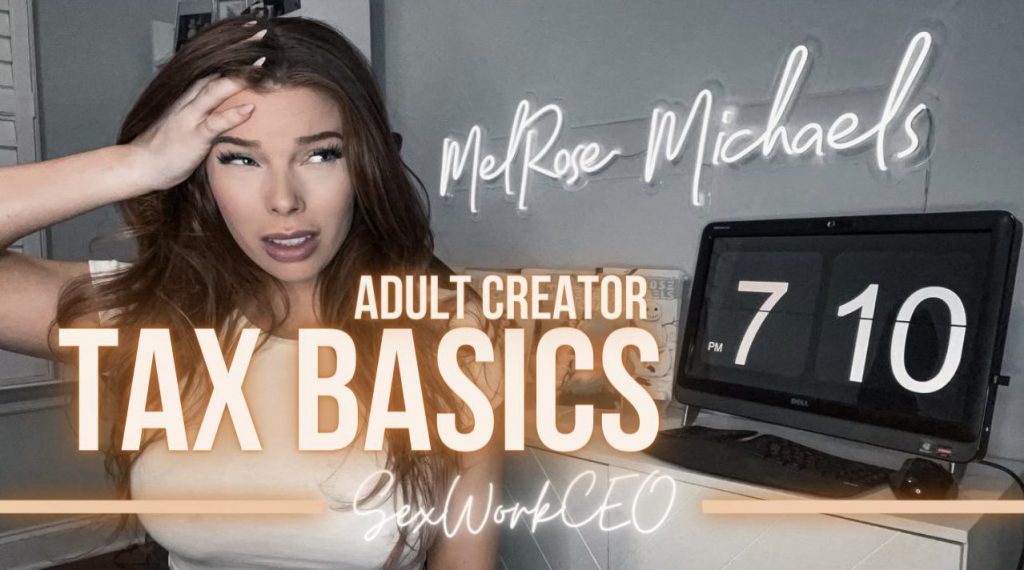 —
Erika is a sex positive people watcher (and writer). Email her at erika@ynotcam.com.