Cherry.tv recently announced that Sabien DeMonia will become their first-ever brand ambassador!
We had the opportunity to interview DeMonia last year, and she is absolutely lovely. Check out our discussion here if you'd like to read more about her. Congrats to you, lady!
DeMonia, who's described by Cherry.tv in their announcement as a "a highly sought after 'alt star' in the camming world who has worked with numerous cam sites in the past," said she's particularly delighted to join forces with Cherry.tv.
"Cherry.tv doesn't feel like a team, it really feels like a family, and I'm extremely proud and happy to be part of it," DeMonia said. "From day one, I have been amazed as Cherry.tv has listened to my suggestions and has worked to implement many changes suggested by both myself and the other cam girls. They really are all about setting models up for success and creating the most fun and unique camming platform."
In announcing DeMonia as the platform's first brand ambassador, a Cherry.tv rep said the emerging platform "aims to take the usual camming experience to a new level for both models and users."
"By offering high payouts and potential income from multiple revenue streams (including a generous affiliate referral program for models), we hope to become the most model-friendly camming platform out there – especially in these often uncertain times," the rep added. "On Cherry.tv users and models can interact in even more ways than just 'the obvious,' with integrated gaming streams also in the works. What Twitch rejects, we embrace and invite!"
DeMonia cited Cherry.tv's unifying of the gaming and camming sectors as another reason for her excitement at serving as their first brand ambassador.
"It is really such a clever idea to build a platform that merges two interactive fantasy worlds – sexy cams and gaming – which makes every true geek dream come true," she said. "Finally, we sexy girls finally show our geeky side and make our interactions with fans even more fun and personable."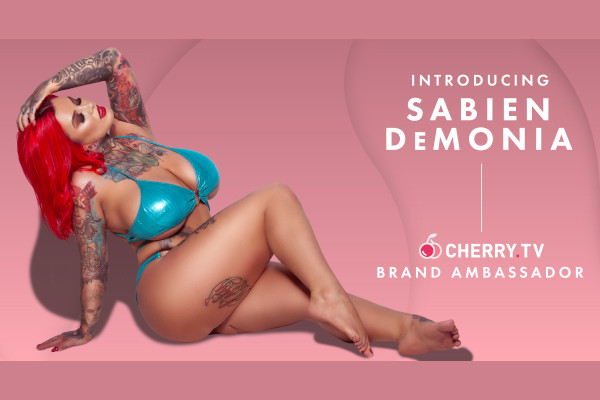 The close of 2020 has brought a flurry of activity for Cherry.tv. In addition to launching its affiliate program — CherryCash — and naming such a great ambassador, the platform also recently completed its second round of alpha testing. This, in anticipation of making its official launch in early 2021.
The second round of Cherry.tv testing was "conducted by a group of independent models, including Violet October, Rem Sequence and Misty Blonde, as well as studios and partners," the company reported, adding that the goal was to "iron out kinks (of the non-literal kind) that had been pointed out in the first round."
Erika is a sex positive people watcher (and writer). Email her at erika@ynotcam.com.