"I'm a Slavic Persian Jewish refugee from Azerbaijan," Cobra Cummander tells us. "I am older than I probably look — my birth certificate says USSR – and I moved to the States with nothing on refugee status at age five."
And so begins a tale of cinematic proportions – the story of Cobra Cummander!
"My fascination with kink began early and was always innate curiosity," she continued. "As a child, I would pee on my [dolls] as punishment and imagine that men were watching me bathe. I would get in trouble in middle school for drawing naked women with whips and thigh high boots. I would give my pillows and stuffed animals lap dances — normal kid stuff."
And finally: "I got a Playboy bunny tattoo when I was fifteen, so entering the adult industry was always the trajectory."
Today, Cobra Cummander has been making money via sex work for over nine years. Currently living in Las Vegas, NV – where she relocated to from New York City in an effort to escape the cold and the astronomical rent – you can find her across all platforms online. She recently took some time out to share so very much about her career and general views on the world!
—
YNOT Cam: What prompted you to begin your career online? 
Cobra Cummander: I've always been in the service industry as a waitress in high school and then bartender before full time sex work. When COVID hit, I was able to translate my years of in-person dominatrix and gentleman's club skills to my clip sales
On top of being able-bodied and conventionally attractive, I'm experienced in kink and often I have more content ideas than I can manage… I decided to find a niche that I'm good at and blitz the market, flooding the space that I'm trying to fill. I love jerk off instructions and have found success with those clients in person, so translating that online has been easy and fun.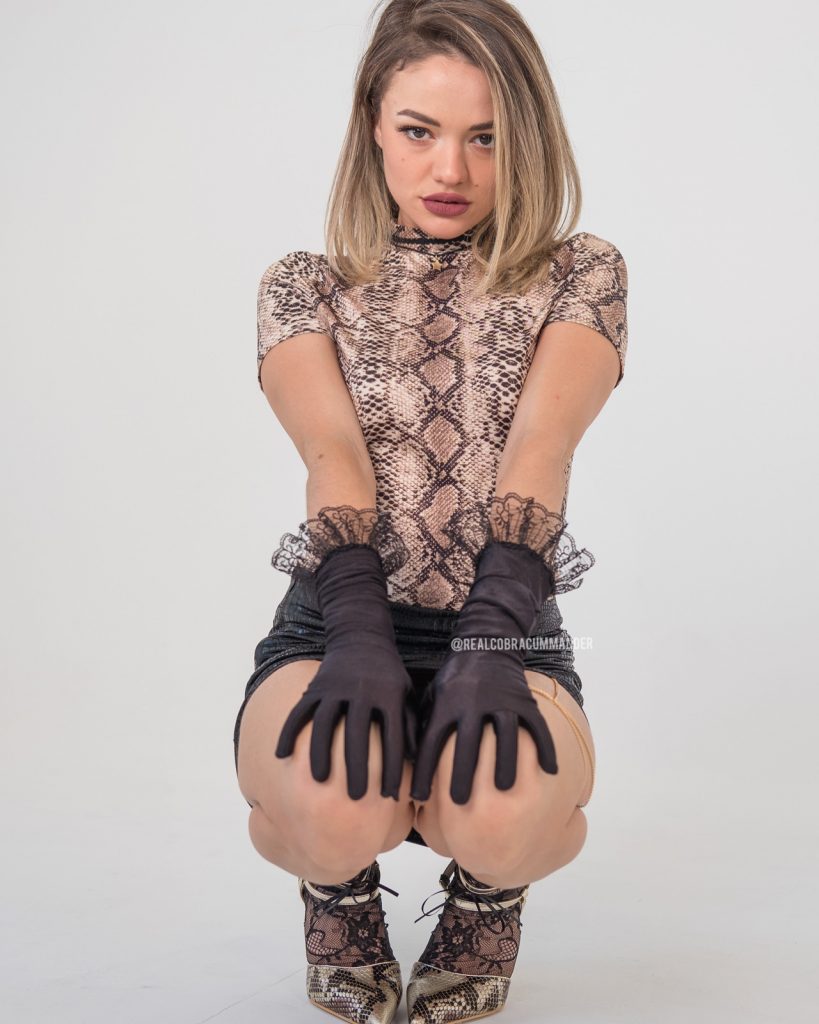 Were there any challenges impeding that process?
My struggles are customer acquisition. It's really difficult advertising a business that isn't allowed on most platforms, while a lot of the same product is available for free. The best advice I have for that is to post everywhere you can and do it all the time. Also, reach out to other content creators to cross promote and network with — interdependence is the level above independence.
Some other things I'm struggling with include how to handle burnout, scaling a growing business and how to maintain healthy relationships with vampiric energy sucking clients. I've taken a few steps back to learn how to manage my time better.
The online sex work community has been so warm and has helped me prevent burnout, as well as sharing harm reduction tips. I've learned so much! I've also taken courses on Udemy and Coursera, as well as bought many random courses from other sex workers. These people are so resourceful, creative and adaptable, it's incredible — some of the best salespeople I've ever seen!
I wish I realized the value of residual income sooner. It's way better than working per hour, even if that hour is $500 because the PPVs really add up.
Author's Note: I love everything about the following tweets!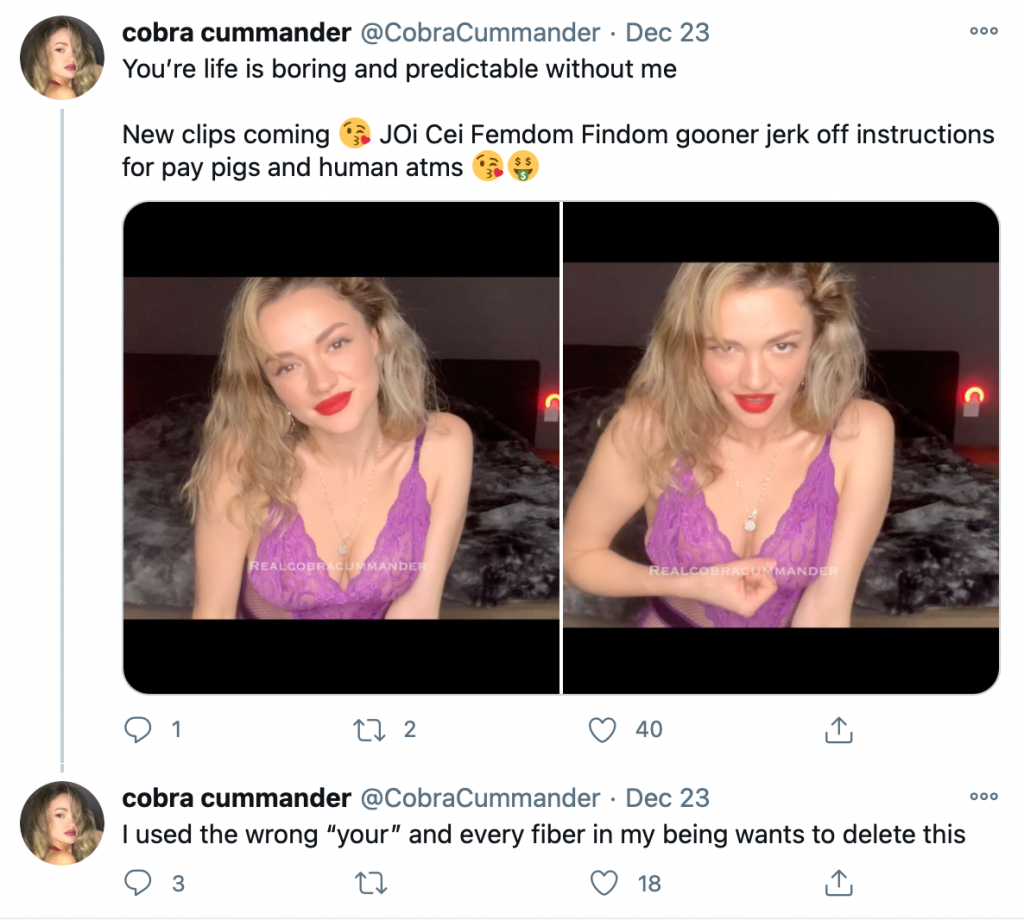 Earlier this month at YNOT Summit, you were in LittleRedBunny's session talking about how you were a dancer before COVID and didn't know much about tech, online tools and so on. Can you elaborate?
Like many of us, when the clubs closed, I went from making great money to zero overnight. I panicked and frantically joined the online community. I worked 10 – 15 hour days with no return for months until summer 2020 when my business finally came together and money started coming in. But those first few months of starting a business — that's when most decide people quit, when it's not working and you're putting in all this effort with no return. It's crucial to keep casting more and more nets.
The technological learning curve has been steep. I've use simple editing and graphic design apps as I started working on my phone since my MacBook was a 2012. Eventually I invested in a 2020 MacBook and iPad. I soon learned that I can connect my Ethernet cable into the wall for quicker uploads. I don't really know how to edit. I currently use the drag drop app Splice, but it sounds like Adobe is what I should be using. A lot of consumers don't mind though… They just want to see you. Plus, it's "better 'done' than 'perfect.'"
Also, learning about the cloud was frustrating. My three devices started auto-syncing and multiplying data, confusing me and taking up so much storage that I couldn't film. On the upside, I'm a lot more organized now. When I finish editing a clip, I try to name and store it immediately so I know where it is and how to find it, as well as use hard drives to back up my growing pile of clips.
I've learned so much about content distribution and the lessons never end as the platforms and legalities are constantly changing.
So, it's fair to say COVID tested your skill set and pushed you to expand, work wise..?
I know how to improvise the kind of content I'm selling because I have so much experience in the kink field. The performance aspect is really fun for me – hair, makeup, wardrobe, scriptwriting, filming and so on — but having to edit, market, distribute, advertise and promote… That's where I struggle.
I'm fortunate, though. This has been my most successful and transformative year is a long time and COVID jump-started that shift in my life. Also, realizing that I need to be online has prompted me to expand my world and opportunities in so many ways. It's just so much work! I truly miss dancing, but you won't see me sitting around waiting for the clubs to re-open. I get bored when I'm not making money. I also highly recommend any leisure time be used to watch Shark Tank.
There are many adult workers who can't transition online because they aren't "out" about their adult work. I know some who have had to out of hunger and now risk their civilian job finding their porn and legally firing them for "tarnishing" the company brand. I don't know how people are surviving. It's a virtual feeding frenzy and some are seriously cashing in, while others can't make it to the feast.
Image via Insta here.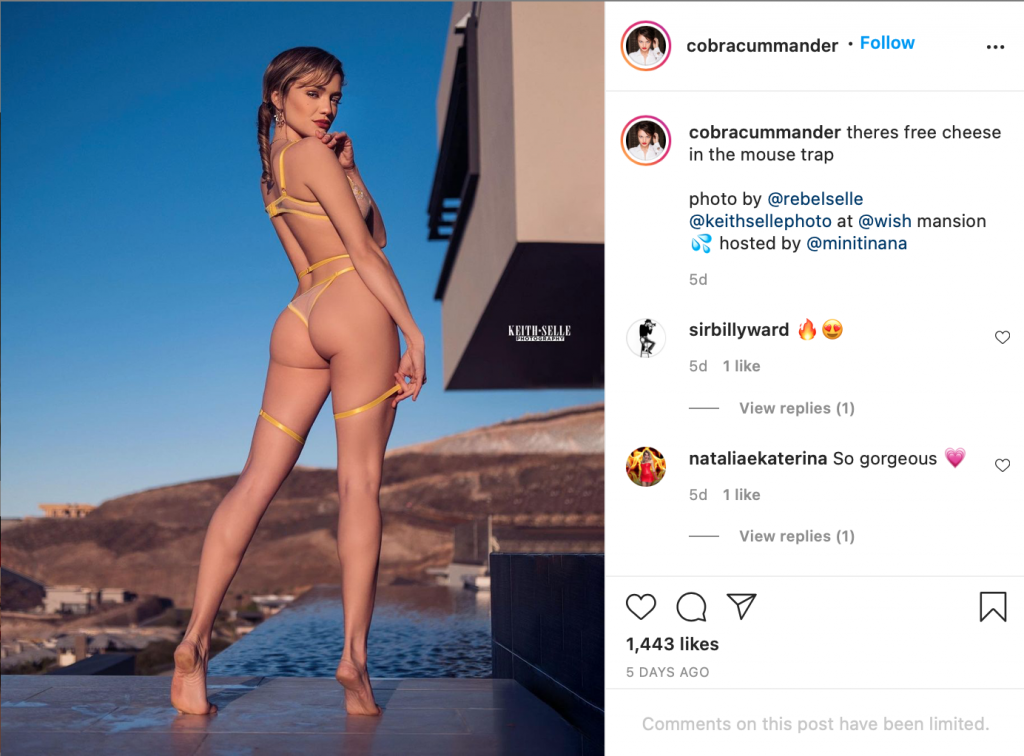 You wrote "society has pillaged the emotional labor of women and they don't have any left for entitled men as a whole" and that femdom is seeping into society – agreed! But the exploitation of women's labor has been happening basically since the dawn of time. What's unique about today that's caused this tipping point?
Maybe the visual proof of technology has given bigger groups of people the strength to share in anonymity and organize? I think this is why movements like BLM are global — how often have there been international protests in history? Oppressed peoples are noticing micro aggressions that snowball into macro oppressions, and thanks to the invention of video and internet, we are seeing toxic patterns and therefore massive accountability.
More like "society has pillaged the emotional labor of women and they don't have any left for entitled men s a whole "

Femdom is seeping into society 🥳 make babies with simps https://t.co/LnjjaDmIfx

— cobra cummander (@CobraCummander) October 16, 2020
Outside of work, what are you most passionate about?
It used to be travel. I've been to over 30 countries. Now I mostly work because this stuff consumes a lot of time. Everything I do and think about is work -elated, but that's what happens when you want your business to be successful. I think right now is a porn boom that may fizzle out, so get your money while you can my friends!
If you could change one thing about today's world, what would it be and why?
Oh gosh… better distribution of resources? No more evil maybe? I don't know if I could think of anything realistic because human greed exists.
I guess in a cobra-centric world I'd love to live in a matriarchy where women have all the guns and humans as a whole can legally can do whatever we want with our bodies without discrimination — but that likely won't happen. We are tribal creatures who like to belong to groups of our own kind. All I can say is I'm very privileged in many ways that unfairly furthers my career on top of my consistent work and years of skill training. I live a cushy life.
If you're a sex worker and need tools or resources, please contact me and I will send you all of my notes about working in the online adult industry for free. No need to tip or buy a course or use a referral link, just DM me on Twitter or Instagram and I'll send you everything I've got. I'm happy to help — "A rising tide raises all ships."
Find Cobra Cummander on Twitter at @cobracummander.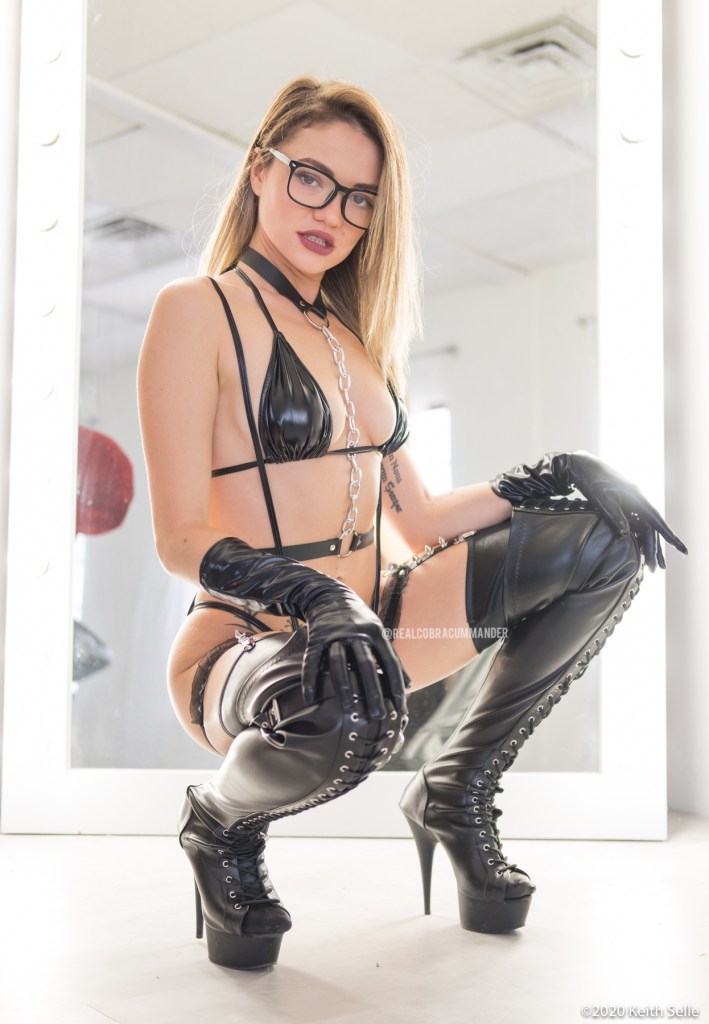 —
Erika is a sex positive people watcher (and writer). Email her at erika@ynotcam.com.