Who doesn't love a contest, especially a contest running over a holiday weekend?!
I am uncertain about how to properly characterize Easter, but however you see it — from high holiday to Zombie Jesus celebration and everything in between — the fact remains that it's an optimal time for an event. As such, here's some information about an Easter-related contest running this weekend via Flirt4Free.
Per press material:
Flirt4Free recently announced the details of its next major holiday promotion, the 2021 Flirt4Free Easter Egg Hunt. Coming in on the heels of the company's successful Saint Patrick's Day Celebration, which offered models the opportunity to win big prizes and fans plenty of St. Patty's Day-themed fun, Flirt4Free say they're now ready to ring in Spring with their Easter promotion.
The hunt begins at midnight (EST) on Thursday, April 1 and concludes at 11:59pm on Easter Sunday. During the hunt, site members get to play Easter Bunny for their favorite performers, filling their baskets sweet Easter Eggs inscribed with sexy, seductive messages.
There are 28 Eggs to choose from, priced at 50 credits for premium members and 40 credits for Flirt VIPs. Flirt models who finish among the top 10 total Egg collectors will win payouts ranging from $100 to $1,500. Models who rank among the top 10 in collecting Eggs from unique members will win their own set of payouts.
In their announcement, Flirt4Free noted that with only a few weeks separating Saint Patrick's Day, Easter and Flirt4Free's annual Cinco de Mayo party, "spring of 2021 is proving to be a lucrative time on the Flirt4Free network," adding that if the hunt "is as festive as the events that preceded it, users should expect a wide range of themed games, sexy bunny costumes, and decorations designed to enhance the holiday spirit."
"While there are some very popular events surrounding Easter, it remains a fan favorite," said Jamie Rodriguez, the site's Director of Product. "You'll see bunny ears and cotton tails in practically every room as performers go all-out to fill their virtual baskets. Viewer's love to see it and will certainly send Easter gifts by the dozen!"
The company added that performers and members who engage with Flirt4Free via Twitter should keep an eye on their feed during the promo. A special Tweet will reveal the details for the #FlirtEasterHunt, where locating a specific object in a specific model's chatroom can earn bonus cash or credits.
For more information on the Easter Egg Hunt and more upcoming promotions and contests, visit Flirt4Free.com. 
Get hopping!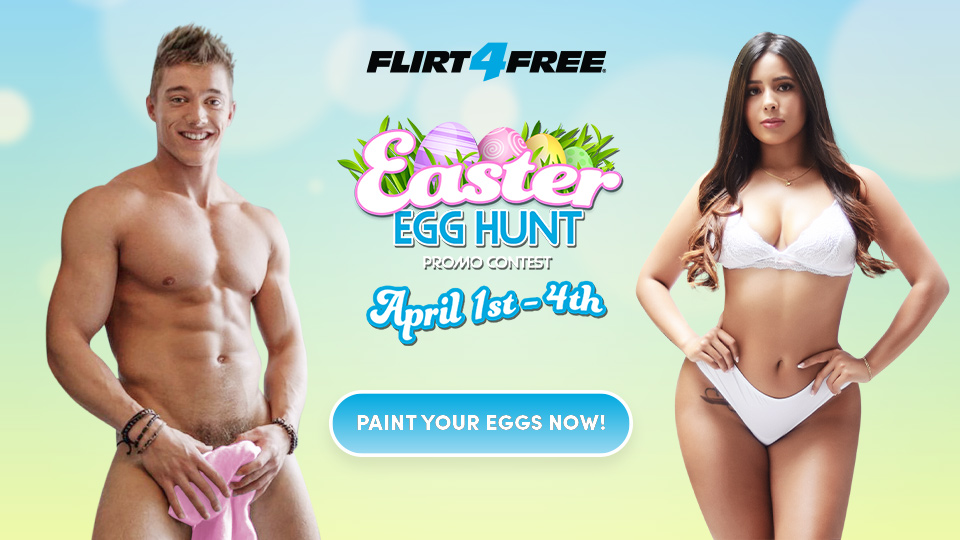 —
Erika is a sex positive people watcher (and writer). Email her at erika@ynotcam.com. 
Easter eggs in header image via Unsplash here.