Freak77Show — also FreakShow proper – a dynamic duo made up of Freak and Master.
We met in December of 2008, his pickup line being "Wanna see my dick?" Instead of answering, she put her hand down his pants — and that was all she wrote.
At the time, she was freshly 18. He was a week older than her dad at age 35! We did not think that we would end up dating at all. She thought: "Oh, this will be fun to fuck an older man with a nice fucking cock." He thought: "I might as well just be the creepy guy if she's into, sure. If not, at least I tried."  
Fast forward to today.
Current ages: Freak 30 and Master 47.  
Location: Born and raised in Michigan, but they pretend to be Canadian.
Master was actually the first one in the industry. He met a sugar mama on World of Warcraft in 2005. He would do dirty Yahoo Messenger — the first sexting — and video chat with her until about 2010.
Freak and Master met at the end of 2008. They explained that, "Right away, we started taking photos and videos of ourselves having fun. We had multiple naughty profiles online to try to meet like-minded people to share our content with."
In late 2010, they stumbled upon a cam site and were really interested in the idea of watching a live model (versus more conventional form content available at the time). Then, in 2012, they finally decided to make a profile on Cam4. On May 26th of that year, they went live for the first time — and the Freak77Show was thus born!
Read on to learn more about this pair of self-described "weirdos" who embody what it means to be a hard hustling couple on cam and online, striving to balance their professional and private lives together.
— 
YNOT Cam: It sounds like your movement from lifestyle to workplace happened over time, with multiple interests converging together. Can you tell us about that process? 
Freak77Show: Freak's first job was at sixteen for a local print shop. She did the design work and running of machines for embroidery and occasionally did the labor for the screen-printing part of the business as well. That was her job until 2015 when she quit to do more time online camming. The breaking point of leaving her job was the long hours, no appreciation and feeling held back [from starting] of her own business and brand, which has always been her goal in life.
Master has always been into labor jobs — anything from painting to designing a house. Construction and architecture is where his heart has always been. In 2011, he ended up making the first of many grow rooms for us to start growing medical marijuana. In 2012, he ended up managing the apartment complex we were living in. Once we made enough money and credit to move into our own home, we ran and never looked back.
It wasn't a hard decision to quit managing and start fucking my wife for money. Still growing though!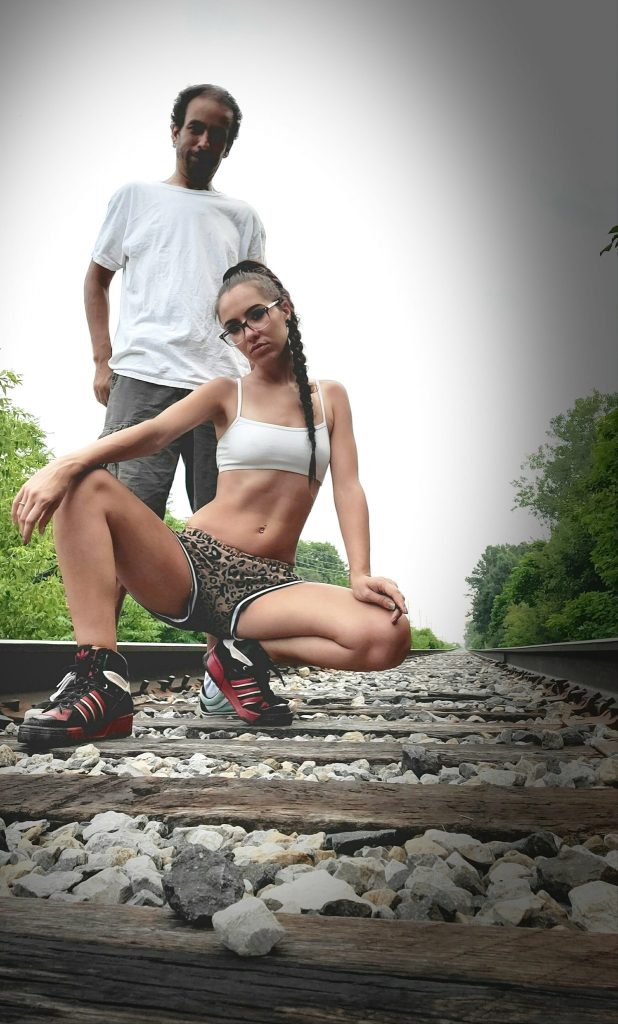 What's best about having this type of work life online? 
The obvious "best" is sex as a career. There's the amazing people that you can be open and honest with. We have made true and lasting friendships that we never would have if it wasn't for the industry. Some we will never meet in real life, but they feel closer to us than some family members.
Also working sex expo events was one of the most fun and interesting learning experiences we could have ever gotten in this industry. It gave us a lot of experience with interviews, photo shoots and just human interaction skills we needed to boost our self-confidence and business profiles.
We also had an amazing experience being able to do cam coaching and help a lot of people spring into working online. The first cam model coach Nikki Night started in 2013 only a year after starting our journey into working online. I know we probably wouldn't have lasted or made it as far as we have if we didn't have that reassurance and knowledge she was able to offer to new performers. Being able to help people the way we had help in the beginning of our online career was so fulfilling.
@davidbrowndog6 hey thanks for all the likes and retweets hun!! 😘😁😏 pic.twitter.com/jOPCisceKA

— 🎪Freak77Show.com🎪 (@Freak77Show) March 28, 2021
What about challenges? 
Taking everything with a grain of salt is a challenge. Some days are a lot easier than others. To wake up feeling great and hot and horny — that's an easy day. But those days where you feel like a literal piece of poop and sad or ugly or not horny one little bit can be really tricky to want to get online and fulfill other's fantasies when you don't even feel like a human that day.
Most days we just make fun of fools who act like idiots in our online life, but other days it's a lot harder. It can make dealing with anxiety and depression a lot harder than it already is. One thing we have though is each other it makes it a lot easier to truly have someone understand what you went through that day.
Other men thinking it's a good idea to say negative things about Master is also a challenge. I'm not sure what the point of telling me that is when clearly I married him for a reason, but we do have some great comebacks for all of it. To quote myself: "You might be hotter, bigger and younger, but he's still the one fucking me." Or, just using the block button always works nicely too.
I'd also say something we have always had a difficult time with is our time management. Between our career online and our growing, it's difficult to schedule our lives accordingly. So much goes into both that we find it harder and harder to do both as time goes on.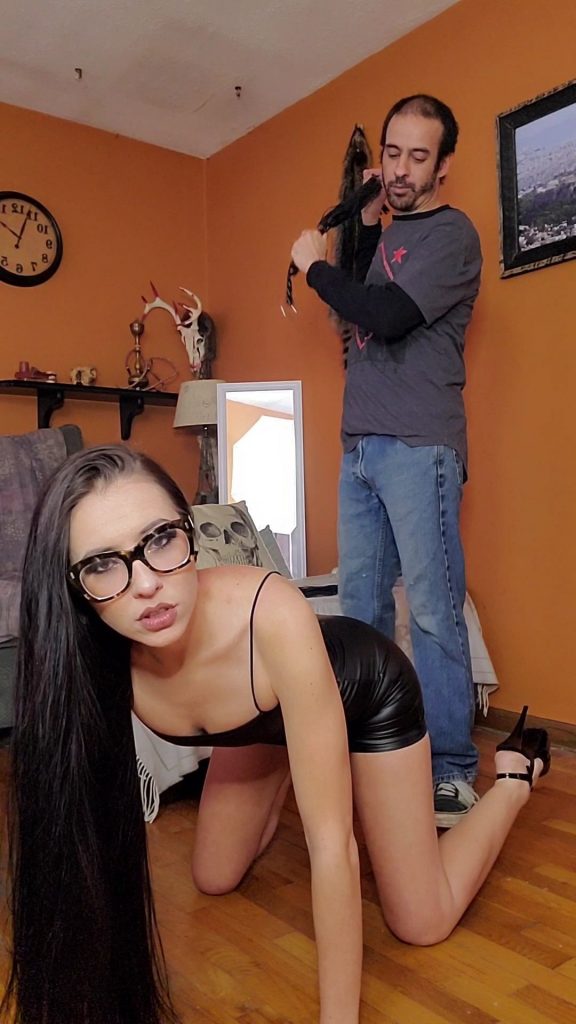 What's your favorite "cam nerd activity"?
So, we really love data! We keep sheets of data on camming: what time was the best, most viewers, what the person was doing, and so on. And honestly, it was fun to see the only similarity in people who made money online was consistency. It wasn't what they were doing, how they were interacting with their audience, how much clothing was on, or what time of day they were on. It was if you are on at least five days a week and multiple hours a day, they were making good money.
What's the "77" in your name about?
So let me start by the origin of the FreakShow name itself. Freak was in high school with her platform boots and fishnets, and someone yelled across the lunch room at her "Freak." She always wanting to be a stripper or porn star and thought that name would be perfect. The introduction could be "Ladies and Gentlemen, WelCUM to the FreakShow!"
Fast forward to creating email, social media and cam profiles. FreakShow was our original thought for an online personality name. We made our first profiles under FreakShow and before we could even do anything on them we forgot the password. So the idea of adding a number to the name appeared, and 7 was always one of Freak's favorite numbers – that, and 13 — but 77 was more aesthetically pleasing so Freak77Show was born. Lucky 7s, baby!
In hindsight, forgetting the password was the best thing that could have happened to us for visibility. Google FreakShow, and you won't find us… yet! Google Freak77Show, and it's all us.
He must admire the fuck outta me, because every photo he takes of me is pure fucking gold 🥰🤩🥇#photographer #thong pic.twitter.com/B6WKou9GPJ

— 🎪Freak77Show.com🎪 (@Freak77Show) February 4, 2021
Outside of work, what are you most proud of? Interested in?
So, we actually quit smoking cigarettes in April 2020. Maybe by the time this interview comes out we will have hit one year sober from nicotine!
(Erika's note: You did it! As a former smoker myself, I commend you! It's so difficult, and you guys are doing so good!)
Between COVID lockdowns and needing something to keep our hands busy, we decided to pick up an RC addiction. We started building radio control cars. Master started it. He ended up getting a Monster Beetle and a sexy creeper van called Vanessa's Lunch Box.
After Master put together the Monster Beetle and bought a custom roof luggage rack and sweet fog lights, I was sold on the idea to start one of my own. I ended up finding a 1990s hearse body and from there had to find the frame that would fit the body. Luckily the SMT10 which actually fits the Grave Digger also fit my hearse body.
It's such a random thing to get into, but it is so fun and creative. And if we weren't ridiculous enough, the next step we are going to take in this hobby is actually building some sort of track in the backyard.
Today marks 1 year #sober from nicotine!
Tried vaping and #nicotine gum unsuccessfully.
I tried the patch for maybe 2 weeks that didn't work for me so I tried #chantix took that for 4 months and from the start of those pills I didn't smoke any nicotine. #nonsmoker
🚭 pic.twitter.com/5GwkXUCFw6

— 🎪Freak77Show.com🎪 (@Freak77Show) April 9, 2021
How do you balance your work and personal lives as a couple, especially given that your life as a couple is a key component to your work lives?
That can definitely be a challenge. Everything we do is discussed beforehand before agreeing to, let's say, a custom video or even request online. We aren't afraid to tell each other no. We still like to have our own time and fun off camera. We like to keep our more passionate and sensual stuff to ourselves and let our freak flag fly more to the public.
We don't always want to share everything, so finding that balance of what we want to do to sell and show the world and what we like to keep to ourselves to have some sort of personal life is important. It also feel as if our internet life tips the scales and gets more of our time. As time goes on, something we definitely like to work on for each other like being more flirty or dressing up and getting more creative for ourselves more often so that it doesn't overpower or overwhelm our lives. Open communication is the key to it all!
Find Freak and Master on Twitter at @Freak77Show.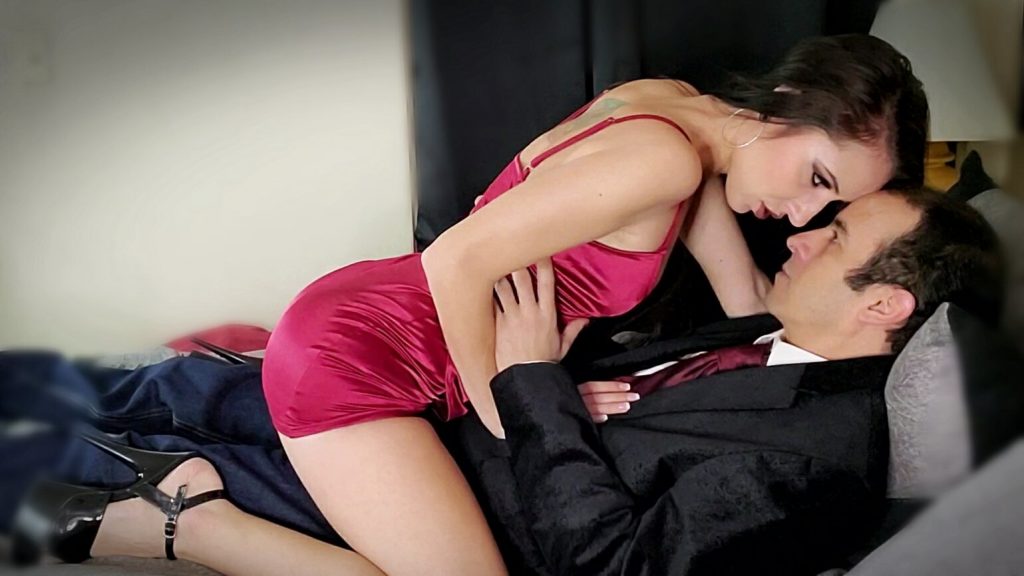 —
Erika is a sex positive people watcher (and writer). Email her at erika@ynotcam.com.