Generally, we discuss contests and promos as positive things here on YNOT Cam — something fun to do to break up the monotony that inevitably hits during that late-summer grind, potential bonus income, creativity inspiration or maybe just a shit show opportunity to get some sort of promo bump. Complex and multi-faceted for sure, but generally not a bad thing in the grand scheme of online content creation.
That perspective has been countered recently by a series of points raised by a group of content creators, specifically regarding ManyVids and ManyVids' contests. Here is some press material that we received from a statement issued on June 18 regarding this standpoint:
While contests run by adult platforms may be seen as an opportunity to bring home a little something extra for their efforts by some performers and models, a set of popular ManyVids performers have made clear they've had their fill of contests on the platform.
"Hot on the heels of popular clip site ManyVids announcing the 'ManyVids Community Awards' with only a week's notice, many performer powerhouses on the site have reached their breaking point with what seems like never ending contests on the platform, in addition to recent platform changes that are allocating funds previously given to top performers to contest winners instead," the models said.
"While many performers may have differing opinions on where the funds should've gone, it is nearly universally agreed upon that contests were not the place. Models have become impatient with the wait for 'ManyVids Version 2' as well as other promised updates to the website that were announced during the MV Live Hangout with ManyVids CEO Bella French," the models added in their statement.
In their statement, the performers added that they have "decided to band together in protest of the endless contests on the platform, the unfair payment percentage of contest votes, and the lack of support from the ManyVids team in working towards making content a priority on the platform."
"Participation is simple and open to any performer on ManyVids that would like to express their dissatisfaction with the contest heavy environment on ManyVids," the statement continued. "Simply enter the ManyVids Community Awards with a photo of yourself holding a sign that says, 'Porn Shouldn't Be a Contest' and upload the photo to social media with your explanation for joining the protest with the hashtag #CommunityOverContests."
According to the statement, the protest of the ManyVids contest is backed by ManyVids Top 100 performer Ellie Idol, YNOT Cam contributor Alison Sparks, sensual domme and fetish producer Miss Metal, Webcam Startup CEO Aerie Saunders, and "more performers looking to see positive change on the platform."
"We look forward to seeing your creative entries and explanations for why you believe that community is more important than contests," the statement concluded.
A quick perusal of Twitter shows this tweet from ManyVids, dated June 17 — the day before the group issued their statement about #CommunityOverContests: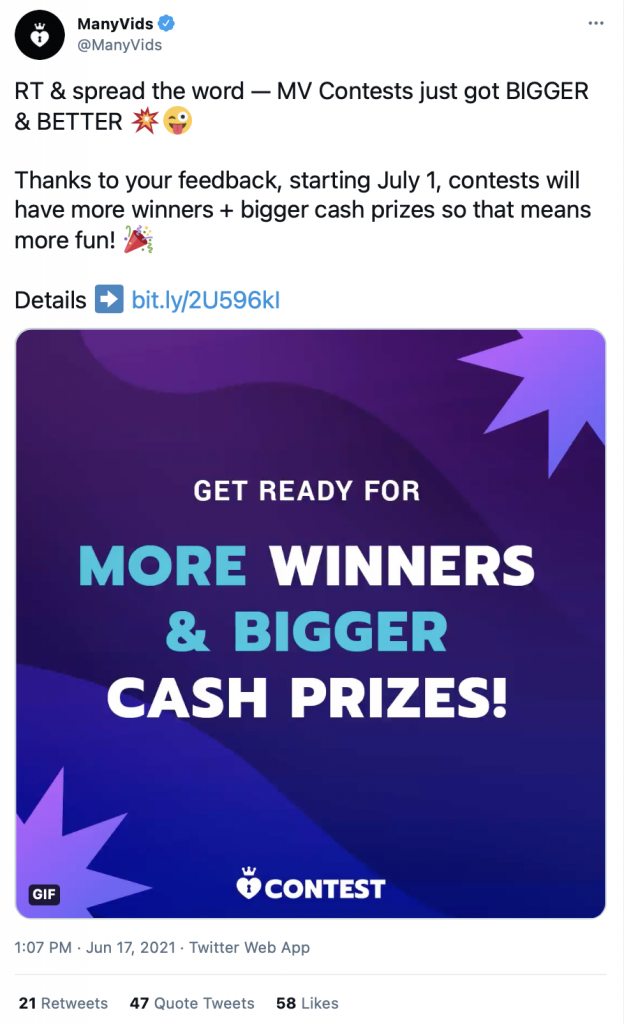 Replies to this announcement were overwhelmingly critical and negative from creators expressing disapproval and, by proxy, supporting the #CommunityOverContests initiative.
Consider: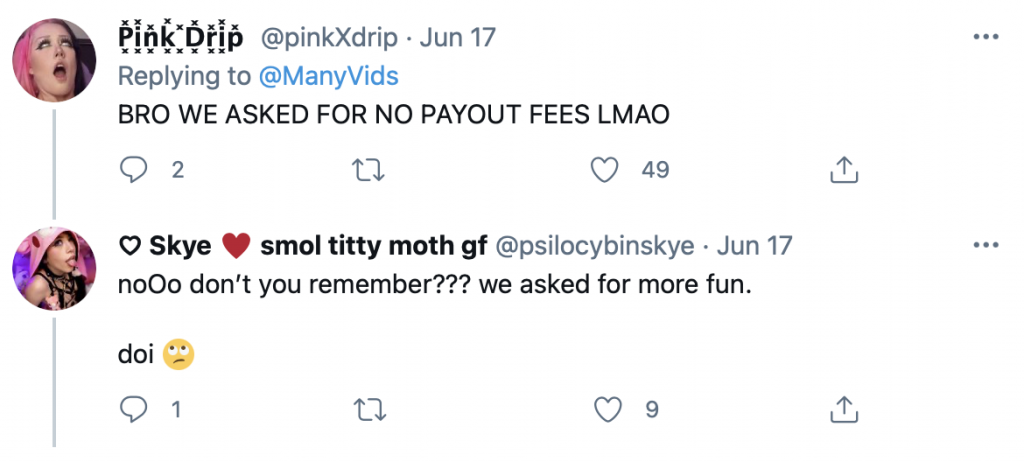 .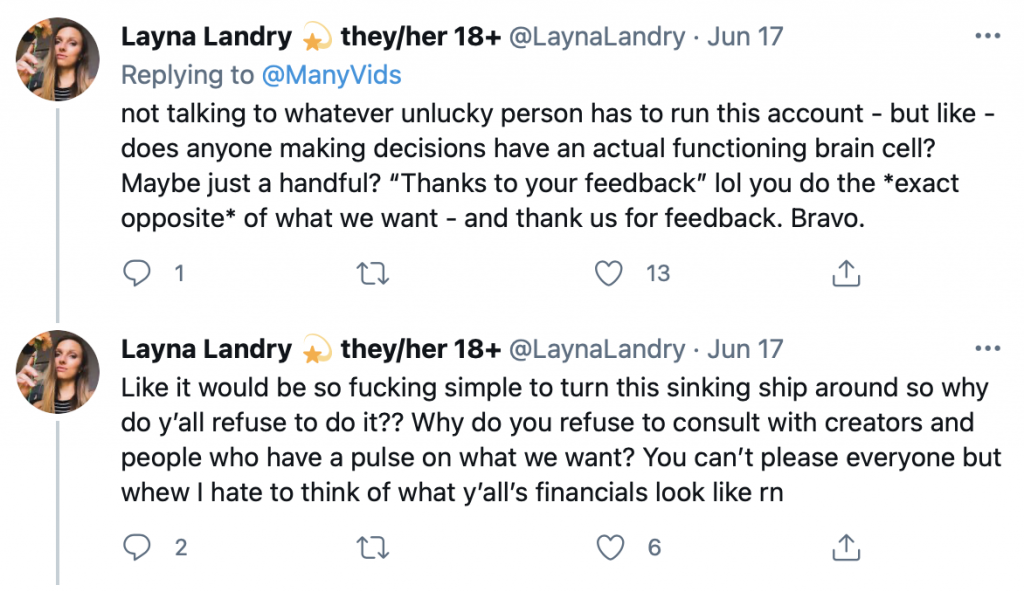 .

…and so on.
At press time, ManyVids had not responded to any of these comments.
—
Erika is a sex positive people watcher (and writer). Email her at erika@ynotcam.com. 
Screengrabs by YNOT Cam.