Did you know going is open now for the YNOT Cam Awards? And did you know you could be voting every single day, now through September 30th?!
We recently announced the final nominees for the 2021 YNOT Cam Awards. A full list of all nominees is available right here, as well as on the YNOT Cam Awards website. Voting is now open and will continue all through the month of September — and you can vote every single day for your friends and favs (and for yourself too!)
"A huge thank you to everyone who was a candidate this year for a nomination, we greatly appreciate all of you," said Connor Young, YNOT's CEO and founder of the YNOT Cam Awards. "With only five nominees per category, getting nominated is no easy task. We are thrilled for all our amazing nominees and can't wait to see them all in Hollywood next month for the in-person return of the YNOT Cam Awards. After a year away, it's going to be a fun and emotional return and we're going to pull out all the stops to make sure everyone has an amazing experience."
Winners will be announced live on stage at Avalon Hollywood on October 14th.
With the announcement of the nominees comes the start of voting. Fans, models and industry executives looking to cast their votes for their favorite nominees will need to register for a ynotid.com account if they don't already have one, then login to access the voting page. Voters can return once per day during the voting period to register their votes but cannot vote more than once per day.
Platinum event sponsors for 2021 include Chaturbate, iWantClips, BranditScan and CAM4. The YNOT Cam Awards will be live-streamed courtesy of broadcast sponsors ImLive and Stripchat. The stream will start on Thursday, October 14th at 5:30pm PT at awards.ynotcam.com and will be available free for fans and industry to watch. The show will NOT be available on-demand and will only be viewable either through the live stream or in-person. YNOT would also like to thank Gold sponsors Cams.com and Nafty for their support of the YNOT Cam Awards and our industry's cam models and creators.
The YNOT Cam Awards returns to Avalon Hollywood, the famous Hollywood venue once known as The Hollywood Palace. Also returning in 2021 is YNOT Cammunity, a multi-day cam model and creator summit (no fans allowed!) happening at the W Hollywood Hotel, about a block away from Avalon Hollywood, and registration is now open for that event as well.
The Red Carpet and talent interviews at YNOT Cam Awards will get started on Vine Street at 5:30 PM PDT on October 14th. Comedians will provide the pre-show entertainment, then the award show itself will be hosted by Kate Kennedy. Dinner and drinks will be provided for all VIP guests. For the safety of attendees, proof of vaccination will be required to attend both the YNOT Cam Awards and YNOT Cammunity this year. Tickets for the YNOT Cam Awards are available through Eventbrite right now. Companies interested in sponsoring either event, or securing a VIP dinner table at the show, can reach out to YNOT for details.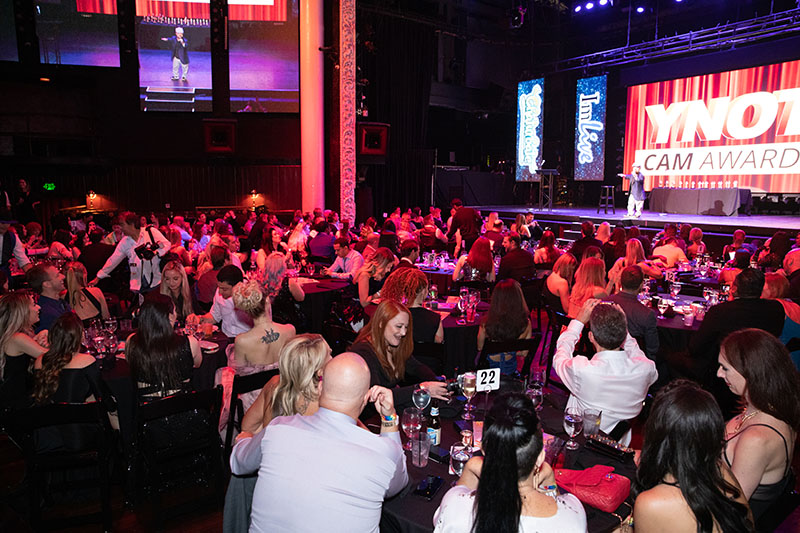 —
Erika is a sex positive people watcher (and writer). Email her at erika@ynotcam.com.