By Dennis Taylor
Reprinted from YNOT.com
—
YNOT Cammunity is returning to Hollywood, California next month after a forced off-year in 2020. The three-day summit, produced by YNOT and presented by Chaturbate, happens at the W Hollywood Hotel from October 11th through the 14th and is not for fans, only industry. Proof of vaccination will be required to attend this year.
Adult business shows are not exactly unusual though, so is YNOT Cammunity just another show?
Not according to YNOT's CEO Connor Young, who co-founded the event with his business partner Jay Kopita in 2019.
"Trade shows, conferences and summits have always been a big part of my career in adult entertainment, they're so important," explained Young. "I attended my first adult business conference in 1998 and, with the exception of 2020, I have attended at least one show every year since. My business partner Jay has been to more than 150 shows and always brings back new business for YNOT, shows are one of his biggest tools for networking and nurturing relationships."
YNOT Cammunity: The First of Its Kind
Young says YNOT Cammunity is different from every other show though because it wasn't created for the same crowd.
"YNOT Cammunity is the first show that I know of that was launched specifically to help grow and support the adult cam model and creator community," said Young. "All of the show's sessions, activities, workshops, mixers and parties were all created with models in mind."
Young said he came up with the idea for YNOT Cammunity some time ago as he watched model-driven platforms like webcam sites and custom clips stores completely alter the landscape for the adult entertainment business. It was a change he enthusiastically endorsed because it transferred power directly to adult performers.
"It became pretty clear to me some time ago that models were completely powering the modern adult business, yet the traditional trade shows were still treating them like eye candy," said Young. "Models have always been present at industry shows, but typically they're asked to stand around in a booth and flirt, like they might at a fan show, or to hang out in a bathing suit by the pool. Nobody was building shows designed just to help models grow and succeed, and that treat them as the professionals they are."
That's where YNOT Cammunity came in. Every single aspect of the show was designed to help models be more successful in the adult entertainment business. The seminars, sessions and workshops feature topics chosen just for webcam models and creators. From speed networking to cocktail receptions and private parties, all of the show's networking components are there to help models meet other models (and form lasting relationships), and also to give models a place where they can meet face-to-face with the men and women who work for the cam networks, clips stores, fan platforms and other services that models rely on to make money.
"When we see models interacting and collaborating online who we know met each other for the first time at YNOT Cammunity, that's the best feeling in the world," said Young. "Having been to so many trade shows I know 100% how important it is to make friends and form partnerships in this business – hell, I never would have met my own business partner Jay if it wasn't for trade shows. Models were so isolated for so long, seeing the community grow bigger and stronger, and playing a small part in that, it's just the best."
Lots Happening for Models in Hollywood Next Month
So, what kinds of activities will there be at YNOT Cammunity, aside from the seminars and workshops?
"We'll be doing a socially distanced form of speed networking, for starters. We have a model 'Meet Market' event on October 12th where attendees can browse exhibit tables staffed by our sponsors and pick up some free stuff in the process. We will have a "Town Hall" meeting on the 13th moderated by Dr. Chauntelle Tibbals where models will be asked to share their thoughts on what our industry does well, and where it needs to improve. That event produces valuable feedback for the companies that run cam platforms and fan sites, it's important they hear from models firsthand. Those are just a few of the activities happening during the daytime hours."
YNOT Cammunity will also feature two evening events for attendees, with a private comedy show at the Hollywood Improv happening on the 12th, and a cocktail mixer at Station Hollywood happening on the 13th.
"It's literally insane that we're buying out the Improv on Melrose Ave for a private show, all made possible because Stripchat really wanted to do something fun for the model community," said Young. "We have two amazing comedians lined up, so it's going to be one of those experiences people won't forget. Then on Wednesday night we'll be hanging out at Station Hollywood, a beautiful outdoor restaurant and bar with a fire pit and wonderful atmosphere all-around, this one courtesy APAG and G&B Law who have both been working tirelessly on behalf of sex workers' rights."
The Return of the YNOT Cam Awards
Things really go big on Thursday night when the YNOT Cam Awards returns to Avalon Hollywood, just a block away from the W Hotel.
"I'm so proud of the YNOT Cam Awards, it's hard for me to put it into words what this show means to me," explained Young.  "I first envisioned the show back in 2016 and it took Jay and I a couple years to get it off the ground because it was such an ambitious endeavor. I know there are a lot of award 'shows' out there in our business, it seems every other person wants to launch one. This one is different though, this one is the premiere event for webcam models and creators and it's such a fun time for everyone who attends.
The YNOT Cam Awards is truly a massive production and will feature a glamorous red carpet event on Vine Street, dinner and drinks provided for VIP guests, pre-show entertainment with stand-up comedy performances by Brian Monarch and Paul Ogata, the stage show itself hosted by Kate Kennedy, and the VIP after-party at Bardot. The red carpet interviews and the stage show will be live-streamed to tens of thousands of fans all over the world.
"We at YNOT are so appreciative of our industry's amazing model community," said Young. "A lot of people don't understand how hard models work, outsiders think it's all just easy money – which is utter bullshit. We want to show off our industry at its best, and to highlight the women and men who work their asses off all year. The models and creators who deal with assholes online, demanding fans and manipulative anti-porn groups who want to label them as victims. We want every single nominee who attends this event, regardless of whether they win their category, to have the time of their lives and to really feel just how appreciated they are by us here at YNOT, and also by our sponsors who make this event possible."
So there's a learning and growth component to YNOT Cammunity with its seminars and workshops, and there's also a networking aspect to the show through mixers, activities and special events. What else happens at YNOT Cammunity?
Building the Adult Model Community Together
"We have some extremely high-end photographers attending YNOT Cammunity this year, so there's going to be all kinds of interesting things happening in the YNOT Cammunity Studio," added Young. "Celebrity photographer Jeffrey Fiterman, who has worked with stars like Matthew McConoughey, Zac Efron, Kevin Smith and many others, will be shooting free promotional headshots for interested models during the show. CAM4 is also bringing along a very popular photographer who's going to turn some heads, although YNOT isn't at liberty to spoil their big announcement just yet. Fetish models are organizing photoshoots in Hollywood during the show, and there will also be some SFW demonstrations of fetish photography happening in the YNOT Cammunity Studio too.
"I always envisioned YNOT Cammunity as providing these main benefits to the model community: attendees will learn new things that will help them make more money in adult, they will make new friends and nurture existing relationships, they'll meet the men and women behind the platforms they use every day to earn a living (and learn about new services), they'll score some free goodies, they'll have a lot of fun and make amazing memories, and they'll have opportunities to create some unique content that they can share with their fans."
Young stresses that he wants models to finally enjoy a business show that doesn't ask them to be performers or personalities, or to feel pressure to impress fans.
"You don't have to dress to impress fans here, since they're not allowed, and you don't have to put on your performer face," said Young. "Dress in whatever way makes you comfortable, be yourself and have a good time with us in Hollywood while you learn new things and make new friends. It's YNOT's job to create a show that supports you and your business goals, and we'll do everything we can to make that happen."
Proof of vaccination is required to attend YNOT Cammunity, and YNOT says this will be strictly enforced. Those who wish to register to attend can do so at www.ynotcammunity.com/register.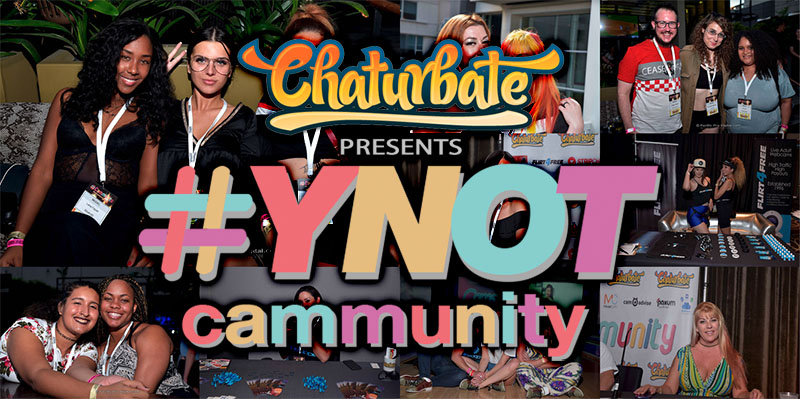 —
Erika is a sex positive people watcher (and writer). Email her at erika@ynotcam.com.