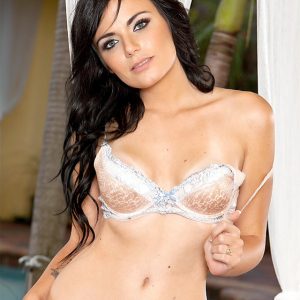 It's summer, so a juicy, sweet, refreshing slice of watermelon may have crossed your mind at some point. While you're daydreaming about summer treats, Alexis Blaze has already taken that watermelon to whole new levels, Kill Bill (Parts 1 and 2) style, for a fan who's into sword play. Alexis's favorite things to do? Hear new music, meet new people and chill on a hot, lazy day.
Describe yourself briefly. 
Hi, I'm Alexis Blaze. I am 24 years old and from Las Vegas.
How long have you been camming?
I have been camming off and on for the past five years. I cam on a few different sites, and I absolutely love it. 🙂
What is the best thing about camming?
I love the freedom that I have with camming, but I also love the interaction with people.
What's the most challenging thing about being a model?
I think the most challenging things are also the things that are my favorite. The  freedom, because you need to be very self disciplined. The people, because not  everyone is a ray of sunshine.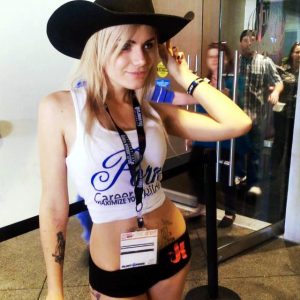 What advice would you give to a new model?
The best advice I would give to a new model is just be patient. Find your niche, and your demographic will follow. Above all else, make sure you are having fun. It's more enjoyable to watch a performer who genuinely loves her work.
What's the most fun you've had on cam?
The most fun I have on cam is just joking around and learning about new music from the people in my room.
What's the weirdest request you've received? Did you do it?
The weirdest request I have gotten—frequently, and from the same fan—is a guy asking me to carve a watermelon with a sword. I did it though, and it was actually a lot of fun.
Where can peeps check you out?
You can find me on twitter at @alexis_blazexxx and at my website, AlexisBlaze.xxx. I post every time I get online. 🙂